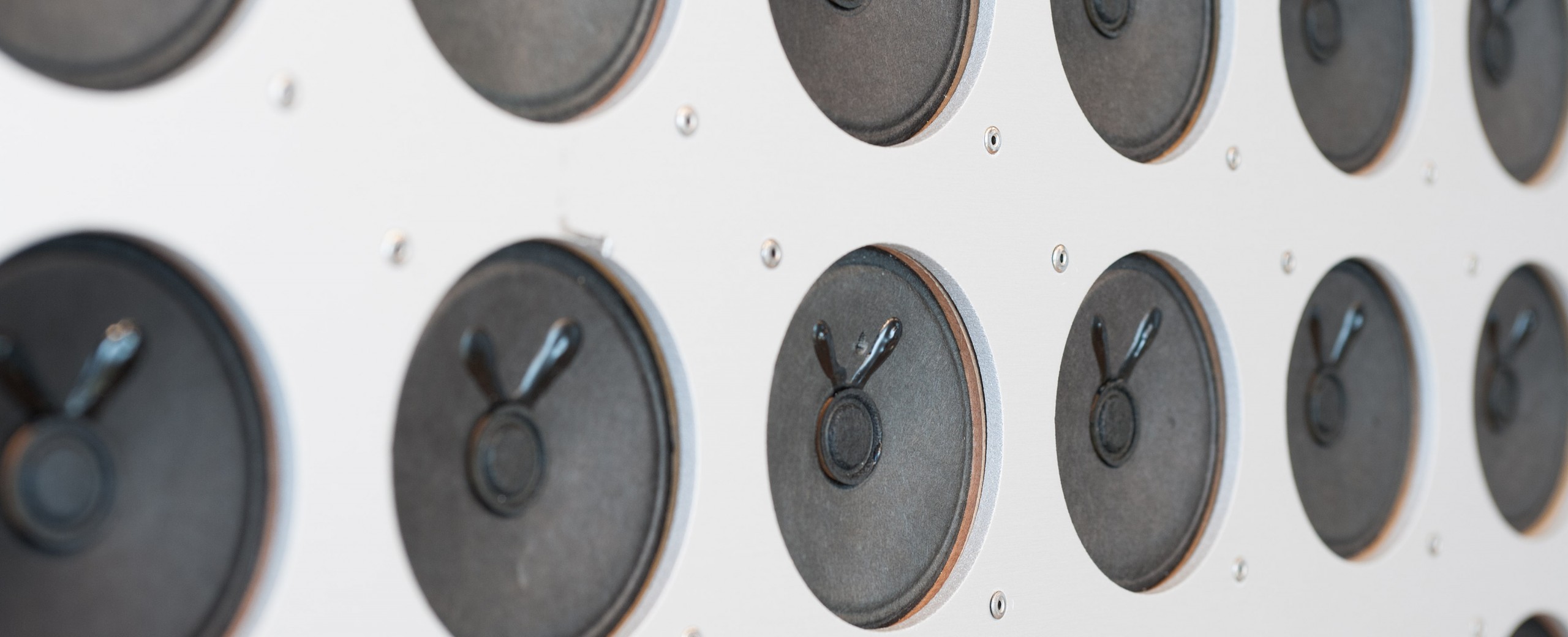 Interactive Installations in Max 7 (Series): Fundamentals for Audio Projects
This is the second in a three-part workshop series on Max 7 taking place at InterAccess during February: February 4 (Intro to Max 7), February 11 (Fundamentals for Audio Projects), and February 25 (Detecting Movement with Real-Time Video). Sign up for the full series, or select one or two workshops to support your creative practice.
Fundamentals for Audio Projects
In this workshop, you will learn the basics of digital audio and how to use live audio to make sound reactive work using Max 7! To do this, we will be using microphones to affect video in real-time. Additionally, you will learn how to create a simple audio player which you can control programmatically.
The instructor will provide basic patches that you will use during the workshop to learn the workflow of working with audio in Max 7. This includes audio inputs, manipulation using patches, and outputs to generate various effects in the interactive environment you create.
At the end of this workshop you will leave with patches and learning materials to start your own interactive audio projects in Max 7.
More on Max 7 here: cycling74.com/max7/
Date: Thursday February 11
Time: 7pm-10pm
Registration Fee:
Single Workshop: $45 With Annual Studio/Workshop Pass (see below); $60 Regular Price
Full Series: $135 With Annual Studio/Workshop Pass (see below); $180 Regular Price
Material Fee: None.
What, if any, prerequisite knowledge should students have? You are expected to have basic knowledge of Max 7 (or Pure Data), or have taken Intro to Max 7 (February 4 or a past IA workshop) or an equivalent course. Basic understanding of digital audio is an asset but not necessary.
What To Bring: A laptop with a working microphone. A Mac is preferable, but Max runs on PCs, too. Our instructor Kyle has experience in both environments.

What to Install: Download the Max 7 trial here: https://cycling74.com/downloads/.
The Max 7 Demo only works for 30 days, so install and run this a day or two before the workshop. If you have passed your trial date, Max 7 has a $10/month subscription model.
NOTE: PC users must install the 32-Bit version of Max (not the 64-Bit!) and Quicktime 7.
Interactive Installations in Max 7 (Series)
Learn to create interactive installations, where video, audio, and hardware respond to viewers! In this workshop series you will learn to use the Max 7 programming environment to manipulate live video feeds in real-time, create sound-reactive works, and learn techniques to initiate interactive events.
We recommend Intro to Max 7 if you have not used Max 7 before, or if you want to refresh your skills.
Intro-level skills are required in order to register for the second and third workshops in this series, Fundamentals for Audio Projects and Detecting Movement With Real-Time Video, as well as all Max 7 courses offered in 2016. If you have not taken Intro to Max with IA in the past, Hilary Martin, Interim Education Manager, will contact you before we confirm your registration for courses beyond the Intro level.
About the Instructor: Kyle Duffield is a Toronto based Intermedia Artist and Interaction Designer and Co-Collaborator of the artist collective Hopkins Duffield. His skill sets range from audio, video, electronics, programming, game design, and technically complex A/V setups as he seeks to find the balance between creativity, pragmatism, experimentation, and ambition. Additionally, Kyle is the Interaction and User Interface Designer for Sonic Wear, an educator, as well as a freelance technical consultant. Kyle is currently focusing on teaching interactive art, and is continually striving to create unforgettable technological experiences.
(photo credit: Brenda Liu Photography 2012, Mircotonal Array by Tristan Perich)
Receive a discount on workshops!
Did you know you can receive a discounted rate on most workshops? By purchasing a Workshop Discount Pass or Annual Studio Access Pass you will receive a discounted rate on workshops, in addition to other great benefits. This is an excellent option if you foresee yourself attending multiple workshops over the course of the year.
Buy Workshop Discount Pass
Buy Annual Studio Access Pass