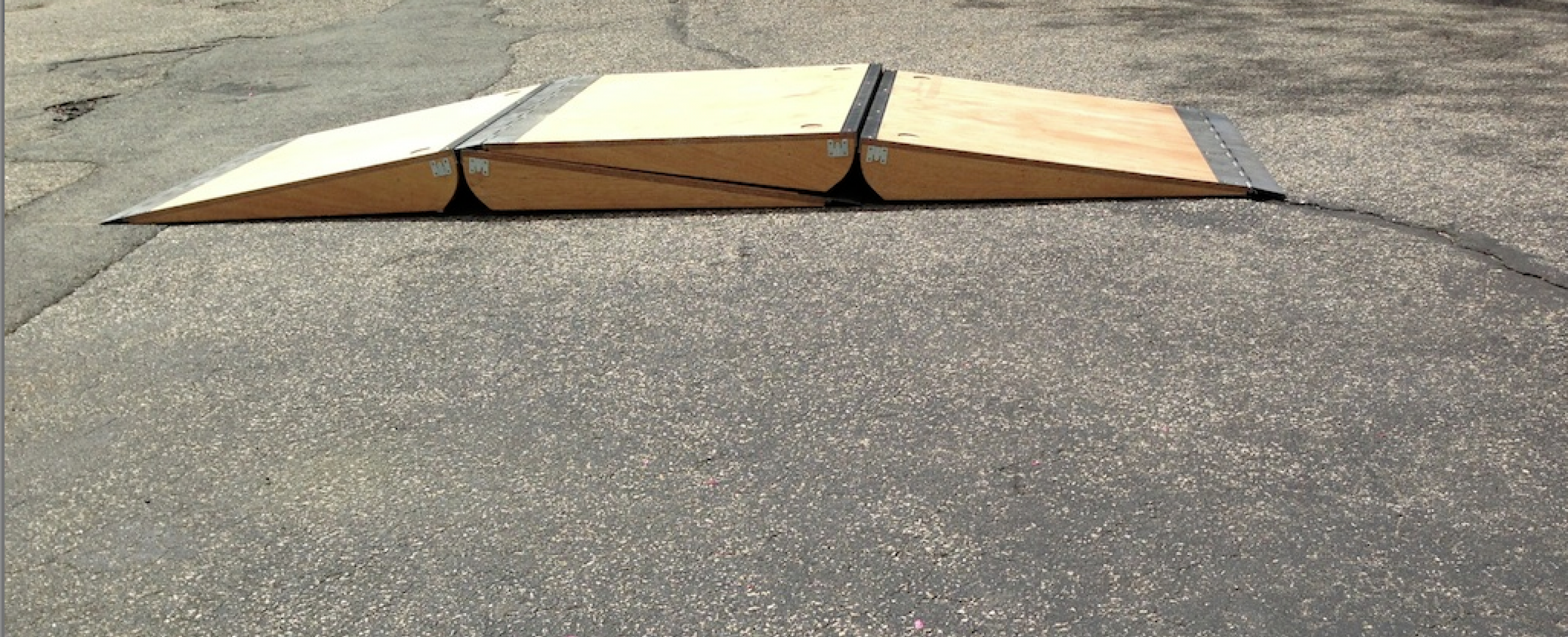 Mapping Access and Wheeled Mobility
Workshop and Public Forum
Led by Sara Hendren
Off-site location: OCAD U Open Gallery, 49 McCaul St, Toronto (wheelchair accessible)
Sponsored by the Inclusive Design Research Centre
Both events are free and open to the public
Following her Lecture on art, assistive technologies, and performative prosthetics, Sara Hendren presents a workshop around the hidden, overlooked, deceptively simple technology of the inclined plane—or ramp—and its physics, as well as a Public Forum with multiple stakeholders representing the interests of two city user groups invested in using the technology of the inclined plane for radical leisure and radical access.

Joining us for both parts will be Ariel Stagni, Toronto skateboarder, skating advocate, and design & programming advisor for skate spaces; Luke Anderson from the Stop Gap project, a barrier-free, wheelchair-ramp design initiative; Jennifer Tharp, Parks Planner from City of Toronto, as well people from architecture and planning professions. Please see more details on the events below:
Workshop: Mapping access
Friday August 15, 2014, 9–11am
Includes outdoor component (walking around Dundas/Queen/Beverly/McCaul)
RSVP to attend at info@interaccess.org
In this workshop, Toronto city skateboarders and wheelchair users come together to form an unusual Venn diagram of technological stakeholders in the built environment. Both use alternate forms of wheeled mobility, and both use the deceptively low tech physics of the inclined plane as an inherent critique of the rationalized, vertical-and-horizontal organization of many global cities. Each group poses a way of embodiment that streets and steps and structures tend not to enable, so each has something to say about which bodies are welcome in public space, and what kinds of technologies make those bodies welcome. Long-term documentation of the physical map could be contained on a digital platform like StoryMap.

Public Forum: Wheeled mobility in the built environment
Friday August 15, 2014 11-12pm
In this final event, the technology of the inclined plane becomes an occasion for a public forum about access in Toronto, and by extension, the future of global cities at large. What policies make skateboarding and wheelchair use possible? Whose interests are furthered, or curtailed, by greater access for skateboarding and wheelchair use? What other forms of access are implied by these user groups? We include an unusual forum of city constituencies that rarely see their interests as connected, to open up a mode of discourse that's distinct from the usual socio-political silos.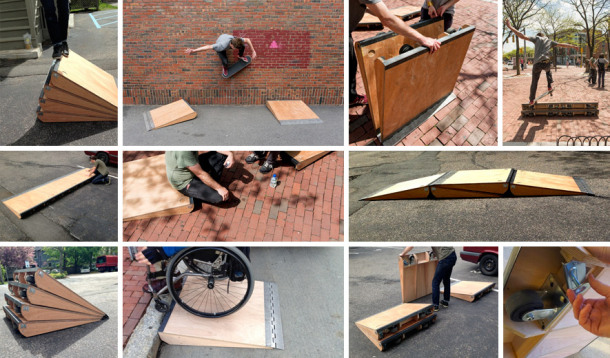 This Workshop and Forum are part of the three-part event Waking the Machines: Assistive Technologies and Prosthetic Agency, led by Sara Hendren, which is itself a part of Slope : Intercept, an ongoing project by the artist which investigates the inclined plane as an inherent critique of the rationalized, vertical-and-horizontal organization of global cities.
Sara Hendren is an artist, design researcher, and writer in Cambridge, Massachusetts. She makes material and digital artworks, writes, and lectures on adaptive and assistive technologies, prosthetics, inclusive design, accessible architecture, and related ideas. Her work has been exhibited in the US and abroad and is held in the permanent collection at MOMA (NYC), and her writing and design work have appeared in the Boston Globe, The Atlantic Tech, FastCo Design, and on National Public Radio (US), among others. She lectures in the Industrial Design and Digital + Media departments at the Rhode Island School of Design, and she writes and edits Abler, a syndicated column now on Gizmodo. As of September 2014, she joins the full-time faculty at Olin College of Engineering as Assistant Professor of Design.
Images from Slope : Intercept, courtesy of Sara Hendren