Studio space for artists working with emerging and digital practices.
Open Studio
Every Wednesday | 6—9pm (EST)
In-person at InterAccess

As a part of our Open Studio programming, we offer a mix of weekly training and support sessions from a roster of Instructors. You can express interest in and request support for a specific session using our studio form. There will also be occasional events and openings! You can find the full list of 2022 Open Studio programming here on our public calendar or below as follows:

June 1: Welcome Back Open Studio Social!
June 8: Artist talk by Spatial-esk
June 15: Electronics, Through-hole, and Surface Mount Soldering
June 22: No Open Studio This Week
June 29: Wood Working

July 6: Open Studio
July 13: XR and Digital Media
July 20: Bio Art
July 27: 3D Printing

August 3: Milling Machine and Metal Lathe
August 10: Laser Cutting
August 17: Electronics and Arduino
August 24: No Open Studio This Week
August 31: Wood Working + Through-hole and Surface Mount Soldering

September 7: General Open Studio
Septemeber 14: 3D Printing (cancelled)
September 21: XR and Digital Media
Septemeber 28: Bio art

October 5: 3D printing
October 12: No Open Studio This Week
October 19: Laser Cutting
October 26: Electronics, Through-hole, and Surface Mount Soldering

Novemeber 2: Wood Working
Novemeber 9: General Open Studio
Novemeber 16: XR and Digital Media
Novemeber 23: 3D Printing
Novemeber 30: Laser Cutting

Decemeber 7: Bio Art

If you are interested in a training but cannot make any of the available dates please contact education@interaccess.org and we will do our best to asisst you.
Workshop Pricing
InterAccess operates using a paid ticketing model with accessible, discount options available.
InterAccess endeavours to reduce barriers for artists, educators, and community members who wish to attend its workshops. This includes offering accommodation support related to general accessibility, operating a flexible pricing model, and hosting both in-person and online workshops.
Regular (Non-Member)
This workshop fee covers the basic costs of running the workshop, including instructor fees (preparation and instruction), general studio maintenance, and administrative labour.
$30 One-Session | $60 Two-Sessions | $90 Three-Sessions

Regular (Non-Member) + Donation
This workshop fee supports everything described above (Regular [Non-Member]) with additional support towards ongoing studio equipment maintenance, shared supplies, and community events including weekly Open Studios.
$40 One-Session | $80 Two-Sessions | $110 Three-Sessions

Equity Access (Member/Non-Member)
To reduce financial barriers, this pay-what-you-can (PWYC) discount is available for any community members that self-identify as part of an equity-seeking group, which includes (but is not limited to) disabled, Black, Indigenous, Students, and Newcomers. To request an Equity Access code to use for workshop registration please email education@interaccess.org.
PWYC One-Session | PWYC Two-Sessions | PWYC Three-Sessions

Member / Workshop Pass Discount
A discount of 35% is available to Studio Members (annual and monthly) and Workshop Pass holders. The discount can be applied to any workshops that fall within the dates of active membership.
$20 One-Session | $40 Two-Sessions | $60 Three-Sessions

Materials Fee
This fee is used to cover the direct costs of materials and supplies and can range depending on the nature of the workshop. This is applied to the actual material retail cost, shipping (if applicable), and staff preparation/assembly (if applicable).
If you have any questions about our ticketing model please email education@interaccess.org.
To view our full programming and register for workshops please visit our Workshops Page.
Studio Membership
Our 800-square-foot shared production studio at 950 Dupont St. is a space for artists working with emerging and digital practices. The InterAccess Studio provides 24/7 access to electronics work space, tools for machining and fabrication, and a variety of old electronics for use or salvage. The studio is a great place to learn new technical skills and produce work in a community that values critical approaches to working at the intersection of art and technology.
The Studio is the cornerstone of our services and is where learning, art, and community thrive. We offer different types of studio access passes to suit your needs.
Learn more about becoming a member in the "Studio Membership Signup" section below.
Studio Safety Guidelines
All members using the studio must adhere to the following safety measures:
• Practice proper hand hygiene, including washing your hands or using hand sanitizer when you enter the space.
• Clean and disinfect any equipment and tools before and after use. You are also encouraged to clean high-touch areas with a wipe or use isopropyl alcohol to spray down surfaces. High-touch surfaces include the toilet flush lever, the washroom faucet, the top of the soap dispenser, washroom door handles, the front door handles, and the alarm touchscreen.
• There will be PPE equipment in the front foyer, including gloves, wipes, and hand sanitizer. The wipes we have purchased are medical-grade and can kill the COVID-19 virus in 1 minute. If you use gloves be sure to follow proper glove removal protocol.
• There is some risk of transmission when sharing a washroom, although experts advise this risk is very low. Please put the toilet seat down when you flush the toilet.
•All persons are strongly encouraged to continue wearing a mask or face covering which covers the nose, mouth and chin while working in the studio. Feel free to reference the do's and don'ts of mask wearing. This does not apply to removing your mask momentarily to eat or drink. Proper use of masks implies that you wash or disinfect your hands before putting on and after taking off a mask.
• Members are encouraged to maintain a six-foot distance from staff and other members.
• If you have any symptoms of COVID-19 such as fever, cough or difficulty breathing, please do not visit InterAccess. If you have symptoms you should use Ontario's self assessment tool or contact your health care provider or Telehealth Ontario (1-866-797-0000).
• You are encouraged to download Canada's COVID Alert app so you can be notified directly if you have been in close contact with someone who was contagious with COVID-19.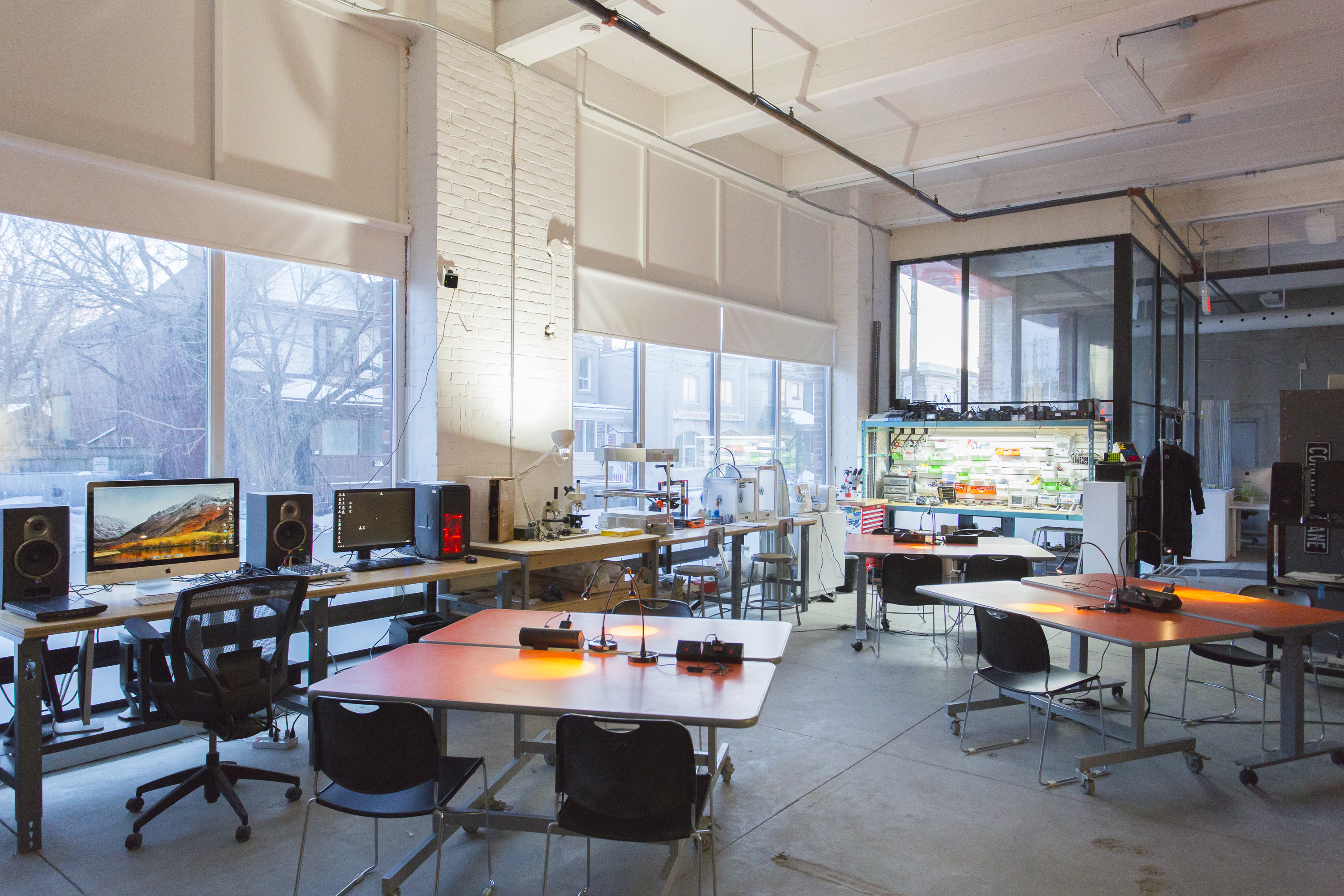 Studio Membership Signup
As of June 1st, 2022 InterAccess is now accepting new studio members!
Please email education@interaccess.org or fill out our Studio Member Expression of Interest form to purchase a membership.
Feel free to pre-purchase your desired membership type below. Please email education@interaccess.org after your purchase to continue the onboarding process.
Monthly Production Membership
$60/month
The Monthly Production Membership is suited for artists with a specific project they'd like to work on which will require intensive, short-term use of our studio, equipment, and facilities. Monthly passes begin from the date of purchase. With this pass you receive:
24/7 access to the Studio
Access to tool training during business hours in order to use tools independently
Note: Some tools are only accessible to Annual Studio Members
Buy Monthly Production Membership
Annual Studio Membership
$360/year
The Annual Studio Access Pass encourages passholders to make full use of InterAccess's studio space, equipment, and facilities, and to become part of an exciting community of artists, makers, and designers. With this pass you receive:
24/7 access to the Studio
Access to tool training during business hours in order to use tools and equipment independently
5-10% discounts at electronics retailer Creatron Inc.
Reciprocal member pricing on workshops at Toronto Animated Image Society, Trinity Square Video, and Gallery 44.
Includes all the benefits of the Workshop Discount Pass and Supporting Membership
Buy Annual Studio Membership
Workshop Discount Pass
$50/Year
InterAccess delivers a slate of workshops to support your creative practice. Details on upcoming workshops are available online:
35% discounts on workshops
Reciprocal member pricing on workshops at Toronto Animated Image Society, Trinity Square Video, and Gallery 44.
Buy Workshop Discount Pass
Supporting Membership
$50/year
Want to get involved in the development of InterAccess? Attend our Annual General Meeting and get a say in the development of the studio and gallery. With this pass you receive:
Voting Rights at Annual AGM
Invitations to VIP events
Buy Supporting Membership
Equipment and Rentals
Studio users have access to our suite of cutting-edge tools and equipment, along with tool-training, to support your artistic practice.
Equipment from the InterAccess studio is available to rent for personal projects, exhibitions, workshops, and more. A reduced rental rate is in place for all Studio Members. To view our rental equipment inventory and fee breakdown click here.
NextEngine 3D scanner
2 Ultimaker 3D printers
Prusa Mk3 3D printer
Mosaic Palette
Prusa SL1 3D resin printer
Prusa CL1 3D resin cleaning and curing machine
2 Oculus Quest 2 headsets
Oculus Rift SDK
HTC Vive and Vive pro
Magic Leap AR headset
2 gaming laptops
1 gaming tower
Ricoh Theta V 360-Degree camera
36" BOSS Laser Cutter
Compound microscopes
Gel electrophoresis kit
PCR cycler
Weller soldering irons
Hot air rework station + nozzle kits
Reflow Oven for surface mount soldering
Digital and analog oscilloscopes
Arduinos and Raspberry Pis
Potentiometers
Multimeters
Electronic components (wires, LEDs, breadboards, resistors and sensors)
Brother 'Innovis 40' sewing machine
Bernina '700D' serger
Rigid heddle loom
Conductive threads
Vaccum Form Machine
Drill press
Table saw
Band Saw
Machining mill and lathe
Audio-Visual equipment
WiFi
Contact
For questions about Open Studio night, Studio Membership, or equipment holdings, please contact our Education department.