InterAccess hosted two special events and a workshop as part of Vector Game + Art Convergence Festival 2014.
Code & Circuits, an Algorave
Saturday, February 22, 8:30 doors, 9pm performances
An evening of live music performed by artists who bring a unique perspective to electronic music and visual production through the manipulation of Code and Circuitry. They will manipulate the circuits of electronic toys, or through coding on video game hardware, or in live code computer environments. With live visuals performed by Partytime! Hexcellent!
Tickets: $10 in advance at vectorfestival.org; $12 at the Door. All proceeds go to Vector.
Avatar Orchestra Metaverse: Matinee Performance
Sunday, February 23rd, 2pm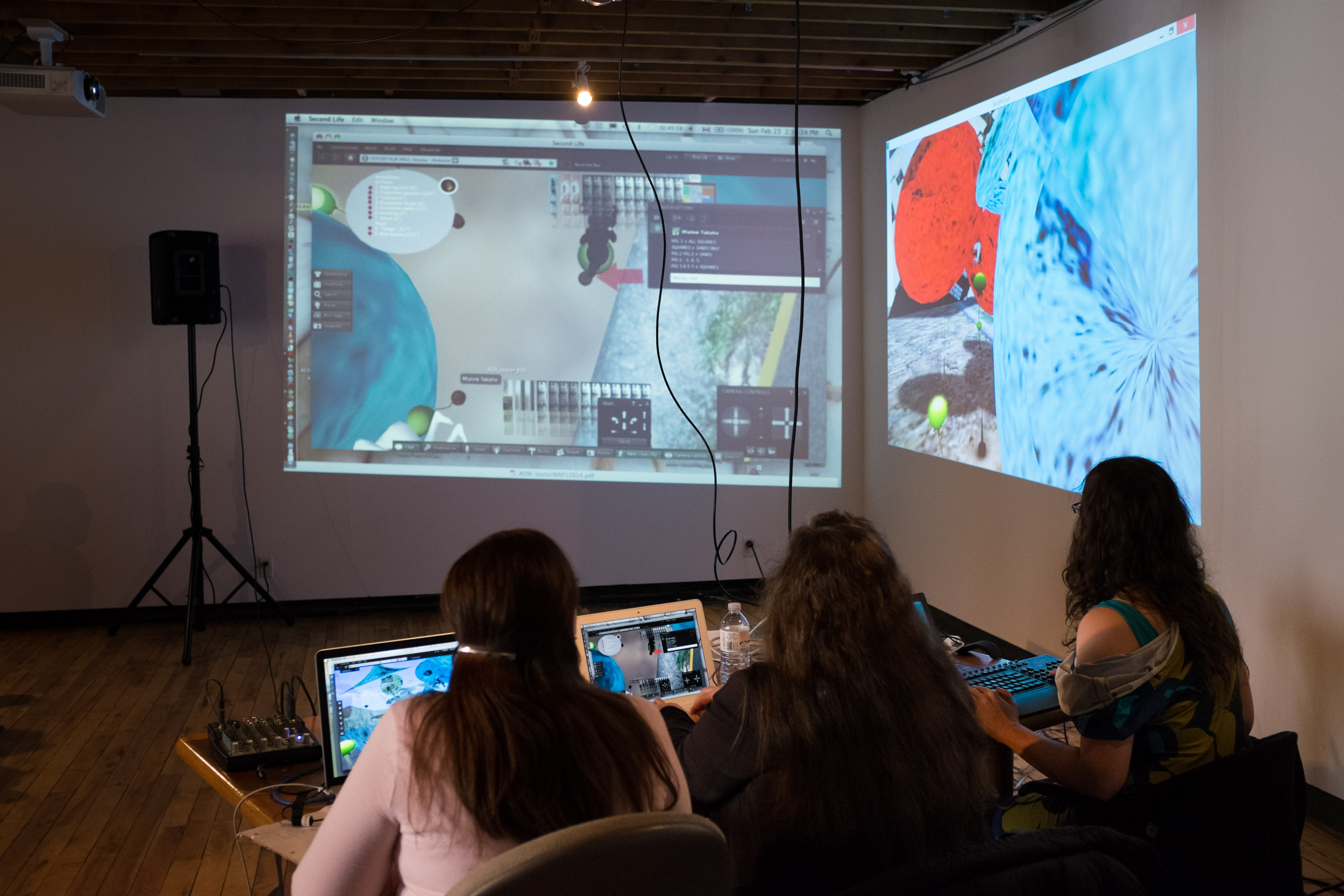 Members of the Avatar Orchestra Metaverse will be dialing in via Second Life from around the world to perform inside a whimsical virtual environment. Using custom coded objects, sound and visual instruments and animations to create a telematic sound art performance, this debut performance at InterAccess invites interaction and awareness between the telematic performers and their spectators, pushing the boundaries of online interaction, the utility of MMOs and our aural perceptions of virtual environments.
Tickets: $10 in advance at vectorfestival.org; $12 at the Door.
All proceeds go to Vector.

glitch.jam 2
Saturday, February 22, 12pm (in the studio)
After last year's sold out and immensely successful glitch.jam workshop, led by NYC artist notendo and former
​Team Vector member Clint Enns, we've decided to do it again!
This year's workshop sees Clint return to lead participants in the basic techniques of circuit bending on plug and play video game devices. Using a variety of tools and techniques, including alligator clips, resistors, leads, wires, solder , and more, Clint will show participants how to open up these battery operated game devices, and how to search for the perfect bend. Get hands on experience creating your very own glitch video work! As with last year, all of the participants will have access to recording devices, and we will collect these videos and post them on the Vector Vimeo page. Participants can also take their videos with them, and distribute them however they wish.Avatar Orchestra
**This workshop includes everything you need to participate. All you need to do is show up, ready to bend!
$15 Tickets in advance at www.vectorfestival.org

More information at www.vectorfestival.org

Images courtesy of Vector.



***