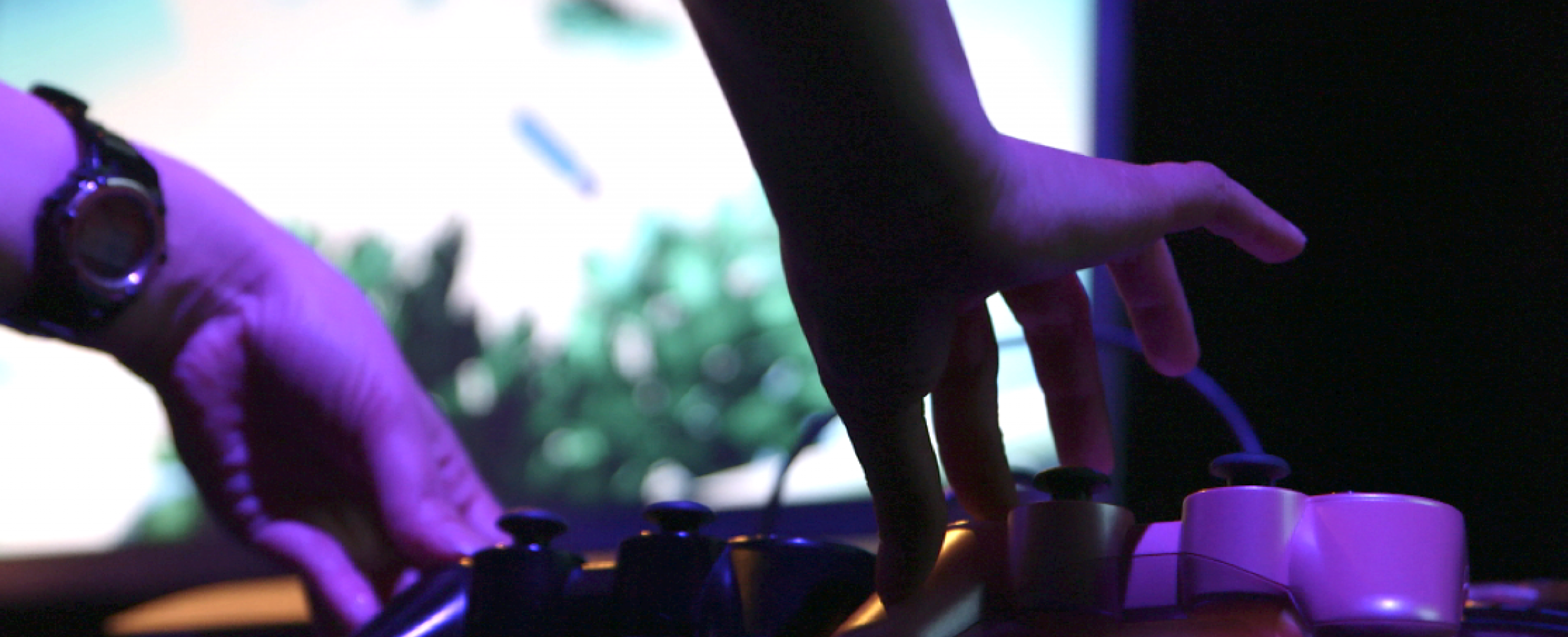 Signal / Space
a part of Vector Festival 2017, Pattern Recognition: Five Years of Vector
July 15th 2017, 8pm-11pm
at Artscape Youngplace
$15.00
Join us for an evening of live audiovisual performances featuring vintage computation technologies, live signal processing and the manipulation of digital spaces.
With performances by Tasman Richardson (Toronto), Gabe Knox + Daniel Zabawa (Toronto), and foci + loci (NYC).

Click here to buy tickets.
The full program can be found at vectorfestival.org.

Performances:
A Line Has Two Sides by Tasman Richardson
18 min, live, three-channel AV performance
Using glitches harvested from an Atari 2600 game console, a triptych audiovisual spectacle is performed in real-time. By triggering hundreds of clips and positioning them in space and time, the audience is wrapped in a pulsating foil of visual music made entirely from the sound of the source clips—a signature of the JAWA method first developed by Richardson in 1996. Manipulating these ghosts in the machine through synchronized cuts of the seen and heard induces an anxious immediacy as the nervous system responds to light and the heart rate responds to bass rhythm. The result is a fierce, abstract expression inspired in equal parts by Kandinsky and Pan sonic.
Dos Amigas by Gabe Knox and Daniel Zabawa
5 min, live AV performance.
A live performance of an audio-visual algorithmic composition written by Knox and Zabawa and "performed" on two Commodore Amiga personal computers, running custom software written in ARM assembler that takes advantage of the Amiga's famous built-in sound and graphics chips.
The algorithmic aspect of the composition is based on two-dimensional binary cellular automata, a computational model that evolves over time from a basic set of rules. With some live interaction from its operator, one Amiga generates the cellular automata and triggers a modulating series of tones based on the changes of state of the automata. Communicating over a parallel interface, the other Amiga reads visual patterns in the automata using a pattern recognition algorithm and triggers a note when it recognizes a shape. Live input from that Amiga's operator will determine what patterns to look for as well as manipulating timbral elements of the triggered sounds. The result is a hypnotic piece of music that evolves unpredictably from a simple set of individual notes to a complex, interlocking system of polyrhythms and modal changes.
Bramble and Other Works by foci + loci
30 minute, two-channel AV performance
Bramble, a 2-channel virtual instrument using the Little Big Planet game engine, produces an algorithmic composition in the form of a growing bush made up of electrical wires and circuit boards. In a 15 minute performance, both the instrument and composition are time-based unfolding simultaneously over the course of several accelerated days and nights in a desert scene. As the bush grows, the stems' proximity to each other trigger musical notes and sounds while performers either navigate through and around the bramble or improvise with additional instruments outside the game space. Once the bramble/bush has reached maximum density or the instrument has fully manifested in form, its branch tips blossom with playable flowers which spin during performance interaction, interweaving discrete musical and sonic patterns into the foreground of the piece. Because both the instrument and composition of Bramble unfold in tandem, this environment may be played with 2-5 players/improvisers.
In conclusion, foci + loci will also perform two other short-form pieces (7 minutes each) in Little Big Planet showcasing their classic custom-made instruments that focus on the spatialization of audiovisual events and concise algorithmic outcomes.

About the artists
foci + loci evolved in 2010 by exploring the topological treatment of time and space afforded by game engines. Taking their fascination with the malleability of virtual space and pairing it with their interest in electroacoustic improvisation led the duo (Tamara Yadao and Chris Burke) to design spaces that could be "played" as instruments. foci + loci have received a NYSCA grant for 2013 to develop their full scale game art performance installation Bal(l)ade. Tamara received an American Composers' Forum grant in 2014 commissioning the music for foci + loci's Another Kind of Spiral, which premiered at Cluster Festival 2015 in Winnipeg with a performance at Centre Georges Pompidou in Paris following soon after. Among others, they have performed and exhibited their work at Babycastles, CultureHub, Joe's Pub at the Public Theater, Museum of Arts & Design NYC, Peter Kirn's Handmade Music series and John Zorn's avant-garde music space, The Stone. They are excited to return for this year's Vector Festival with the next evolution of their work.Join us for Signal / Space, an evening of live audiovisual performances featuring vintage computation technologies, live signal processing and the manipulation of digital spaces.
Culture making and Iconoclast for over a decade, Tasman Richardson has exhibited extensively throughout the Americas, Europe, and Asia. His practice is a criticism of media spectacle. He operates in three formats: video collage using the JAWA method (The manifesto he authored in 1996), fully immersive media installation, and live a/v performance. His solo installation Necropolis at the MOCCA (2012) and Karsh-Masson (2015) received wide critical acclaim and he recently exhibited his synchronized dual channel atari glitch installation Janus at TAF, Athens (2016) and Calgary's Particle and Wave festival (2017). This past January he curated The New Flesh (Music Gallery, Toronto), a selection of media performers that abandoned their identity and bodies in favour of abstract expressionist electronics, showcasing the machines and signals as the focus. His most recent work Sands Stand Still (2017) is exhibiting at the Canadian Clay and Ceramics Gallery in Waterloo until August. He is based in Toronto.
Gabe Knox is a sound designer and composer living in Toronto. His passion for sound and technology has led to a diverse resume of interesting projects, from feature films to composing electronic music to DJing dance parties. Notable credits as a Sound Designer or Re-Recording Mixer include "Tower" (dir. Kazik Radwanski), "Hotel Congress" (dir. Nadia Litz), "Brother Frank" (dir. Iris Fraser-Gudrunas), and "You Are Here" (dir. Daniel Cockburn). Since 2015 he has been the Senior Sound Re-Recording Mixer at Vice Studios Canada.
Daniel Zabawa is a multi-disciplinary amateur artist living in Toronto, Ontario. Born near Edmonton in 1978, he was classically trained in piano performance from a young age and studied music and visual arts, culminating in dropping out of OCAD after one year to study anything else. He received a BSc and MSc in computer science from the University of Toronto studying the complexity of computational models and formal systems of logical proofs. His current projects are concerned with algorithmic composition, mathematical visualization, and drawing birds.


About Vector Festival

Vector Festival showcases emergent, critical, and experimental new media art across a series of events, including exhibitions, performances, workshops, and screenings.
Vector Festival was founded in 2013 by a revolving collective of curators artists and scholars. Foundational members (2013-2015) include Skot Deeming, Clint Enns, kris kim, Katie Micak, Diana Poulsen, and Martin Zeilinger.

About the curators
Skot Deeming is an artist, curator and scholar, whose work spans the spectrum of new media art practice from broadcast media to computational art, experimental videogames, and game art. Deeming is the founder and co-curator of Vector Festival, and currently resides in Montreal where he is a doctoral candidate in the Individualized Program, and a graduate researcher at the Milieux Institute for Arts, Culture and Technology at Concordia University. (mrghosty.com)
Martin Zeilinger is a new media researcher, curator, and practitioner, with interests in appropriation art, creative computation, live coding, and theories of cultural ownership. He is currently a Fellow at Akademie Schloss Solitude in Stuttgart/Germany, with a project on algorithmic authorship. Aside from teaching as a Lecturer in Media at Anglia Ruskin University, Cambridge/UK, Martin is also co-convener of the Digital Art Research Group (DARG) at Cambridge University, and co-organizer of the MoneyLab#4 symposium in London. (@mrtnzlngr / marjz.net)