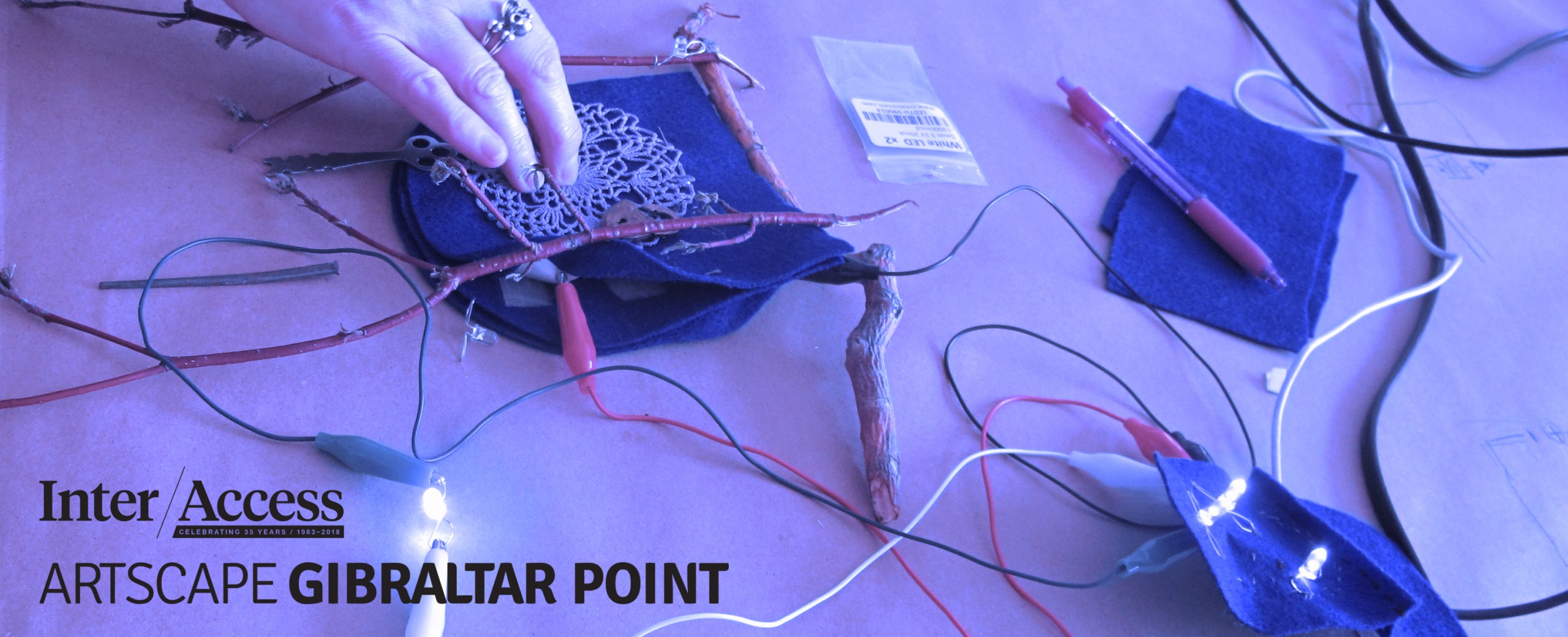 SoftWEAR Residency: A Wearable Tech Discussion
Friday, April 13th
7-9pm
Join InterAccess and Artscape Gibraltar Point for an evening discussion with Liz Lessner, facilitator of the SoftWEAR: Wearable Technology & Art residency at Artscape Gibraltar Point. Lessner will recap the residency, and discuss the future and implications of wearable technology with residency participants and the audience. Afterwards, participants in the residency will have a chance to show some of their developing practices with wearable technology over refreshments.
SoftWEAR: Introduction to Wearable Technology & Art is a two-week intensive residency partnership conceived and organized by artist/lead facilitator Liz Lessner and Artscape Gibraltar Point and presented in partnership with InterAccess. During the residency, participants learn how to incorporate responsive elements like light and sound into objects and installations, explore soft circuitry techniques, and learn to operate the Arduino microcontroller for the development of interactive wearable projects.
About the Artist: Liz Lessner is a NY based sculptor and installation artist who uses technology to craft responsive and interactive objects and installations. Lessner has had solo shows at Big Orbit, a Center for Exploratory and Perceptual Arts Gallery Project Space, and The University at Buffalo Visual Studies Gallery. She has exhibited her sculptures and installations nationally and internationally including the Guapamacátaro Center for Art and Ecology in Michoacán, Mexico, Brooklyn Artist Gym, and the University at Buffalo Anderson Gallery. Exhibition highlights include the two-person show "Common China" at 3rd Ward, Brooklyn as well as the group shows "The Man I Wish I Was" at A.I.R. Gallery in Brooklyn, New York and "Amid/In WNY" at Hallwalls in Buffalo, NY . She has an MFA in Media Study and Emerging Practices from the University at Buffalo's Department of Media Study and has taught workshops and classes in a wide range of educational settings. Lessner has taught at the University at Buffalo's Department of Media Study(Buffalo, NY), the Field Museum of Natural History in Chicago (Chicago, IL), the Willammette Valley Folk Festival (Eugene, OR), Interlochen Center for the Arts (Interlochen, MI), and Girls Preparatory Charter School (New York, NY) and Renaissance Charter School for the Arts (Queens, NY).
Artscape Gibraltar Point is a secluded, four season, community cultural hub nestled against the magnificent natural backdrop of Toronto Island, hosting artist residencies, providing studio rentals and welcoming individuals and groups as an event venue. Housed in a former school surrounded by 46 acres of parkland, it is operated by Artscape (Link here) a recognized leader in community building and transformation through arts and culture. Over the years Artscape Gibraltar Point has hosted thousands of artists from around the world, who have taken advantage of the facility's unique setting to focus on their practices and projects through the self-directed residency program as well as thematic residencies such as SoftWEAR.
Image courtesy of Cimarron Knight, SoftWEAR residency participant in 2017.