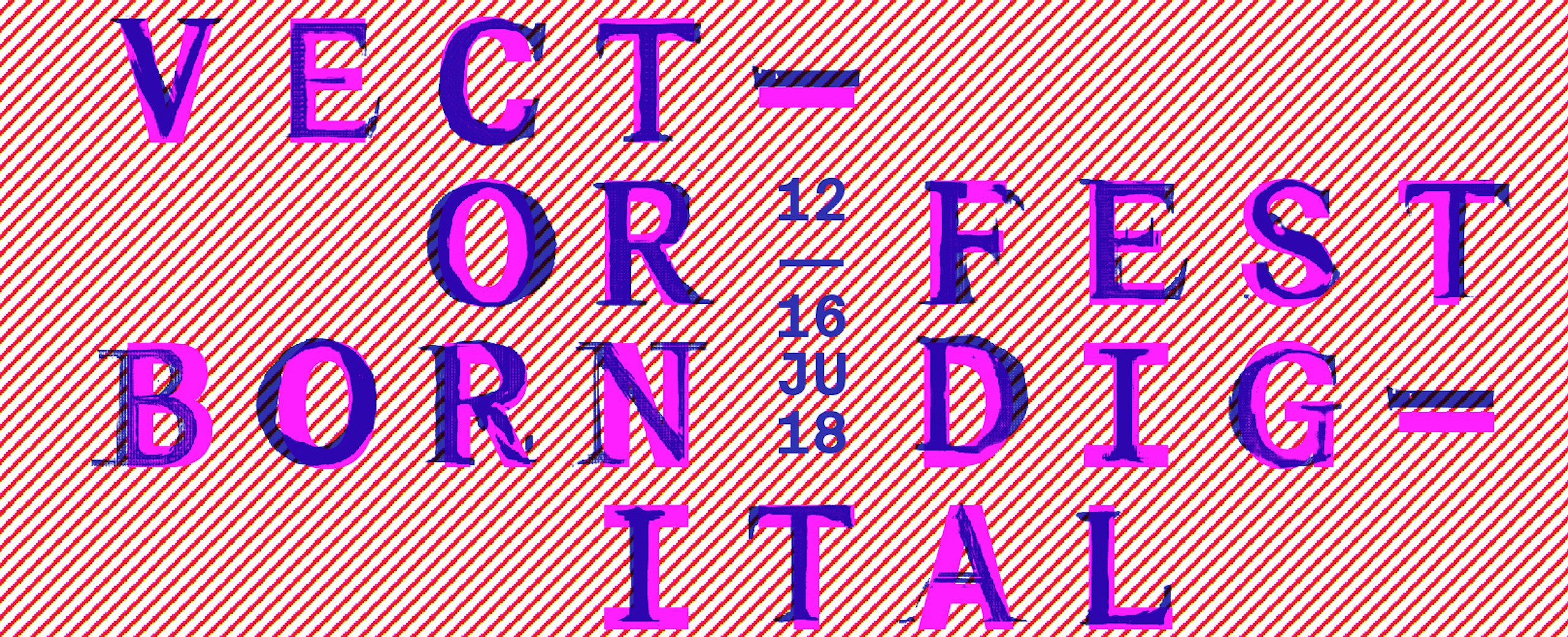 Vector Festival - Launch Party and Opening Reception
Vector Festival Launch Party and Opening Reception of Born Digital
at InterAccess (950 Dupont St., Unit 1)
July 12th 2018, 7PM-10PM
FREE
Join us for the launch of Vector Festival and the opening reception for the Born Digital flagship exhibition.
Buy event tickets and festival passes here.

About the exhibition
Expanding on the festival theme, Vector's flagship exhibition features performative artist positions that explore how human connections are framed by 'the digital' and how they are dictated by technological apparatuses. The new and historical works presented in the exhibition include wide-ranging experiments with medium and form, and include video installation, kinetic sculpture, social media investigations, and paper-based art, among others.
With a focus on the diverse and varied ways in which media art engages with the births, deaths, pasts, and futures of the digital, Born Digital asks how translations and interjections of bodies between physical and digital spaces inform relationships with others, the machine, and the self. What might it mean to witness the birth of a new technology, or to be 'born digital'? How does the term 'digital native' function in relation to this? How do artists adopt, advance, hack, or dismantle digital technologies to critically reflect on their meanings and implications? How does analogue detritus live on in the digital? What comes after the digital, how do post-humanist, post-digital, and post-Internet artistic perspectives inflect these questions?
About the artists in the exhibition
Adam Basanta is a Montreal-based artist, composer, and performer of experimental music. His works have been exhibited in galleries and institutions including Fotomuseum Winterthur (CH), National Art Centre Tokyo (JPN), American Medium Gallery (NYC), Carroll/Fletcher Gallery (UK), New Media Gallery (CAN), V Moscow Biennale for Young Art (RUS), Galerie Charlotte (FRA), and the Edith-Russ-Haus fur Mediakunst (GER). He has been awarded several prestigious international prizes, and in 2018 was longlisted for the Sobey Art Award. He is represented by Ellephant Gallery (Montreal, CAN).
A.M. Darke is an artist, game designer, and activist. The foundation of her practice is maximizing agency for marginalized bodies, while disrupting systems of oppression.
Joseph DeLappe is a Professor of Games and Tactical Media at Abertay University in Dundee, Scotland. Working with electronic and new media since 1983, his work in online gaming performance, sculpture and electromechanical installation have been shown extensive throughout the world. DeLappe works at the intersection of art, technology, social engagement/activism and interventionist strategies exploring our geo-political contexts.
Judith Doyle is a filmmaker, writer and new media producer active in artists' teleculture from its earliest pre-Internet forms to the contemporary situation, where offline and online identities blur and merge. Her practice engages the more than human world, with collaborators from communities outside the tech development mainstream. A Professor in Integrated Media and Graduate Studies at OCADU, Doyle co-directs the Social Media and Collaboration Lab (SMAClab) with Dr. David McIntosh, producing curatorial, interactive and mixed reality projects.
Ann Hirsch is a video and performance artist who examines the influence of technology on popular culture and gender. Her immersive research has included becoming a YouTube "cewebrity" with over two million video views and an appearance as a contestant on Frank the Entertainer...In a Basement Affair on Vh1. She was awarded a Rhizome commission for her two person play Playground which debuted at the New Museum and was premiered by South London Gallery at Goldsmiths College. Recent solo shows include MIT List Visual Arts Center, and the New Museum's online project space First Look. She is a 2017 Rema HortMann Emerging Artist Grantee.
Chris Kerich is a programmer, artist, and PhD student studying at the University of California, Santa Cruz. His main research interest is the exploration of embedded values and the discovery of resistant areas in software through the use of glitch, error, and other non-dominant methods of interaction. His artistic practice focuses on much of the same, with a special focus on video games.
Born and based in Shanghai, Lu Yang graduated from the China Academy of Art in 2010. Lu Yang using a variety of media: video, installation, animation, and digital painting, game, the artist unflinchingly explores existential issues about the nature of life and where it resides. Armed with an overlaying mix of strategies taken from Science, Religion, Psychology, Neuroscience, Medicine, Games, Pop Culture and Music, among others, Lu Yang overrides the often delusional belief that humans control are privileged within this universe. Instead, she highlights the biological and material determinants of our condition reminding us of our transient and fragile existence, but with an edge of dark humour that leaves no room for sentimentality. Lu Yang's works have been featured in important solo and group exhibitions at the UCCA (Beijing), Mwoods museum (Beijing), Centre Pompidou (Paris), 56th Venice Biennale 2015 China Pavillion,3rd Istanbul Design Biennial, Liverpool Biennial 2016, Shanghai Biennale 2012, Montreal International Digital Art Biennial2016, Musée d'art contemporain of Lyon, Momentum (Berlin), Tampa Museum of Art, and The 5th Fukuoka Asian Art Triennale.

About Vector Festival
Now in its sixth year, Vector Festival showcases emergent, critical, and experimental new media art across a series of events that include exhibitions, performances, workshops, discussion panels, and screenings and is presented annually by InterAccess. Vector Festival was founded in 2013 by a revolving collective of curators, artists, and scholars. Foundational members (2013-2015) include Skot Deeming, Clint Enns, Christine Kim, Katie Micak, Diana Poulsen, and Martin Zeilinger.
The full program can be found at vectorfestival.org.
About the Festival Curators
Katie Micak is an artist, curator, and researcher, whose work includes video and performance art practices, collaborative design, and an investigation of the integration of chatbots/robots into physical environments. Micak is a founding member of Vector. She holds an MFA from Syracuse University in Transmedia Studies, and is a recent MA graduate from OCADU's Digital Futures Program. Micak is also an educator in new media art practices. She has served as the Gallery Director of Spark Contemporary in Syracuse, NY and Propeller in Toronto, and was the Digital Media Department Manager at the Phillips Collection in Washington, DC. @KatieMicak / katiemicak.com
Martin Zeilinger is a new media researcher, curator, and practitioner based in London, UK, where he works as Senior Lecturer in Media at Anglia Ruskin University. He has been the co-curator of Vector Festival since 2014. Zeilinger's work on appropriation-based creative practices, digital art, financial technologies, and theories of cultural ownership has been published, screened, and exhibited widely. Current projects include 'MoneyLab#4' (London, UK, 2018; on contemporary art and financial activism) and 'Rethinking Affordance' (Akademie Schloss Solitude, Stuttgart, 2018; on digital art and design theory). @mrtnzlngr / marjz.net