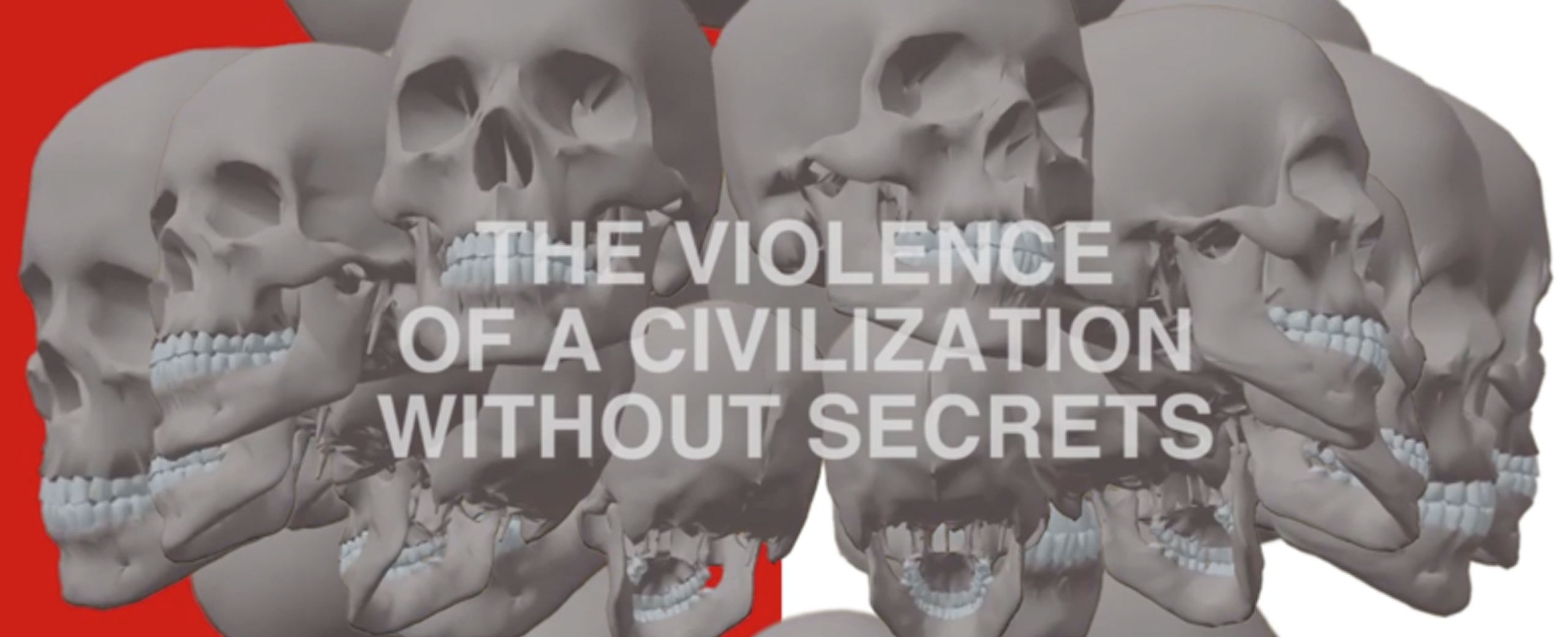 Words Before All Else: Oral Histories in the Digital Age
Words Before All Else: Oral Histories in the Digital Age
a part of Vector Festival 2018, Born Digital
at Jackman Hall, Art Gallery of Ontario (317 Dundas St. West)
July 14th 2018, 7PM-9PM
FREE
What happens when traditional stories are envisioned digitally? In an era where the physical blends into the digital, what is the (a)/(e)ffect on oral transmissions of knowledge, art, ideas, and cultural material from one generation to another? What is lost in a society that does not acknowledge specific types of histories? How have digital technologies transformed traditional storytelling? The works in this program make use of experimental forms of computer animation in order to work through these questions.

Presented with the support of The Art Gallery of Ontario and The National Film Board of Canada.
Click here to reserve tickets for this event.
The full festival program can be found at vectorfestival.org.
About the Artists
Skawennati makes art that addresses history, the future, and change. Her pioneering new media projects include the online gallery/chat-space and mixed-reality event, CyberPowWow (1997-2004); a paper doll/time-travel journal, Imagining Indians in the 25th Century (2001); and TimeTraveller™ (2008-2013), a multi-platform project featuring nine machinima episodes. Born in Kahnawake Mohawk Territory, Skawennati holds a BFA from Concordia University in Montreal, where she is based. She is co-director of Aboriginal Territories in Cyberspace (AbTeC), a research network of artists, academics, and technologists investigating, creating, and critiquing Indigenous virtual environments.
Ojibway filmmakers Adam and Zack Khalil were raised in Michigan's Upper Peninsula and currently make their home in New York. Adam Khalil's practice attempts to subvert traditional forms of ethnography through humour, relation, and transgression. Zack Khalil's work often explores an indigenous worldview and undermines traditional forms of historical authority through the excavation of alternative histories and the use of innovative documentary forms.
Mary Kunuk lives and works in Igloolik, Nunavut. A member of the Inuit collective Arnait Video Production (Women's video workshop), founded in Igloolik in 1991, she has been making videos since 1993. A number of her works are the result of a collaborative process with her community, her family, or other video artists, including Marie-Hélène Cousineau.
Zacharias Kunuk is a renowned filmmaker whose dramatic feature films include Atanarjuat: The Fast Runner, which won the Camera d'Or at the Cannes film festival in 2001, and The Journals of Knud Rasmussen, codirected with Norman Cohn, which opened the Toronto International Film Festival in 2006. Kunuk is the winner of a National Arts Award, the National Aboriginal Achievement Award and was named an Officer of the Order of Canada in 2005. Earlier this year, Atanarjuat was voted the Best Canadian Film of all times by Toronto International Film Festival survey.
Elizabeth LaPensée, Ph.D., is an award-winning designer, writer, artist, and researcher who creates and studies Indigenous-led media such as games and comics. She is Anishinaabe from Baawaating with relations at Bay Mills Indian Community, Métis named for Elizabeth Morris, and settler-Irish. She is an Assistant Professor of Media & Information and Writing, Rhetoric & American Cultures at Michigan State University.
Trevino L. Brings Plenty is a poet and musician who lives, works, and writes in Portland, OR. He is singer/songwriter/guitarist for the musical ensemble Ballads of Larry Drake. Trevino is an American and Native American; a Lakota Indian born on the Cheyenne River Sioux Reservation, South Dakota, USA. Some of his work explores the American Indian identity in American culture and how it has through genealogical history affected indigenous peoples in the 21st century. He writes of urban Indian life; it's his subject.
Jackson Polys is a visual artist who seeks to dissolve artificial boundaries between perceptions of traditional Native art forms, practices, and contemporary life, and whose practice reflects an inquiry into the limits and viability of desires for indigenous growth. Doug Smarch Jr., a member of the Tlingit Nation from Teslin, is a conceptual artist working in sculpture and animation. Smarch attended San Francisco Arts Institute and earned a BFA. He then went on to earn a Graduate Degree in Design Media Arts from the University of California, Los Angeles.
About Vector Festival
Now in its sixth year, Vector Festival showcases emergent, critical, and experimental new media art across a series of events that include exhibitions, performances, workshops, discussion panels, and screenings and is presented annually by InterAccess. Vector Festival was founded in 2013 by a revolving collective of curators, artists, and scholars. Foundational members (2013-2015) include Skot Deeming, Clint Enns, Christine Kim, Katie Micak, Diana Poulsen, and Martin Zeilinger.
About the Screening Curators
Jenny Western is an independent curator based in Winnipeg. She holds an MFA in Art History and Curatorial Practice from York University in Toronto. Her undergraduate degree is in history and art history, from the University of Winnipeg. In 2009 - 2010 Western was Aboriginal Curator-in-Residence at Winnipeg's Plug In Institute of Contemporary Art and Urban Shaman Contemporary Aboriginal Art Gallery. She currently works as Collections Coordinator at the University of Manitoba. Some of her recent exhibitions include co-curatorial projects Hovercraft, at the Art Gallery of Southwestern Manitoba, in Brandon; The Ephemerals: Trending, for Gallery 1C03 in Winnipeg; and Close Encounters: The Next 500 Years, for Plug In ICA.
Clint Enns is a video artist and filmmaker living in Montreal. His work primarily deals with moving images created with broken and/or outdated technologies. His work has shown both nationally and internationally at festivals, alternative spaces, and microcinemas. Enns holds a Master's Degree in Mathematics from the University of Manitoba and a Master's Degree in Cinema and Media from York University where he is currently pursuing a PhD. His writings and interviews have appeared in Millennium Film Journal, Incite! Journal of Experimental Media, and Spectacular Optical.
Image: The Violence of a Civilization Without Secrets by Zack Khalil and Adam Shingwak Khalil in collaboration with Jackson Polys (2017). Courtesy of the artists.