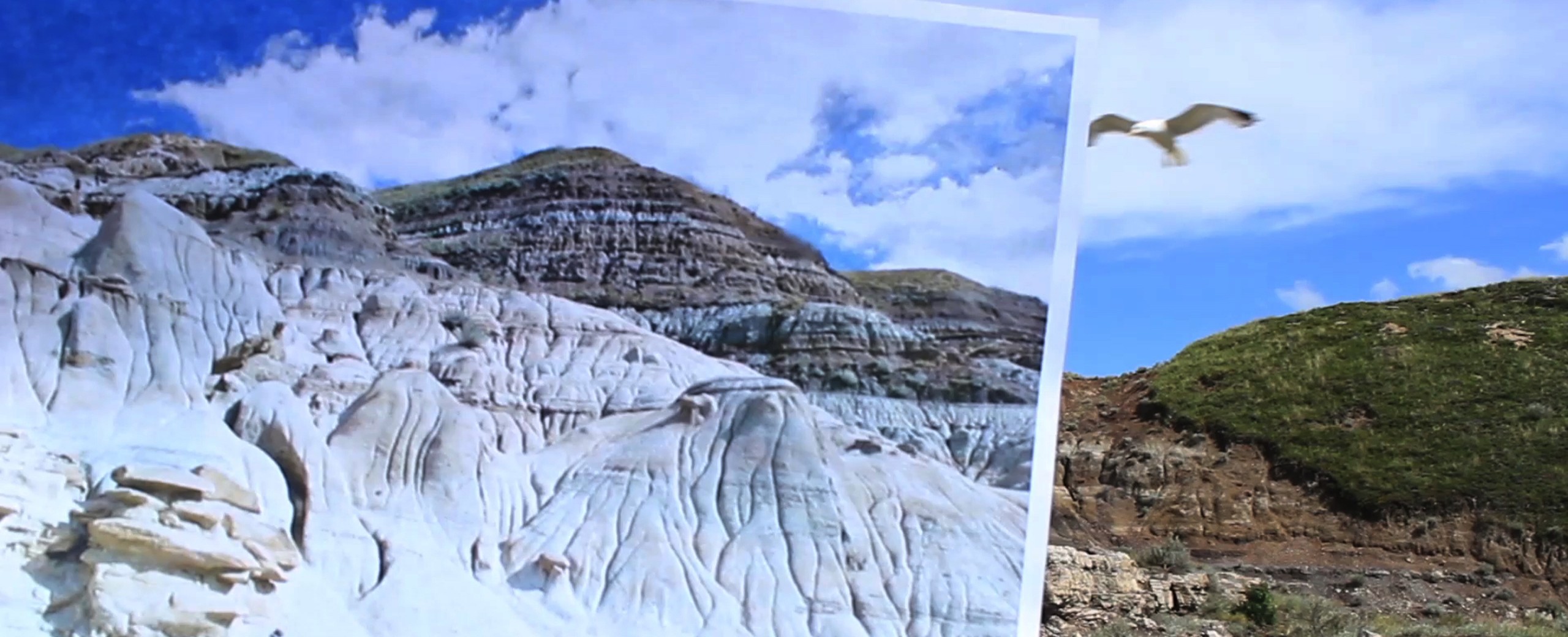 Eschatological Autopsy: The Act of Seeing the End of the World with One's Own Eyes | Screening
Ryerson University School of Image Arts, Room 307 (122 Bond St.)
July 13, 2019
8-10PM
$15 / free for Vector Festival All Access Passholders

Works by Anxious to Make (Liat Berdugo + Emily Martinez), Christina Battle, Jennifer Chan, Thirza Cuthand, John Greyson, Geoffrey Pugen, Claire Scherzinger, Tom Sherman
Curated by Shahbaz Khayambashi
Presented in partnership with Pleasure Dome
The future is environmental disaster. Humanity is slowly but surely reaching the point of no return, a point of irreversible environmental damage, a point of mass extinction, widespread catastrophe, and a step toward uninhabitability. In this screening program, using views from the past, present, and future, artists ask—where can we go from here? When the end seems to be looming and those who can do something about it refuse, what else is there to do but to sit back and watch it happen?

About the Artists

Anxious to Make is the collaborative practice of Liat Berdugo and Emily Martinez, two commissioning bodies. Our focus is on the so-called "sharing economy" and the contemporary artists "anxiety to make" in the accelerationist, neoliberal economic landscape. While Anxious to Make's physical existence takes many shifting forms, it often manifests as series of video commissions, downloads, online generators, workshops, net art interventions, and sweepstakes. Anxious to Make believes in absurdist extremes as way to examine contemporary realities.
Media artist, curator, arts administrator and educator Christina Battle (Edmonton, AB) has been an active member of a number of communities including Toronto, San Francisco, and Denver. She has a B.Sc. with specialization in Environmental Biology from the University of Alberta, a certificate in Film Studies from Ryerson University, an MFA from the San Francisco Art Institute, and is currently working toward a PhD in Art & Visual Culture at the University of Western Ontario. With a practice founded in a DIY ethos she sees culture as being entirely dependent on it if it hopes to remain current and progressive. With organizing an active and critical part her practice, Christina has organized events and curated screenings that have traveled across North America. She is a contributing editor to INCITE Journal of Experimental Media. Her current collaborative project includes SHATTERED MOON ALLIANCE with Serena Lee.
Thirza Cuthand was born in Regina, Saskatchewan, Canada, and grew up in Saskatoon. Since 1995 they have been making short experimental narrative videos and films about sexuality, madness, youth, love, and race, which have screened in festivals internationally, including the Tribeca Film Festival in New York City, Mix Brasil Festival of Sexual Diversity in Sao Paolo, Hot Docs in Toronto, ImagineNATIVE in Toronto, Frameline in San Francisco, Outfest in Los Angeles, and Oberhausen International Short Film Festival in Germany where their short Helpless Maiden Makes an 'I" Statement won honourable mention. Their work has also screened at galleries including the Mendel in Saskatoon, The National Gallery in Ottawa, and Urban Shaman in Winnipeg. They completed their BFA majoring in Film and Video at Emily Carr University of Art and Design, and their Masters of Arts in Media Production at Ryerson University. In 1999 they were an artist in residence at Videopool and Urban Shaman in Winnipeg, where they completed Through The Looking Glass. In 2012 they were an artist in residence at Villa K. Magdalena in Hamburg, Germany, where they completed Boi Oh Boi. In 2015 they were commissioned by ImagineNATIVE to make 2 Spirit Introductory Special $19.99. In the summer of 2016 they began working on a 2D video game called A Bipolar Journey based on their experience learning and dealing with their bipolar disorder. It showed at ImagineNATIVE and they are planning to further develop it. They have also written three feature screenplays and sometimes does performance art. They are of Plains Cree and Scots descent, a member of Little Pine First Nation, and currently reside in Toronto.
John Greyson is a Toronto film/video artist whose shorts, features and installations include: Fig Trees (2009, Best Documentary Teddy, Berlin FIlm Festival; Best Canadian Feature, Inside Out Festival); Proteus (2003, Best Film, Diversity Award, Barcelona Film Festival; Best Actor, Sithenghi Film Festival); The Law of Enclosures (2000, Best Actor Genie); Lilies (1996 – Best Film Genie, Best Film at festivals in Montreal, Johannesburg, Los Angeles, San Francisco); Un©ut (1997, Honourable Mention, Berlin Film Festival); Zero Patience (1993 – Best Canadian Film, Sudbury Film Festival); The Making of Monsters (1991 – Best Canadian Short, Toronto Film Festival, Best Short Film Teddy – Berlin Film Festival); and Urinal (1988 – Best Feature Teddy, Berlin Film Festival). He co-edited Queer Looks, a critical anthology on gay/lesbian film & video (Routledge, 1993), is the author of Urinal and Other Stories (Power Plant/Art Metropole, 1993), and has published essays and artists pieces in Alphabet City, Public, FUSE, and twelve critical anthologies. An associate professor in film production at York University, he was awarded the Toronto Arts Award for Film/Video, 2000, and the Bell Canada Video Art Award in 2007.
Geoffrey Pugen works with performance, narrativity and documentation. His practice explores relationships between real and staged performance, the actual and the fictional, the natural and the artificial. Pugen conceptualizes and renders situations that examine shared perceptions of how history, documentation, and simulation intersect. This approach elicits self-referential, uncanny worlds that de- and re- assemble ubiquitous narratives. His work is at once a playful and disarming invitation to these worlds, where the human self becomes an appendage of collective simulation, and objects take on qualities of consciousness. Inspired by the interpretive communities of art, sport, theatre and the documentation thereof, Pugen is interested in thinking critically about the perceptual and political conditions underlying the performance of shared meaning. Thematically, Pugen's work confronts technologically induced transformations of the body, the impact on nature/culture, and the relationship between the virtual and the paranormal. His work is mostly project based and my aesthetic transforms through investigating, borrowing and occupying genre and cliché, exploring the myriad ways we communicate and interact with technologies.
Claire Scherzinger depicts the uncanny as a way of resisting systems of power and considering better ways to live within western civilization. Scherzinger is an interdisciplinary artist, working with drawing, painting, gaming engines and podcasting to develop the core of her practice, which is the process of building new worlds. Although she uses different mediums, she approaches her practice with the internal logic of a painter. Scherzinger has a BFA in drawing and painting and creative writing from OCAD University and an MFA from the University of Victoria. Her work has appeared in exhibitions across Canada and internationally in venues such as Mulherin Toronto and Mulherin New York; Eastern Edge Gallery in St. John's Newfoundland, Forest City Gallery in London, ON, and she was a purchase prizewinner of the 2015 Royal Bank of Canada funded Painting Competition. Upcoming exhibitions include solo projects at YYZ in Toronto and the Varley Art Gallery in Markham, ON. She is also the host of the art podcast Overly Dedicated and is in the process of developing a new fictional series podcast titled ARCA-45672 with the support of the University of Victoria. She currently lives and works between Seattle, WA and Victoria, BC.
Tom Sherman is a video artist and writer. He is also a performance artist, appearing in nearly all of his videos. Much of his work is text-based. He incorporates his own writing into his video work with voice-over commentary. Nature, death, human-machine relationships, and communication are major themes in Sherman's work. Sherman received a BFA from Eastern Michigan University. He immigrated to Canada in 1972, settling in Toronto. Through A Space Gallery, he completed his post-graduate work. He contributed regularly to CBC radio, worked as a writer and music video producer for TVO, and co-founded Fuse magazine. Although he teaches in the Department of Transmedia at Syracuse University, he considers the south shore of Nova Scotia his home.

About the Curator

Shahbaz Khayambashi is a Toronto-based academic, teacher and curator, currently working towards a PhD at York University. His research deals with visual representations of death and the use of images in political movements. He has curated several shows in Toronto across the last few years, independently and as a member of Pleasure Dome, Citizens Committee on Moral Hygiene and Monster Mash. His writing has been published in the Journal of Radio and Audio Media and Pressed.


Image: Christina Battle, Water Once Ruled. Image courtesy of CFMDC.