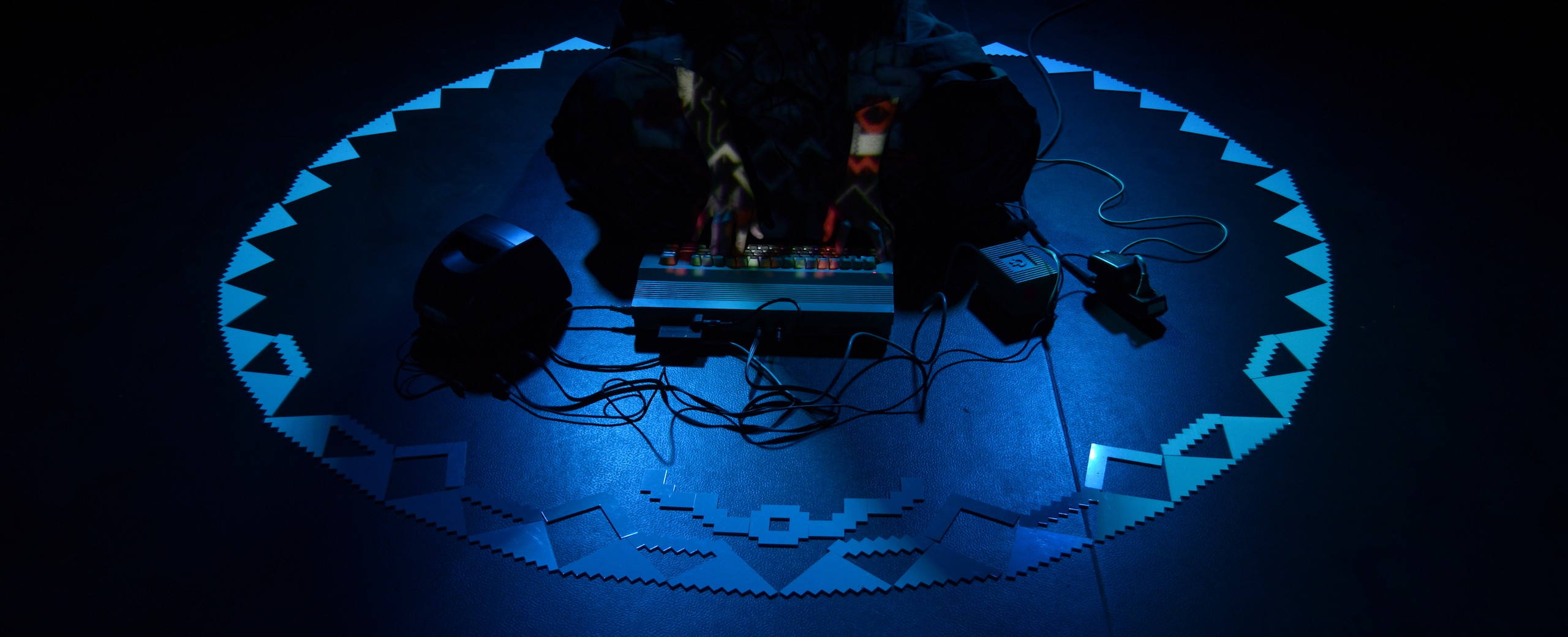 Future Perfect Performance Night
Small World Music Centre (180 Shaw St.)
July 12, 2019
8-10PM
$15 / free for Vector Festival passholders

Performances by Raquel Meyers, Jenn Norton, Tasman Richardson
An international line-up of performance artists working with experimental visualization tools, archaic home computing, and immersive sound welcome you to an evening of otherworldly, post-calamity, 'future perfect' entertainment. Works look at scale and time from macro and micro perspectives, while contemplating how the world is adapting to us.

About the Performers
Raquel Meyers is a Spanish artist who defines her practice as KYBDslöjd (drawing / crafting by typing) with technology from the past. Woven with Commodore 64 characters sets, flickering in teletext, or fed to fax machines, her world of mythical creatures and dreamlike pilgrimades is one of patience and resolve. Frame-by-frame and glyph-by-glyph, we descend into a jagged wonderland where time stands still and chaos reigns.
Jenn Norton is an interdisciplinary artist using stereoscopic interactive video, installation, sound, and kinetic sculpture, working intimately with the technologies she employs, marrying formal and intuitive processes. Her imaginative compositions of disjunctive imagery are bound together in post-production, rendering familiar landscapes, objects, and activities strange to reframe longstanding expectations. Norton has exhibited nationally and internally, winning numerous awards for her work, including the Canada Council for the Arts International Residency Program at La cité Internationale des Arts (Paris, France), and the OCADU Integrated Media Medal. She is a PhD student in the Fine Arts program at York University.
Tasman Richardson has exhibited extensively throughout the Americas, Europe, and Asia. His practice uses primarily video collage using the JAWA method (The manifesto he authored in 1996), fully immersive media installations (Necropolis, MOCCA 2012), and live a/v performances. His most recent works include performances featured at X Avant festival Toronto, screening at Impakt festival Utrecht, and performance at IAF festival Tokyo. His themes to date have been a critical response to the spectacular, emotionally potent illusion of media culture, which he dubbed contemporary necromancy or death culture. In spite of this, he has debated on behalf of video as a living art in our nation's capital and enthusiastically teaches workshops on scavenging and generative live glitch art.


About the Curators
Katie Micak is an artist, curator, and researcher, whose work includes video and performance art practices, collaborative design, and an investigation of the integration of chatbots/robots into physical environments. Micak is a founding member of Vector. She holds an MFA from Syracuse University in Transmedia Studies, and is a recent MA graduate from OCADU's Digital Futures Program. Micak is also an educator in new media art practices. She has served as the Gallery Director of Spark Contemporary in Syracuse, NY and Propeller in Toronto, and was the Digital Media Department Manager at the Phillips Collection in Washington, DC.
@KatieMicak / katiemicak.com
Martin Zeilinger is a new media researcher, curator, and practitioner, working on digital art in relation to appropriation, financialization, AI, and intellectual property. He is currently working on completing a monograph on these topics; his research has been widely published in academic books and journals and translated into several languages. Martin currently works as Senior Lecturer in Media at Anglia Ruskin University (Cambridge/UK). Most recently, he has published an essay on blockchain art in the catalogue for the exhibition Vertiginous Data (National Museum of Modern and Contemporary Art, Seoul/Korea), and has completed co-editing a special issue of the journal Media Theory. This year, he has also joined the curatorial collective at NEoN Festival (Dundee, Scotland).
@mrtnzlngr / marjz.net


Image: Raquel Meyers, Keys of Fury. Image courtesy of the artist.