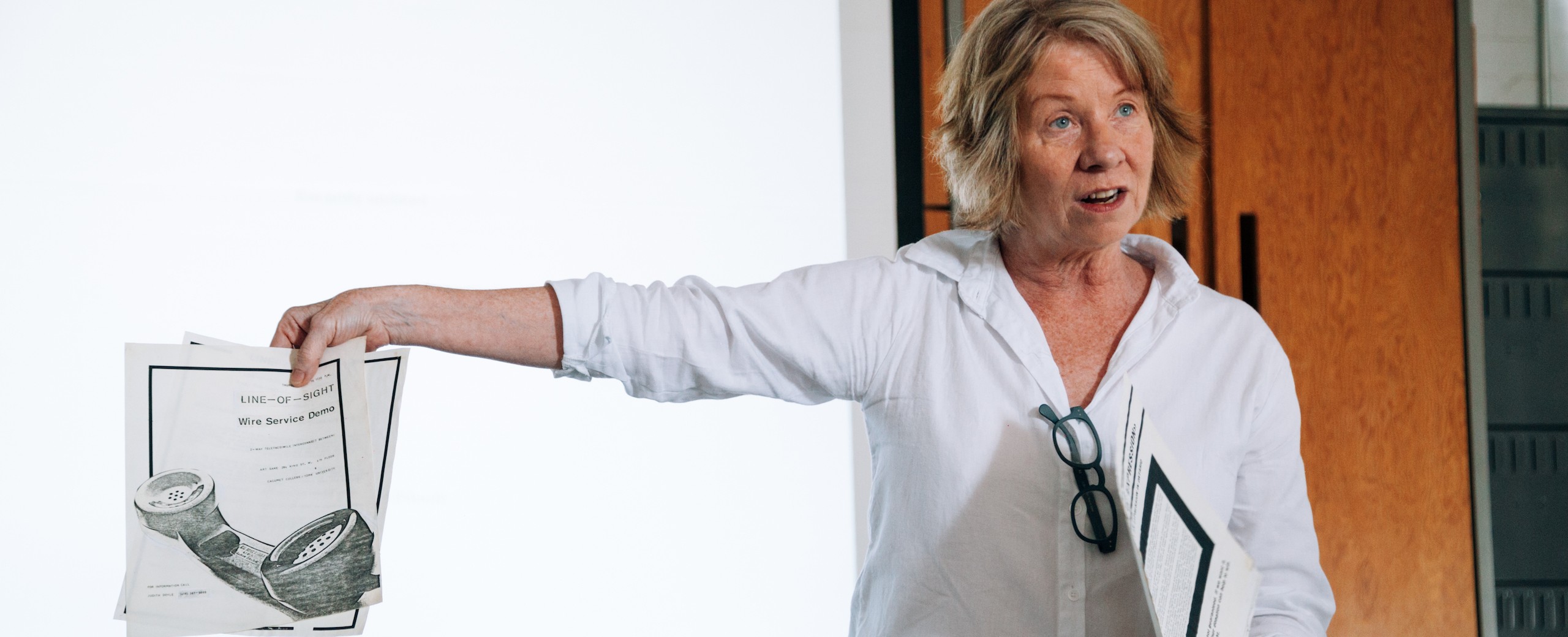 Vector Festival Artist Talks
Electric Perfume (805 Danforth Ave.)
July 14
4-6PM
FREE

Join artists Thirza Cuthand, Droqen, Jenn Norton, and Adrienne Matheuszik for a series of short lectures that provide context to their works on view in the festival. The event will be followed by an audience Q&A and the festival's closing reception from 6-7PM.

About the Artists

Thirza Cuthand was born in Regina, Saskatchewan, Canada, and grew up in Saskatoon. Since 1995 they have been making short experimental narrative videos and films about sexuality, madness, youth, love, and race, which have screened in festivals internationally, including the Tribeca Film Festival in New York City, Mix Brasil Festival of Sexual Diversity in Sao Paolo, Hot Docs in Toronto, ImagineNATIVE in Toronto, Frameline in San Francisco, Outfest in Los Angeles, and Oberhausen International Short Film Festival in Germany where their short Helpless Maiden Makes an 'I" Statement won honourable mention. Their work has also screened at galleries including the Mendel in Saskatoon, The National Gallery in Ottawa, and Urban Shaman in Winnipeg. They completed their BFA majoring in Film and Video at Emily Carr University of Art and Design, and their Masters of Arts in Media Production at Ryerson University. In 1999 they were an artist in residence at Videopool and Urban Shaman in Winnipeg, where they completed Through The Looking Glass. In 2012 they were an artist in residence at Villa K. Magdalena in Hamburg, Germany, where they completed Boi Oh Boi. In 2015 they were commissioned by ImagineNATIVE to make 2 Spirit Introductory Special $19.99. In the summer of 2016 they began working on a 2D video game called A Bipolar Journey based on their experience learning and dealing with their bipolar disorder. It showed at ImagineNATIVE and they are planning to further develop it. They have also written three feature screenplays and sometimes does performance art. They are of Plains Cree and Scots descent, a member of Little Pine First Nation, and currently reside in Toronto.

Droqen has been making games forever. In 2012, he released Starseed Pilgrim, his best known game. He is excited to explore new experiences that are machine-augmented and relational to other humans. Unfortunately he has not figured out how to sell scary new ideas, so he has been learning to do this while continuing to create.

Jenn Norton is an interdisciplinary artist using stereoscopic interactive video, installation, sound, and kinetic sculpture, working intimately with the technologies she employs, marrying formal and intuitive processes. Her imaginative compositions of disjunctive imagery are bound together in post-production, rendering familiar landscapes, objects, and activities strange to reframe longstanding expectations. Norton has exhibited nationally and internally, winning numerous awards for her work, including the Canada Council for the Arts International Residency Program at La cité Internationale des Arts (Paris, France), and the OCADU Integrated Media Medal. She is a PhD student in the Fine Arts program at York University.

Adrienne Matheuszik is an interdisciplinary artist based in Toronto, Ontario. Matheuszik holds a Master's of Fine Arts from OCAD University, a Graduate Certificate from Concordia University and a Bachelor of Fine Arts from University of Ottawa. Her practice deals with hybridity and mixed race identity through mixed reality spaces and experiences. Matheuszik is currently exploring ideas of representation, identity and subjectivity through working with digital mediums such as augmented reality, video, sculpture and interactive installation.
Image: Judith Doyle, Vector Festival 2018 artist talk. Image by Yuula Benivolski.