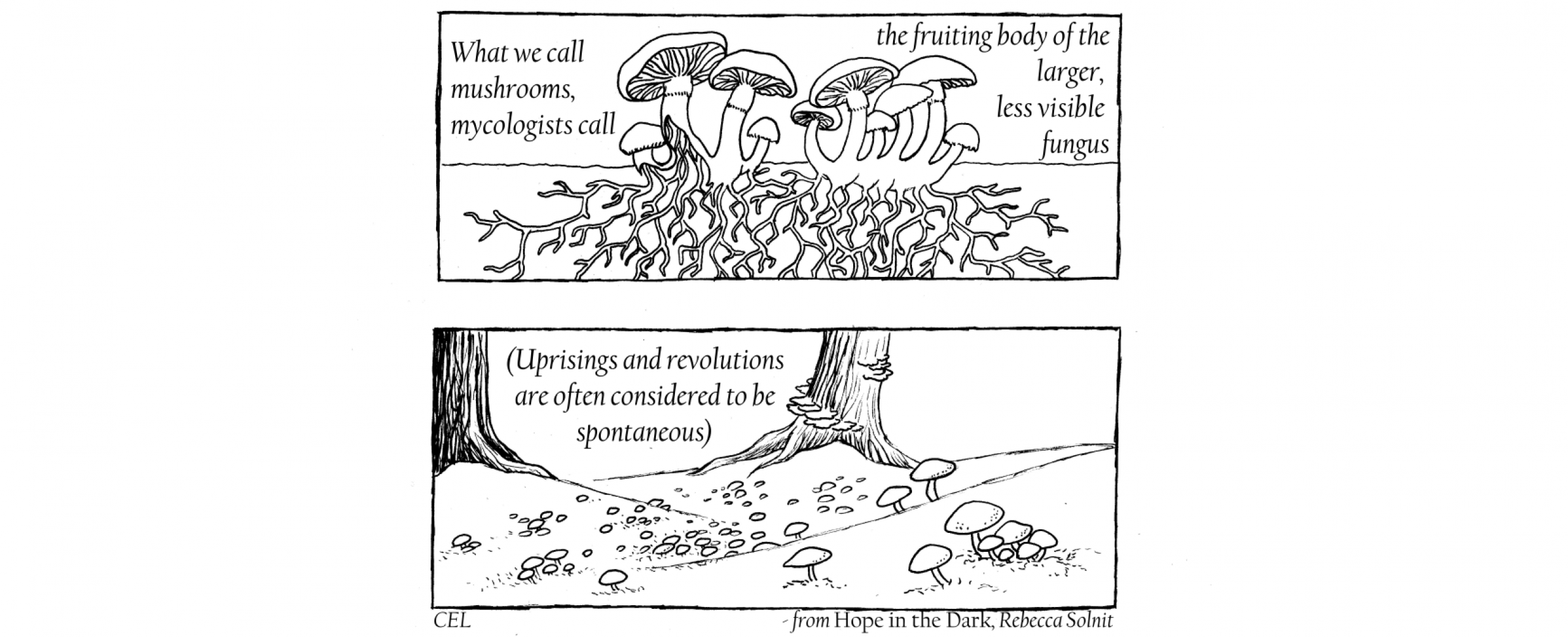 Anti-Racist Artist Networks: Emerging Forms Of Community, Solidarity, and Care - Panel
The events of this year have frequently been called "unprecedented." On a scale of 0 to 100, Google Trends reports a worldwide spike in the use of that term between the beginning and end of March, with interest peaking at 100 between March 22-28, 2020. Admittedly, the year has been filled with what seems to be unsolicited and surprising events. It's difficult not to be taken aback by each new issue that arises, and for that reason, "unprecedented" seems appropriate. But while this descriptive motif fits the rhetorical bill of crisis reporting, it also fails to acknowledge the ongoing timelines of resilience and violence that underlie the seemingly anomalous.
Related to Kimberlé Crenshaw's notion of intersectionality, Patricia Hill Collins' concept of matrix thinking offers a way to address how various space-time networks of systemic oppression and violence influence and develop one another. Through matrix thinking, the oft-siloed geographies and histories of racism, the pandemic, and environmental destruction can be navigated holistically. Taking the transgenerational and intersectional dimensions of community organizing into account, the "emerging" is no longer just about new acts and legacies of change, but the deep histories of organized resilience (and violence) that beget and inform liberatory strategies of the present and future. In this context, speakers Geneviève Wallen, Fallon Simard, Ashley Jane Lewis, and Syrus Marcus Ware address the multidimensional, multiscalar registers of their care and community work.
Tuesday, July 21, 2020
3pm-4:30pm
FREE

This panel was presented as part of Vector Festival 2020: Online Edition, curated by Katie Micak and Martin Zeilinger.
ABOUT THE ARTISTS
Ashley Jane Lewis is a new media artist with a focus on speculative design and tech education. Her artistic practice explores the black diaspora of the past, present and future through computational and analog mediums including science fiction, networked devices, machine learning, data weaving, food design, bio art and performance. Her award winning work has exhibited in both Canada and the US, most notably on the White House website during the Obama presidency. As an educator, Ashley has taught more than 3500 young people how to code, landing her on the 2016 Top 100 Black Women to Watch in Canada as well as earning her press coverage as a tech activist from outlets like Reader's Digest, Huffington Post, and Metro News. She is proud of the work she has done with Dan Shiffman and ml5.org, a platform offering "friendly machine learning for the web" in order to lower barriers to entry into creative computing. Ashley holds a BFA in New Media from Ryerson University in Toronto and just completed a Master's degree in Interactive Telecommunications at ITP in New York University's Tisch School of the Arts.
Fallon Simard's memes and videos capture the conflicts created by colonialism, land, politics, and capitalism. The Anishinaabe-Metis artist creates moving and still images as an embodied and visceral response to Indigenous identity that dispels current tropes of Indigeneity. Simard's work instead investigates intensity and burden as products of injustice(s), human rights violations, and colonial violence. In his videos and memes, Simard illustrates bad feelings and harms from different Indigenous contexts to reveal new modes and effects of colonial-capital-racial policy. Simard's work mobilizes grief, intensity, and trauma as mitigation tools to colonial-capital policy. Fallon Simard additionally creates policy recommendations into legislation, services, programs, and organizations to advocate for the human rights and substantive equality of Two Spirit, Queer and Trans Indigenous people.
Geneviève Wallen is a Tiohtiá:ke/Montreal-based independent curator and writer. She obtained a BFA in Art History at Concordia University (2012) and a MFA in Criticism and Curatorial Practice at OCAD University (2015). Wallen's practice is informed by diasporic narratives, intersectional feminism, intergenerational dialogues, BIPOC alternative futurities and healing platforms. Her ongoing research focuses on the notion of longevity as a methodology for resistance and care work in the arts. Her most recent curated exhibition, Made of Honey, Gold, and Marigold (2020), was on view at the Robert McLaughlin Gallery in Oshawa. Wallen contributed essays for C magazine and the anthology Other Places;Reflections on Media Arts in Canada, edited by Deanna Bowen. She is an Exhibition Coordinator at Fofa Gallery, a member of YTB (Younger than Beyoncé) Collective, and is the co-initiator (with Marsya Maharani) of Souped Up a thematic dinner series conceived to carve spaces for care and support building among BIPOC curators and cultural workers.
Syrus Marcus Ware is a Vanier scholar, visual artist, activist, curator and educator. Syrus uses painting, installation and performance to explore social justice frameworks and black activist culture, and he's shown widely in galleries and festivals across Canada. He is part of the Perfor-mance Disability Art Collective and a core-team member of Black Lives Matter – Toronto. He has won several recognitions including the TD Diversity Award 2017, "Best Queer Activist" NOW Magazine 2005, and the Steinert and Ferreiro Award 2012.

ABOUT THE MODERATOR
Belinda Kwan is a Chinese-Canadian settler curator interested in exhibitionary forms of critique, pedagogy, and advocacy. Her research-based practice explores how processes of knowledge translation and legitimization produce or influence transgenerational trauma. More recently, her work has focused on how notions of scientific and mathematic 'objectivity' shape the socio-political imaginary. She has curated for the Society of Literature, Science, and the Arts (int'l); Varley Art Gallery (Markham); Art Gallery of York University (Toronto); and Myseum of Toronto. She is a Co-Director at Bunker 2 Contemporary Art Container and a board member of Trinity Square Video (Toronto).