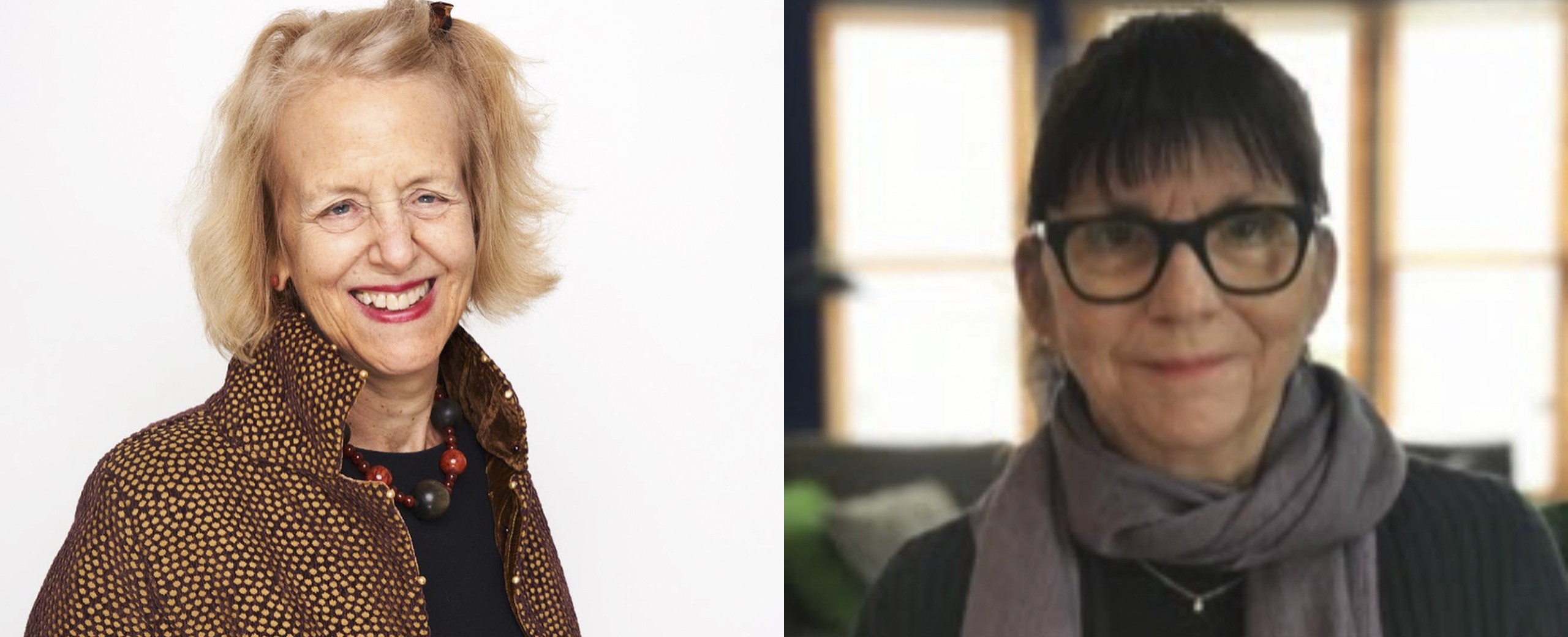 Barbara London and Lisa Steele In Conversation: Video/Art and its Evolution
We are pleased to welcome Barbara London for the launch of her new book Video/Art: The First Fifty Years. New York-based curator and writer Barbara London will be joined by acclaimed video artist Lisa Steele, in conversation on Wednesday, March 11, 2020. The talk is being presented as part of Ryerson University School of Image Arts's Converge lecture series in partnership with Vtape and InterAccess.
The discussion will be followed by a reception where Ms. London will be signing copies of her new book, available for sale: Video Art/The First Fifty Years.
Wednesday, March 11, 2020
7-8:30pm
FREE
Register for tickets.

This event is fully accessible, and is being held at Ryerson University, School of Image Arts, Room 307, 122 Bond St, Toronto

About the speakers
Barbara London is a New York-based curator and writer, who founded the video-media exhibition and collection programs at The Museum of Modern Art, where she worked between 1973 and 2013. Her current projects include the book Video Art/The First Fifty Years (Phaidon: 2020), and the exhibition Seeing Sound (Independent Curators International, (2020-2024.)
London organized one-person shows with such media mavericks as Laurie Anderson, Peter Campus, Teiji Furuhashi, Gary Hill, Joan Jonas, Barbara Steinman, Shigeko Kubota, Nam June Paik, Song Dong, Steina Vasulka, Bill Viola, and Zhang Peili. Her thematic exhibitions at MoMA included Soundings: A Contemporary Score (2013); Looking at Music (2009); Video Spaces (1995); Music Video: the Industry and Its Fringes (1985); and Video from Tokyo to Fukui and Kyoto (1979). She was the first to integrate the Internet as part of curatorial practice, with Stir-fry (1994); Internyet (1998); and dot.jp. (1999).
London teaches in the Sound Art Department, Columbia University, and previously taught in the Graduate Art Department, Yale, 2014-2019. Her honors include: Getty Research Institute scholar, 2016; the Courage Award, Eyebeam, 2016; Gertrude Contemporary Residency, Melbourne, 2012; Dora Maar House Residency, Menerbes, 2010; a CEC Artslink award in Poland, 2003; a Japanese government Bunkacho Fellowship, 1992-93; and a National Endowment for the Arts Fellowship, 1988-89.
Lisa Steele has worked in collaboration with Kim Tomczak since 1983, producing videotapes, performances, and photo/text works that have been exhibited in festivals, museums and galleries around the world. Their awards include the Bell Canada prize for excellence in Video Art, a Toronto Arts Award for Media Arts and in 2005, a Governor General's Award for lifetime achievement in Visual & Media Arts. They are co-founders of Vtape, a Toronto media arts resource centre and, until August 2019, both taught at the University of Toronto in The Daniels Faculty of Architecture, Landscape, and Design. Their installation work …before I wake was included in the inaugural Toronto Biennial of Art in 2019.

About our partners
Vtape is Canada's leading artist-run, not-for-profit distributor of video art. Featuring more than 1,000 artists and over 5,000 titles, Vtape's diverse collection includes works from the early 1970s to the present
Converge is a public lecture series at the Ryerson University School of Image Arts; it is programmed and managed by fourth year Photography students. The series presents leading contemporary artists and academics working in photography, film and a variety of other media. CONVERGE is funded by Ryerson University through P-FACS, the Faculty of Communication and Design, and the School of Image Arts, as well as by the Ryerson Student Union. All the lectures are open to the public, accessible, and free!