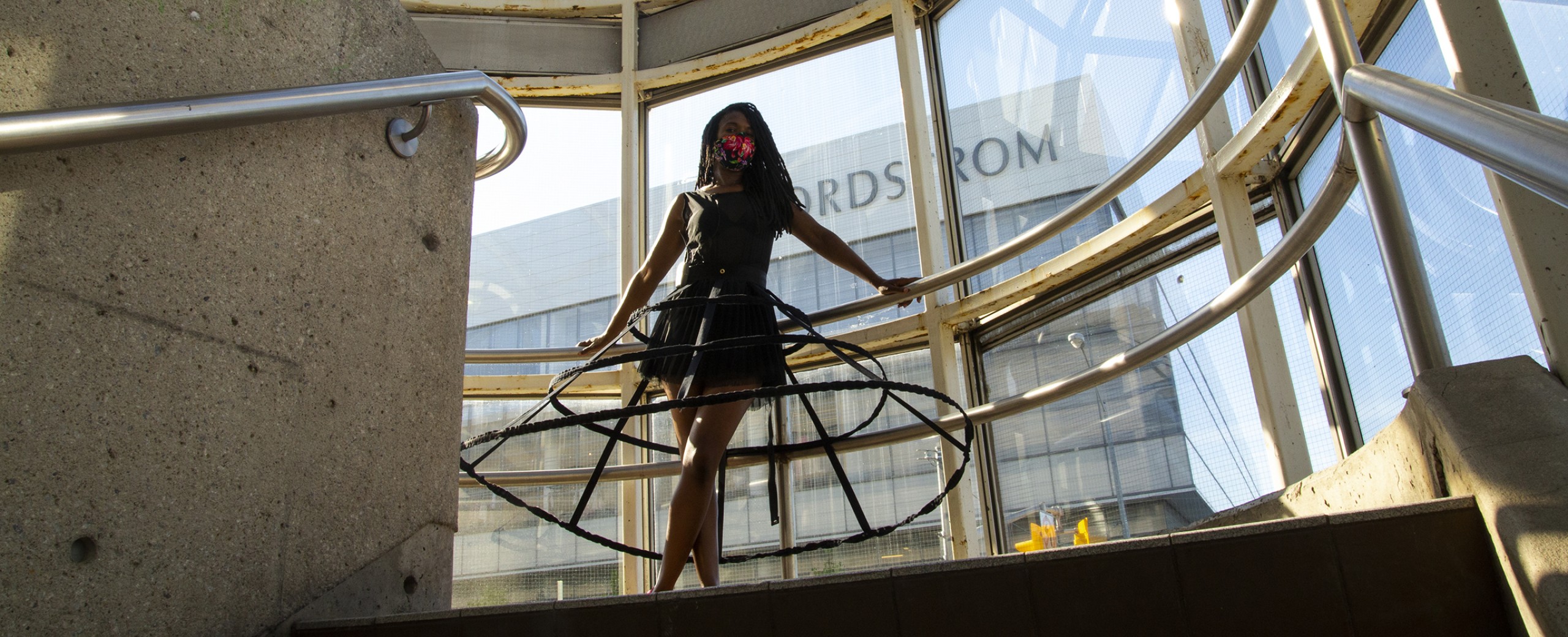 COVIDFASHION - Performance
Join us for Vector Festival's closing party, featuring the live participatory pageant COVIDFASHION followed by a virtual dance party!
Tune in for a live stream of the COVIDFASHION pageant, or join on Zoom to premiere your fashions online. Participants are encouraged to use simple, found objects from their homes to create COVID-inspired outfits for the following pageant categories: Best Mask, Best Physical Distancing Shape, and Most Outrageous Use of Material.
Stick around after the pageant for a virtual dance party hosted by DJ Bile Sister (aka DJ Garbage Body), the closing event of Vector Festival 2020: Online Edition.
Tuesday, July 23, 2020
8pm-9pm
FREE
This event was presented as part of Vector Festival 2020: Online Edition, curated by Katie Micak and Martin Zeilinger.
ARTISTS
Natalie Logan is a documentarian and visual artist who specializes in light sensitive recording media from digital cameras to analog holography. In addition to completing an Honours BA at the University of Toronto, she has a Masters in Fine Art from Ryerson University in Documentary Media. Natalie has been a longstanding Research Assistant at Ontario College of Art & Design University's PHASE Lab (Prototype Holographics for Art and Science Explorations). Outside of academia, Natalie has studied with notable artists and filmmakers such as Paolo Soleri and Werner Herzog. She has participated in international holography residencies such as August Muth's Light Foundry in Santa Fe and Guillermo Heinze's Light Kitchen in Germany. As a freelance documentarian, Natalie has worked with many arts organizations some of which include Inter Access, Gardiner Museum, Power Plant, CBC Arts, Mercer Union and Evergreen Brickworks.

Ayodele Hudlin, owner of Zipette, is a designer of women and girls fashion and graduate from George Brown College Fashion Arts Program. Zipette offers interchangeable syles that focuses on minimization and sustainability, while bringing quality and fun to girls dresses. Zipette has gone on to participate in marketing events like The One of A Kin SHow and The Bump to Baby Show. Ayodele is a member of DMZ, one of Canada's top start-up mentorship programs for entrepreneurs in technology and fashion at Ryerson University. Ayodele is an advocate for the community and has a passion for teaching children sewing as an art and craft so they can integrate it into their lives and are able to express themselves freely. Working with Artstarts over the years, she has collaborated with other talented artists to present The colour Wheel PRoject at Nuit Blanche 2019. Ayodele hopes to inspire others through her work and provide a platform for people to express themselves through fashion and art.
Instagram: @zipettedresses
Daniel Rotsztain is the Urban Geographer, an artist, writer and cartographer whose work examines our relationship to the places we inhabit. He is the author and illustrator of All the Libraries Toronto and A Colourful History Toronto. His work has also appeared in the Globe and Mail, Spacing Magazine and Now Magazine.
Julie Reich (Toronto, ON) is a multifaceted producer/composer. As a musician, Reich's alias is Bile Sister, and performs with large acts such as King Cobb Steelie and Lust for Youth. Festivals include NXNE, POP Montreal Festival, and Big on Bloor. DJ performances include AGO's First Thursdays (DJ Garbage Body). Releases include Faucet (Healing Power Records), a 7" (Personal Records), and upcoming record TBA. Reich tours internationally as backup singer in New York's 'Chandra' performing recently at Primavera Sound (Barcelona, Spain) and Rough Trade Records (NYC). Reich produced and composed the soundtrack for indie video-game Disconicon (Laura Dobson, 2018) and is composing the score and sound design for video-game, SEED (Brendan Lehman). She produced/composed the score for upcoming documentary, Trappist Symphony (Kenn Fisher, Natalie Logan), and is producing/composing the documentary score and sound design for "There is No Coming and There is No Going" (Zeesy Powers).
DESIGNERS
Diséiye Thompson is a custom clothing brand based in Toronto, Canada. The self-titled brand emerged in 2016 by Nigerian born Diséiye Thompson, who was classically trained at Ryerson University & The Academy of Design. Diséiye draws inspiration from their culture, their various intersecting communities, especially the ballroom community, as well as their vast knowledge of fashion history. Their design skills and techniques have evolved from their apprenticeship with Greta Constantine to their time designing at Lea-ann Belter Bridal. Diséiye has become notable as a stylist; after styling music videos and live performances for artists like Aiza and DVSN.
Lana Kuidir is a Syrian Interdisciplinary Artists and entrepreneur who is inspired by the beautiful complexity that exists in Humanity and the world as a whole. Focusing on exploring what is hidden behind the norm, Kuidir applies the tension in contradictions that define us to her work through merging physical reality with artistic expression. Kuidir's philosophy is build on "Pausing time to create timeless pieces".
Lana Kuidir has developed a raw perspective on sculpting a refined dimension of her work, by virtue of an education background in Interactive Arts and Robotics, at Ryerson University specializing in Wearable Technology and showcasing her art work at the Burroughs and the Gardiner Museum.
Later, Lana started experimenting and finding new ways to use textiles as a medium which led her to study Fashion Design at Academy of Design and showed her debut collection in Toronto and Quebec City. Lana also launched the "I AM ME" Campaign that aimed to empower women through creating therapeutic processes with RCJP in Toronto.
Renika Hall is a creative artist with a special interest in the Performing Arts as a dancer and a growing passion for costume design. With a background in Afro-Caribbean dance from the early ages of 4, performing, storytelling and dressing up for stage shows were always a highlight for Hall. Originally growing up in Ottawa, she moved to Toronto to attend Ryerson University and also to continue exploring dance opportunities in a bigger city. After some years of dance training, teaching workshops and performing in videos, Hall became more interested in wardrobe and costume for performers and began to assist with coordinating and styling on projects. Flash forward to now, she is ready to launch her own design platform called "Nika 44play" to show her own concept designs, cosplay and create her own stories. Hall is looking forward to new collab opportunities with other artists and organizations who are interested in creating impactful art that tells a story and inspires minds.
Instagram: @re.nika44 & @nika44play