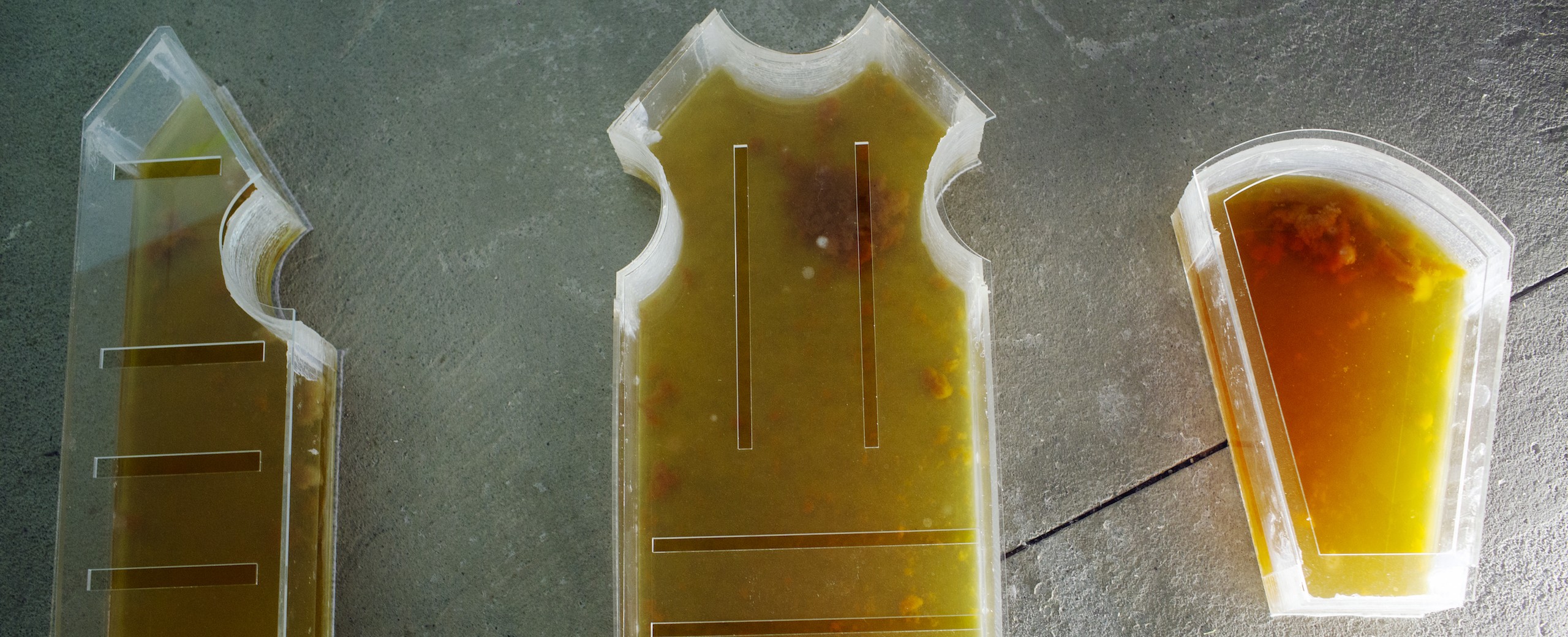 Ctrl+Shift: Sustainable Approaches to Making
November 21, 2020
12-1:30PM
Online via Zoom (link available upon registration)
FREE

What is the carbon footprint of an artwork? How can artists discover the climate outcomes of the materials they use, and where can they look to find more sustainable alternatives? Join artists Ananda Gabo, Keeley Haftner, Anastasiya Yatsuk, Sultana Zana and curator Megan MacLaurin for a discussion on sustainable art making, biomaterials, and interspecies collaboration. This panel will showcase these artists' experimental approaches to circumventing and subverting the polluting practices of commercial industries.

This panel is presented as part of Ctrl+Shift, a strategy session series that invites influential artists, technologists, scholars, and community leaders to propose solutions to challenges that affect the creative community. Structured as a panel discussion, Ctrl+Shift seeks to facilitate productive conversations and actionable strategies that can elicit change in our shared creative landscape. Ctrl+Shift sessions are free and welcome to everyone.

ABOUT THE PANELISTS

ANANDA GABO is an interdisciplinary designer who has been exploring synthetic biology, manufacturing, food design, and community building for ten years. Their current work focuses on their practice called "Critical Crafting" which is a manifestation of producing objects through the nuances of craft by creating prototypes for speculative manufacturing. They are currently partnering with industry practitioners to imagine near-future scenarios of prototyping. Ananda has been a Community Bio Fellow in 2019 at MIT Media Lab, an Ada Lovelace Fellow at Open Science Hardware Summit 2020, and a judge for iGEM (Internationally Genetically Engineered Machine) 2020.
KEELEY HAFTNER is a Saskatchewanian-Canadian artist based in the Netherlands whose artwork deals with garbage as a material and as a philosophical construct. Haftner's work has been exhibited internationally in the US, Canada, and Europe in venues including the MOCA (Toronto), Schering Siftung (Berlin), and the Art Institute of Chicago. She received her BFA in 2011 from Mount Allison University and her MFA in 2016 from the School of the Art Institute of Chicago in Fiber and Material Studies. Haftner is a recipient of the Canada Council for the Arts Research and Creation Grant and a Haagse Kunstenaar with Stroom (Netherlands).
ANASTASIYA YATSUK is a multidisciplinary artist, curator, and fashion designer. Her work explores mapping, questioning of the medium, and social pattern analysis. Born in Russia, Anastasiya studied Journalism at Belgorod State University before transferring to College of Design, Architecture, and Planning at the University of Cincinnati, where she graduated with a Bachelor's Degree in Fine Arts. She has been working as a Creative Director and Fashion Designer for her clothing line, TEXTILEHAUS where she uses different textiles/textile treatments to create a cohesive line for each season. She is currently based in San Francisco and collaborates with the creative community to question branding, consumerism, and sustainable production.
SULTANA ZANA is an artist interested in looking at the relationships between phenomena at different scales. Fine grain observations of chaos and predictability, life and emergence. Zana is a new media artist working with sound synthesis, spatial sound composition, film, code, and Blockchain technology. Her non-human collaborators include, but are not limited to, mycelium, mushrooms, trees, and insects. New developments in media technology, network theory, and ecological research shape her work.


ABOUT THE MODERATOR

MEGAN MACLAURIN is a settler Canadian curator and arts facilitator born and based in Toronto/Tkaronto, Canada. She holds an M.A. in Art History & Curatorial Practices from York University and a B.A. in Art History and Arts Administration from the University of Ottawa. Her research and curatorial practice explore the intersections between natural and technological ecologies in a changing climate. Megan is currently the Programming Coordinator at InterAccess and Co-Director/Curator at Bunker 2 Contemporary Art Container.


Image: Ananda Gabo & Anastasiya Yatsuk, Critical Crafting 1, 2020. Photography by Natalie Logan.