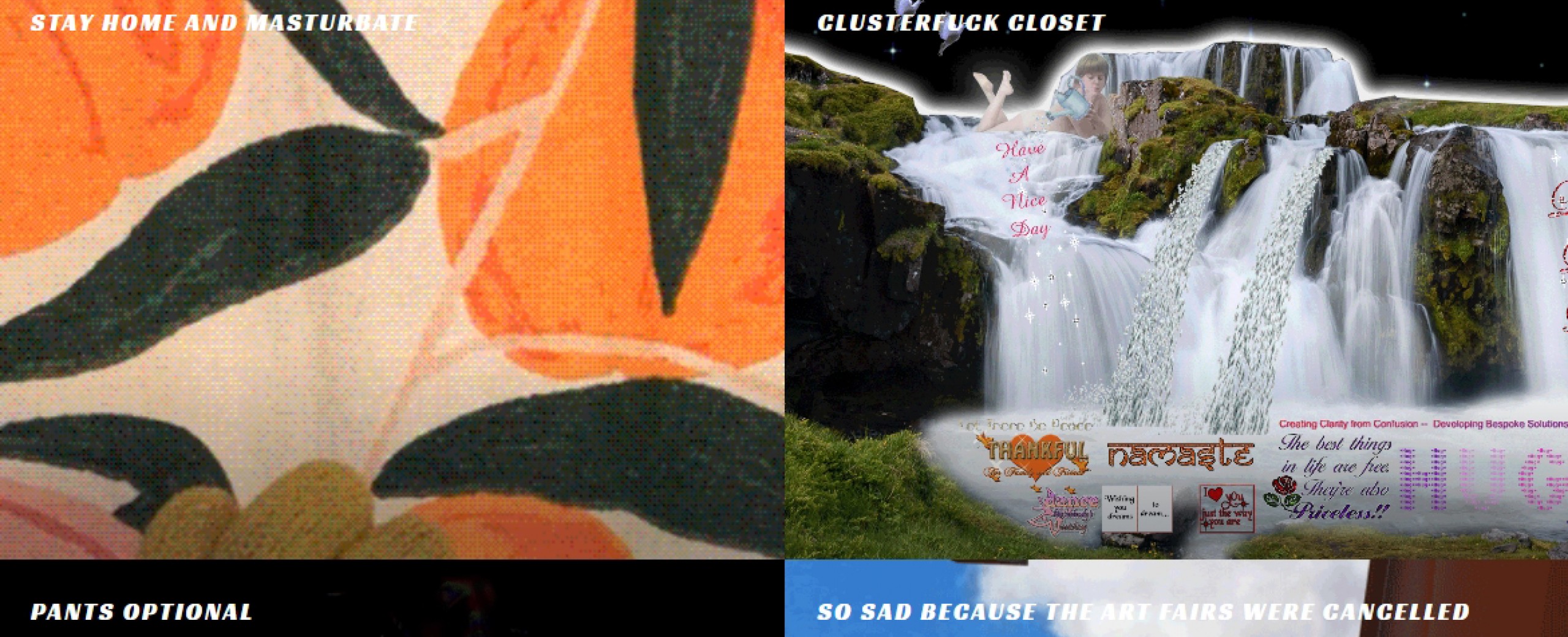 Curating Online: In Conversation with Sarah Cook and Lorna Mills - Panel
We have invited fellow curators and cultural organizers, Sarah Cook and Lorna Mills, to discuss how lockdown-imposed 'social distancing' measures are impacting curatorial practices – what are the challenges and opportunities of moving cultural events online, and how are well-known formats (from exhibitions and screenings to live drawing sessions and performances) changing in response?
Saturday, July 18 2020
12pm-1pm
FREE
This panel was presented as part of Vector Festival 2020: Online Edition, curated by Katie Micak and Martin Zeilinger.
ABOUT THE ARTISTS
Sarah Cook is a curator, writer and researcher based in Scotland. She is Professor of Museum Studies in Information Studies at the University of Glasgow and one of the curators behind Scotland's only digital arts festival NEoN Digital Arts. Sarah has curated and co-curated international exhibitions including: Sleep Mode (2020) and 24/7: A Wake-up Call For Our Non-stop World (2019) both at Somerset House; The Gig Is Up (2016) at V2_Institute for Unstable Media in Rotterdam; New Media Scotland Alt-w (2014) at the Royal Scottish Academy, SSA Annual Exhibition in Edinburgh; Not even the sky: Thomson & Craighead (2013) at MEWO Kunsthalle in Memmingen; Biomediations (2013) at Transitio_MX_05, the festival of electronic arts and video in Mexico City. She is editor INFORMATION (Documents of Contemporary Art, Whitechapel and MIT Press, 2016) and co-author (with Beryl Graham) of Rethinking Curating: Art After New Media (MIT Press, 2010; Chinese edition 2016).
Canadian artist, Lorna Mills has actively exhibited her work in both solo and group exhibitions since the early 1990's, both in Canada and Internationally. Her practice has included obsessive Ilfochrome printing, obsessive painting, obsessive super 8 film & video, and obsessive on-line animated GIFs incorporated into restrained off-line installation work. Recent exhibitions include "Abrupt Diplomat" at the Marshal McLuhan Salon at the Canadian Embassy in Berlin, for Transmediale, "DKRM" at DAM Gallery, Berlin, "Dreamlands" at the Whitney Museum, NY, "Wetland" at the Museum of the Moving Image, NY and "The Great Code" at Transfer Gallery, NY. For the month of March, 2016, her work "Mountain Time/Light was displayed on 45 Jumbo monitors in Times Square, NYC, every night as part of the Midnight Moment program curated by Times Square Arts. Lorna Mills is represented by Transfer Gallery in L.A. & New York, Ellephant, Montreal and DAM Gallery in Berlin.
ABOUT THE MODERATOR
Martin Zeilinger is based in Dundee, Scotland, where he works as Senior Lecturer in Computational Arts & Technology at Abertay University. He has been co-curator of Vector Festival since 2014, has joined the curatorial collective for Dundee-based NEoN Festival in 2019, and is a frequent collaborator of Furtherfield (London) and the Institute for Network Cultures (Amsterdam). Martin's work focuses on critical intersections between contemporary art and emerging technologies such as AI and the blockchain. He is currently completing a monograph on artificial intelligence, posthumanist creative agency, and digital art.