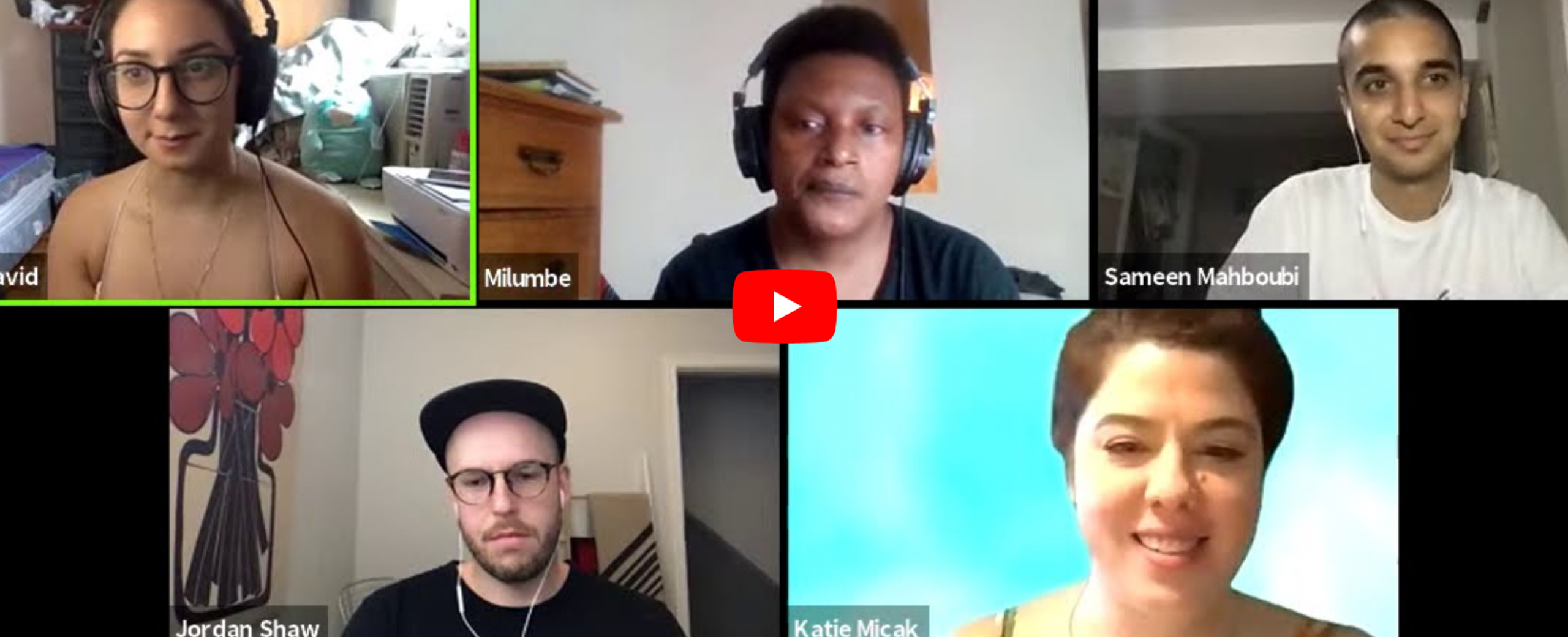 The Virtual and the Viral: Digital Arts Practices - Panel
This panel brings together several artists contributing to this year's festival, for a chance to introduce their work and discuss the challenges and opportunities of making art during a pandemic, connecting with art communities across digital divides, and other issues related to this year's festival theme.

Sunday, July 19, 2020
2pm-4pm
FREE
This panel was presented as part of Vector Festival 2020: Online Edition, curated by Katie Micak and Martin Zeilinger.
ABOUT THE ARTISTS
Maya Ben David (MBD) is a Toronto-based video performance Jewish-Iranian Anthro Plane. Ben David creates worlds and characters that explore concepts such as anthropomorphism, cosplay, and performative personas. Ben David's characters' origin stories are established via video performance and are performed on a ongoing basis through her online presence. Her characters inhabit alternate universes but also interact with each other and already established nostalgic universes such as Pokemon and Spider-Man. In addition to this, Ben David is also a character know as "MBD" who feuds with the many manifestations of herself and the art world.
Milumbe Haimbe, also known as Artistrophe, was born in Lusaka, Zambia. She has a BArch from the Copperbelt University in Kitwe, Zambia and also holds an MFA from the Oslo National Academy of the Arts, Norway. Milumbe is a visual artist interested in exploring diversity in popular media and culture. Her work combines several mediums including drawing, illustration, video and 3D modelling. She represents a wide intersection of cultural minorities and believes that this intersectionality places her in a prime position to lend her voice to the communities that she represents. She has exhibited her work in numerous shows, including FOCUS 10 Art Basel, and is an alumnus of the Art Omi International Artist's Residency in New York, as well as the Smithsonian Artist Research Fellowship. She also exhibited in the 2014 Biennale for Contemporary African Art in Dakar, and is a recipient of the 2015 Bellagio Arts Fellowship Award, the Astraea Global Arts Fund, and the Laureate du prix de la Fondation Blachere. In 2019, Milumbe attended a studio residency with the Ontario Science Centre and MOCA Toronto. That same year, she also participated in Vector Festival 2019.
Sameen Mahboubi is an emerging art programer from Hamilton based in Tkaronto/Toronto. Mahboubi is working towards a BA in Visual Critical Studies from OCADU and previously holds a diploma in Social Service Work from Mohawk College. Mahboubi is interested in ecology, geography, urbanism, and the relationships we all share with public space.
Jordan Shaw is an internationally exhibited artist and creative technologist raised and currently based in Toronto, Canada. He received his MFA from OCAD University's Digital Futures program exhibiting his thesis project, Habitual Instinct, in 2017 during Vector Festival at InterAccess. Before that, he completed his undergraduate degree at Carleton University and Algonquin College, where his final installation exhibited at ACM SIGGRAPH.

ABOUT THE MODERATOR
Katie Micak has a multifaceted arts career with a focus on emerging digital art practices. She is a co-founder of Vector Festival and of Toronto Kids Digital Festival and is currently the Exhibitions Curator and Residency Coordinator at the Living Arts Centre as part of the City of Mississauga. Micak designed exhibitions and presentations at The Phillips Collection (Washington), assisted at Art in General and the Moving Images Festival (New York), and Directed Spark Contemporary (Syracuse) and Propeller Gallery (Toronto). She holds an MFA from Syracuse University in Transmedia, and an MA from OCADU's Digital Futures program.