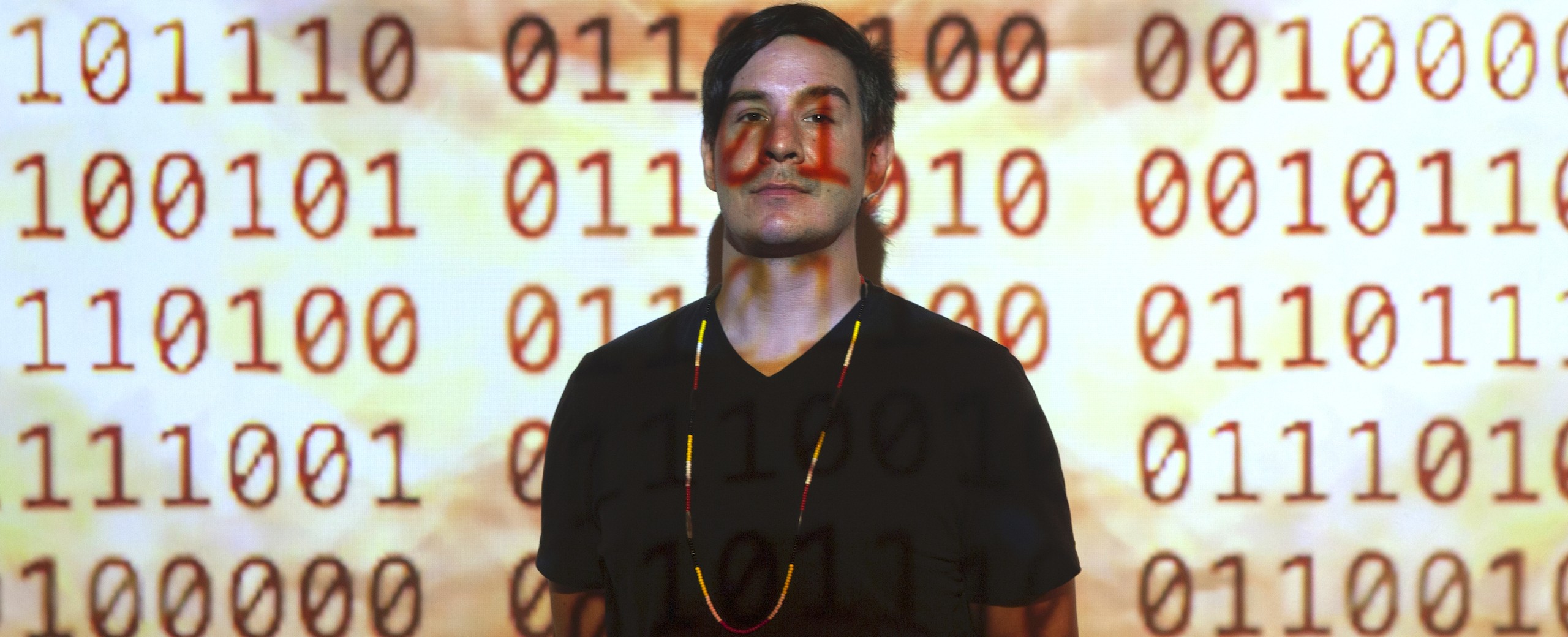 Artist Talk: Casey Koyczan
Thursday, March 31 | 7pm—8pm (EST)
Online via Zoom
FREE (register here)

Join artist Casey Koyczan for an hour-long discussion on his artistic practice, past projects, and installation work Ełexiìtǫ ; Ehts'ǫǫ̀ / Connected ; Apart From Each Other currently exhibited at InterAccess. Koyczan will address the concepts behind the show, how this ambitious work was constructed, and how it has adapted and changed over time. The talk will be followed by an audience Q&A.

ABOUT THE ARTIST
Casey Koyczan is a Tlicho Dene interdisciplinary artist from Yellowknife, Northwest Territories who uses various mediums to communicate how culture and technology can grow together in order for us to develop a better understanding of who we are, where we come from, and what we will be in the future. He creates with whatever tools necessary to bring an idea to fruition, and works mostly in sculpture, installation, 3D modelling, VR/360, experimentation, filmmaking, and audio works such as music, soundscapes and film scores. He is an international artist who has participated in many residencies, exhibits, festivals, and collaborations in parts of the world such as Finland, Colombia, Chile, Mexico, The Netherlands, and the UK. He is also a musician, producer, filmmaker, actor/narrator, and advocate for future generations of artists and musicians. He has a Multimedia Production diploma from Lethbridge College, a Bachelor of Fine Arts degree from Thompson Rivers University, and a Masters of Fine Arts degree from the University of Manitoba.

ABOUT THE EXHIBITION
Casey Koycan's Ełexiìtǫ ; Ehts'ǫǫ̀ / Connected ; Apart From Each Other is an installation that communicates the journey of accessing one's culture through distance education and research, presenting new technologies as viable tools for learning language, tradition, stories, and spiritual beliefs. Learn more about the exhibition here.

ACCESSIBILITY
Live captioning will be provided for this event. ASL interpretation can be provided upon request. Please contact art@interaccess.org with questions regarding event accessibility.

Image: Casey Koyczan pictured in his installation Ełexiìtǫ ; Ehts'ǫǫ̀ / Connected ; Apart From Each Other at Urban Shaman. Photography by Karen Asher.