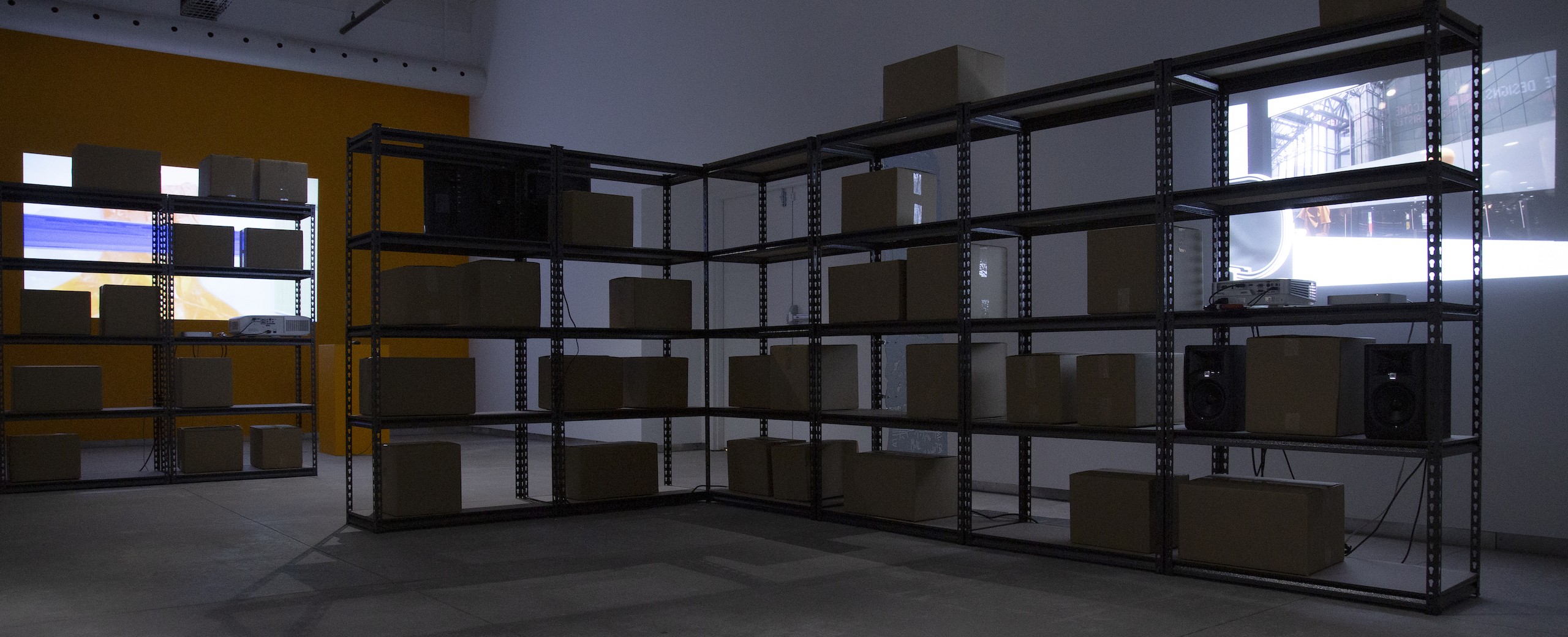 Curator Talk — Terms & Expectations
Saturday, November 12 | 12—1pm EDT
Online via Zoom
FREE (register here)

Curators Barbara Cueto and Bas Hendrikx will lead a discussion about their exhibition Terms & Expectations, a group exhibition featuring works by Hiba Ali, Simon Denny, Sophia Oppel, Yuri Pattison, Eva Pel, and Coralie Vogelaar. They will delve into the architectures and infrastructures that support digital industry and will consider the ways online commerce has transformed human labour. In their conversation, they will contextualize artworks in the exhibition within the conceptual framework of the show and with respect to each artist's practice.

ABOUT THE EXHIBITION

Although aloof from their rural surroundings, distribution centres and server farms are places where the internet becomes visible. Their vast, boxy architecture does not reveal much, if anything, of their interior activity. The underlying distribution chains remain ambiguous: our awareness of their processes, technologies, and working conditions are sparse and fractured. Nevertheless, these infrastructures oversee the supply of food, fashion, and entertainment. Rural areas—once solely connected to nature, the harvest of crops, and the herding of cattle—now share space and resources with vast distribution centres monopolized by companies like Amazon, Ebay, or Alibaba, which bypass long-established commercial networks altered at the dawn of the internet.

Terms & Expectations is an invitation to reconsider the influence of distribution centres as agents within our natural environment. From a politico-ecological perspective, the exhibition delves into their affects and potentialities and stimulates a debate around the limits and repercussions of the infrastructure that supports the digital—a seemingly immaterial network of digital powers with a high carbon footprint. Terms & Expectations reveals the tangible presence of digital distribution chains that punctuate our physical surroundings and are transforming the topographies of human industry and interaction.

This project is made possible through the support of Creative Industries Fund NL.

ABOUT THE CURATORS

Barbara Cueto is the digital curator at C/O Berlin, an institution dedicated to the exploration of lens-based media. She is also a PhD candidate at the University of Amsterdam, where she is researching blockchain as a tool for radical imagination and its collateral effects in the notion of value. Her projects are at the intersection of contemporary art, new technologies and activism. She is an alumna of de Appel Curatorial Programme in Amsterdam and she holds a MA in Arts Management from the University of Maastricht, and a BA in Journalism from the Complutense University of Madrid.

Bas Hendrikx is Curator of Participation and Engagement at KANAL - Centre Pompidou in Brussels. He is the former curator of P////AKT, in Amsterdam, and he was the artistic director of Art on Paper at BOZAR in Brussels. He curated exhibitions and programmes for institutions such as BOZAR, the ULAY Foundation, Het Nieuwe Instituut, Garage Rotterdam, Skulptur Bredelar, de Appel arts centre, and Stedelijk Museum Amsterdam. Hendrikx is the co-editor of Authenticity?: Observations and Artistic Strategies in the Post-Digital Age (Valiz, 2017). He is currently working on Queer Exhibition Histories, an anthology of texts to be published by Valiz in 2023.


Image: Terms & Expectations, group exhibition curated by Barbara Cueto & Bas Hendrikx, 2022. Artworks by Hiba Ali, Simon Denny, Sophia Oppel, Yuri Pattison, Eva Pel, and Coralie Vogelaar. Photography by Natalie Logan.