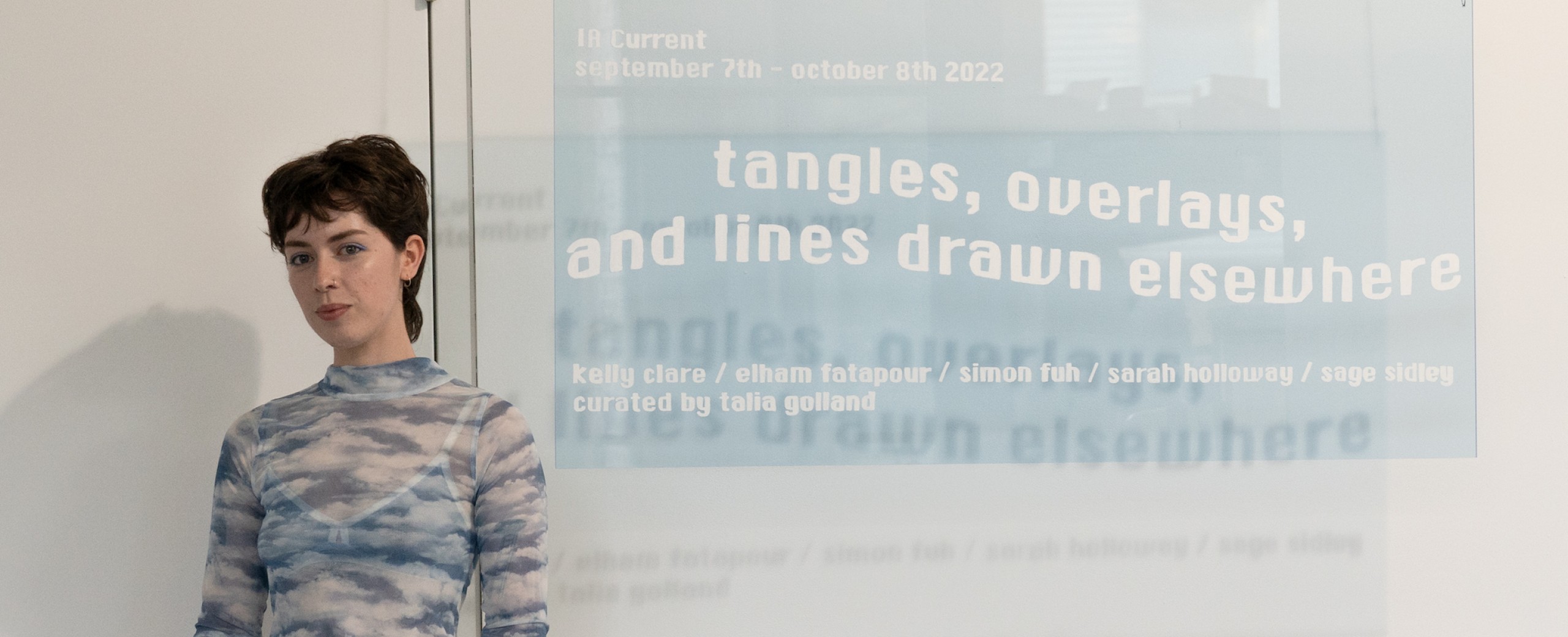 Curator Tour — tangles, overlays, and lines drawn elsewhere
Post-poned! New date: Saturday, October 8, 2022 | 1-2pm
In-person at InterAccess (950 Dupont St., Unit 1)
FREE (no registration required)
Learn more about the exhibition tangles, overlays, and lines drawn elsewhere in this hour-long tour led by the 21st annual IA Current emerging curator Talia Golland. Golland will introduce the theoretical references that conceptually influenced the show and offer an in-depth discussion on each of the exhibited artworks by Kelly Clare, Elham Fatapour, Simon Fuh, Sarah Holloway, and Sage Sidley.

ABOUT THE CURATOR

Talia Golland is a Toronto-based curator and writer whose work is informed by queer theories and methodologies. Particular investments of her curatorial practice include the materialities of new media, the metaphors intrinsic to digital space, and the affective dimensions of internet-based visual culture. They are currently a co-director of Bunker 2, a curatorial collective organizing itinerant programs that explore issues of economy, mobility, and industry. She holds a Master of Visual Studies in Curatorial Studies from the University of Toronto and a BA in History and Theory of Art from the University of Ottawa.

ABOUT IA CURRENT

The InterAccess Current (IA Current) program supports the professional development of emerging curators and artists interested in new media and electronic practices. Each year, InterAccess selects an emerging curator, who works closely with InterAccess staff to conceptualize and execute an exhibition of works by emerging artists. "Current" refers to the now, of course, but it is also an energetic charge that causes light, heat and all manner of electronic life; an apt metaphor for emergent creative practices within the ever-expanding field of new media.
Image courtesy of Polina Teif.