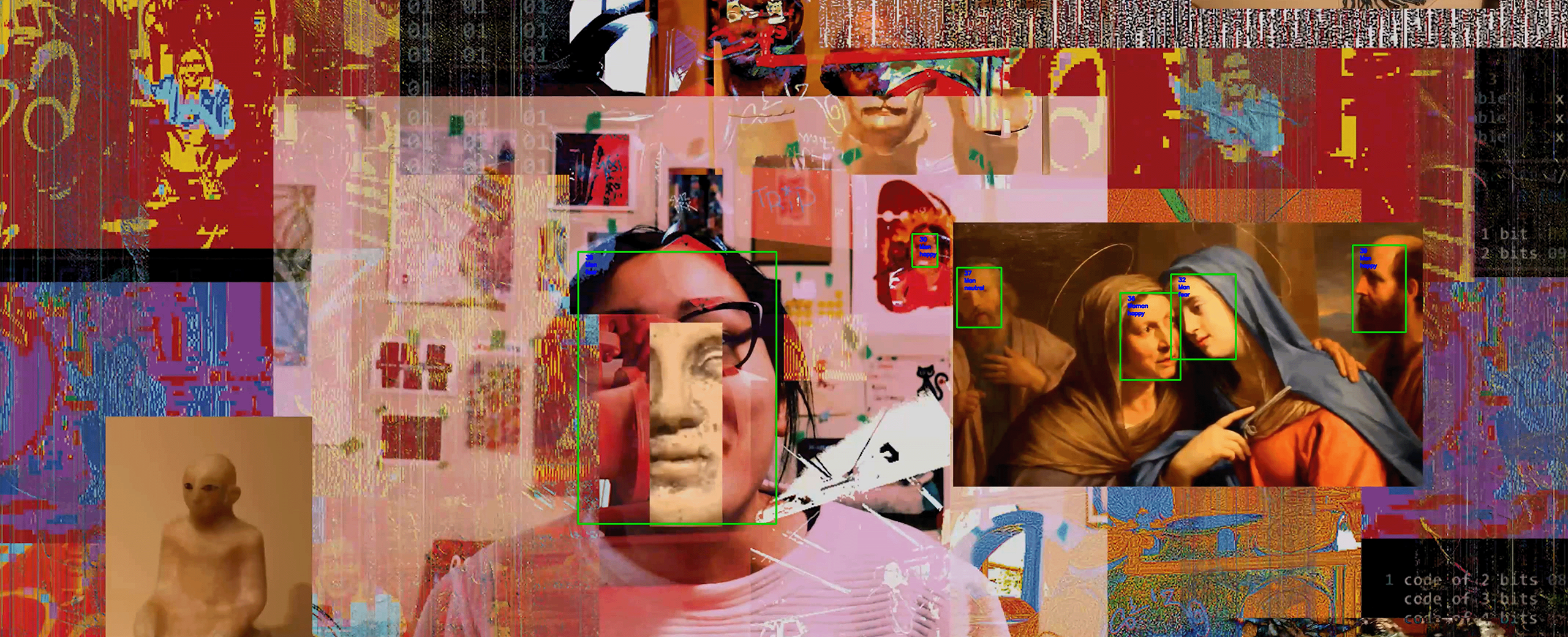 Screening: A body as a fault in the system, in a system of faults
Sunday, July 17 | 7-8pm (EST)
Brampton Garden Square (12 Main St. N., Brampton) - no registration required
Inspired by the writings of Legacy Russell and Sarah Sharma, A body as a fault in the system, in a system of faults is a screening of video works by Peel-based artists that explore themes of fluid and amorphous identities, technology's role in perpetuating harm, and imaginations of bodies beyond the binary. In a capitalist system that actively harms people—especially those who are marginalized—what tactics can we perform to ensure our survival? Sharma theorizes that the action of exit, the choice of leaving our capitalist and binary system, falls on gendered lines and relies on the assumption of patriarchal power—a power that many bodies do not have. Russell's theories on glitch feminism posit that there is an opportunity for liberation by assuming a glitched body within this harmful system: a body that is unreadable. Much like a glitch, which often happens unexpectedly and can be difficult to replicate to troubleshoot, glitched bodies exist beyond definitions, making it difficult for oppressive systems to categorize them out of existence. This screening program is presented in partnership with Performing Arts Brampton and The Arts, Culture & Creative Industry Development Agency (ACCIDA).
Screening curated by Amanda Low.
ABOUT THE ARTISTS
Gladys Lou is a Hong Kong-Canadian artist and writer completing a BA in Art & Art History in the joint University of Toronto Mississauga and Sheridan College program, with a double major in Psychology. She works with experimental media and new technologies including video and sound to challenge the boundaries between visual art and performance. Passionate about storytelling, she combines art and writing to visualize emotions and explore the unconscious. Her work revolves around the themes of identity-seeking, mental health, and Existentialism. Gladys has participated in residencies at the Art Gallery of Mississauga and ACCIDA Brampton, and she has interned at the National Gallery of Art in Washington, DC in the Time-Based Media department.
Stephanie Deumer (b.1989, Oakville, Ontario, Canada) is a visual artist currently living and working in Los Angeles, California. Her multi-media installations highlight interrelations between different kinds of reproduction—including biological, visual, mechanical, and social. More particularly, the exploration of feminine constructs is a crucial through-line in Deumer's practice. Complexities of female identity formation figure prominently, specifically in relation to language, media, science, and technology. Deumer holds a BA from the University of Guelph and an MFA from California Institute of the Arts. She was a fellow at the Whitney Independent Study Program in New York, and has been awarded grants from the Canada Arts Council, Robert Rauschenberg Foundation, and Bar-Fund LA. She has been an artist in residence at Factory Media Centre, Hamilton, Ontario (2021); Banff Centre for Arts and Creativity, Banff, Alberta (2018); Cerritos College, Cerritos, California, USA (2016); and The REEF, Los Angeles, California, USA (2015).
Steven Cottingham is an artist based in New York and Vancouver. His work concerns the politics of visualization, surveillance, and policing. He has recently exhibited at Artists Space (New York, 2022), The Polygon Gallery (North Vancouver, 2021), Catriona Jeffries (Vancouver, 2021), Alternator Centre for Contemporary Art (Kelowna, 2020), and Wil Aballe Art Projects (Vancouver, 2020), and is currently an artist-in-residence with the Whitney Museum Independent Study Program (New York, 2021–2022). Cottingham received an MFA from the University of British Columbia (Vancouver, 2017), and from 2018–2021 he co-edited QOQQOON, an art theory webzine.
Seyi Olomodosi is a musician and occasional multimedia artist. Their art practice is driven by a need for liberation. In his work, he finds opportunity to constantly create new presentations of his self. Everything he makes is a new iteration of himself that is at once a part of and apart from all other iterations. Art provides for Seyi a vehicle for identity performance that isn't immediately hinged to their body, a site where they can insist on being read through their self-renderings and not what others have rendered onto their body. By creating so many presentations of themselves, they can foreground their multiplicity and make himself fully knowable and unknowable at the same time. They are especially interested in video, moving collage, and sound because of the ways that movement and repetition serve this purpose.
Chun Hua Catherine Dong is a Chinese-born Montreal-based artist working with performance, photography, video, and AR and VR. Dong received an MFA from Concordia University and BFA from Emily Carr University Art & Design. Dong's work has been exhibited in many national and international venues, such as Quebec City Biennial, MOMENTA | Biennale de l'image, MAC VAL in France, Museo de la Cancillería in Mexico City, Canadian Cultural Centre in Paris and so on. Dong was the recipient of the Franklin Furnace Award for performance art in New York in 2014 and listed the "10 Artists Who Are Reinventing History" by Canadian Art in 2017. Dong was a finalist for Prix en art actuel du MNBAQ 2020, and awarded with Cultural Diversity in Visual Arts by the Conseil des arts de Montréal in 2021. Kudo Albus is a digital artist living in Shanghai.
ABOUT THE CURATOR
Amanda Low (she/they) is an arts and cultural programmer, and part time curator. She has curated exhibitions for Xpace Cultural Centre, InterAccess, and for DesignTO Festival. They are interested in how people build connections with and within the spaces they occupy, be it physical or virtual. She assists in programming DesignTO Youth, an arts and design education residency for young people.
Image courtesy of Gladys Lou.