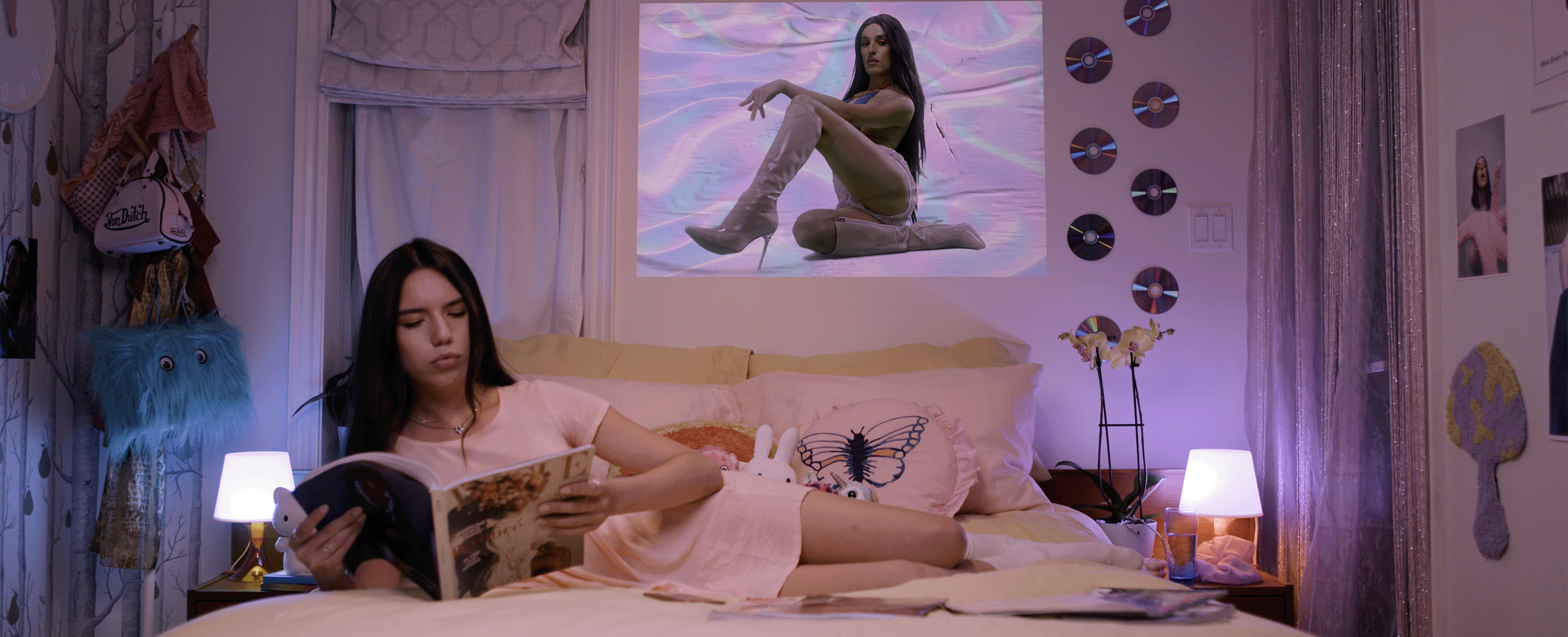 Screening: The Glitch As A Remix
Friday, July 15 | 8-9pm (EST)
Small World Music Centre (180 Shaw Street, Toronto) - Register Here!
The Glitch As A Remix explores the use of glitch aesthetics and narratives in music videos – an experimental medium often responsible for pioneering visual techniques within the film space. This screening program engages with glitching aesthetically, through digital glitch aesthetics or analog remixing techniques such as collage and double exposure. The Glitch As A Remix will also consider how these aesthetics are used to embody narrative and thematic interpretations of the glitch – as a refusal, a disruption, a failure, a reclamation, and a rebirth. The screening will be followed by a Q&A with the artists.
Doors: 7:30pm
Screening: 8pm
Q&A: 8:30pm
Screening curated by Roya DelSol.
ABOUT THE ARTISTS
Sylvain creates images as a filmmaker and DP. His unique ability blooms from an expertise as a film lab technician; allowing him to use an extensive array of film stocks and processing techniques in order to push the boundaries of a more conventional aesthetic. He performs live with multi-film projections, as he works in direct collaboration with various musicians and composers, and also maintains a steady practice as a film photographer. Embodying expertise in all film formats - with an emphasis on 16 and 35mm- Sylvain is available for a wide range of commercial and experimental projects.
Scott Pilgrim is a multifaceted Artist and Creative Director living in Toronto, ON.
Casey MQ is an artist, composer, and producer from Toronto, now based in Los Angeles. Growing up, Casey's adoration for pop music intersected with his training as a classical pianist. As he grew older Casey began to work more closely with electronic music. His inspirations widened as he explored the fusion of classic and contemporary sounds. His writing and production styles uniquely reflect that - marriage of the ultra modern and the Timeless. "Telephone Light" follows Casey's debut album babycasey in 2020 and its remix addendum babycasey: ultra the following year, which saw his boyhood fantasies come to life with whimsy and depth. As a songwriter and producer, Casey has collaborated with a range of artists, including with oklou, Christine and The Queens, Flume, Dorian Electra, Girlpool, Vagabon, Hannah Diamond, Austra and more. His ability to help artists hone their individual voices, and express them in a way that captures the moment, is exceptional. Casey has also scored numerous feature films that have premiered at TIFF, SXSW, Sundance and other major festivals.
The Kitsch Generation is an emerging, Trans led, Toronto (T'karonto) based film development and production company founded by Onyeka Oduh and Goldbloom Micomonaco in September 2020 - born out of a desire to create work that speaks to the experiences of marginalized artists. In 2021, The Kitsch Generation produced five music videos for Toronto artists, Ceréna, Almandrez, TNTRM, and CJ Wiley. With a growing creative slate, The Kitsch Generation puts an importance on inclusivity and access for Trans, Queer, and BIPOC folks in the film industry - crewing their productions to match the diverse and beautiful world of difference, as well as giving access to those without, to learn and gain experience on-set in an atmosphere that is human first. The Kitsch Generation makes work by and about their communities and intersections that are not only smart, but prepossessing, fun, and resonant.
Yú is a film and video director based in Toronto. Yú's eclectic taste and curiosity in experimentation permeates throughout her work. Her perspective explores genre-bending, taking unconventional approaches to film. rooted in exploring identity, Yú's chinese heritage is a foundational influence on the stories she explores. Her most recent work includes an experimental short, "Flowers While You're Here", funded by Canada Council of the Arts, Ontario Arts Council, and the Fantavious Fritz and Charlotte Day Wilson Work Film Grant, and the documentary series "The Lunchbox Dilemma", currently on CBC Gem and CBC Docs.
blackpowerbarbie (Amika Cooper in real life) is a multi-faceted still and motion artist specializing in 2D animation from Toronto, currently based in NYC. blackpowerbarbie believes in the transformative and reflective power of storytelling, and approaches each body of work with sensitivity and reverence for her subjects. The backbone of blackpowerbarbie's work is an innate curiosity in the human condition, supported by research in the work of artists across disciplines who have come before her. Whether it is music videos, or live projections her art is motivated by a desire to create compassionate and creative representations of Black femmes and other marginalized communities, and to contribute to healthier futures for all.
Director / Digital Artist Sammy Rawal has earned international attention for his original, hyper-stylized approach to image-making featuring bold color, choreography, and innovative VFX. Sammy's work is informed by a mashup of culturally diverse influences, fashion and hip-hop. He has brought his signature quick-fire style to commercial campaigns, music videos, 3D inspired video portraits, and digital installations for clients such as Cardi B, Lizzo, Kelis, Elton John, Reebok, Twitter, Axe, and Chanel. His work has been shown at the BFI Southbank, Art Gallery of Ontario, the Musée d'Art Contemporain de Montréal, and nominated at the UK Music Video Awards, the Berlin Music Video Awards, and the Juno Awards. Sammy's passion for LGBTQ+ rights flourish in commercial projects such as SoulCycle's Pride 2021 mixed media collaboration and his acclaimed work, "Life's A Ball," for Equinox, which Adweek called the most "show-stopping" of 2019 Pride campaigns.
ABOUT THE CURATOR
Roya DelSol is Black lens-based artist, curator & cultural worker currently living in T'karonto/Toronto. Creating motion work ranging from experimental documentaries to music videos; she aims for her work in all spheres to centre and uplift the experiences Black, queer, and marginalized peoples. Past photographic work captures Black femme intimacies, strength & joy in hopes of visualizing new, liberated worlds. In her curatorial practice, this envisioning takes shape by means of disruption via institutional critique. She sees technology, magic and ancestral knowledge as not disparate, but interconnected frameworks to inform each other; utilizing the subversive qualities of magical realism in imagining Black futures.
@royadelsol on Instagram
@royasdigitalego on Twitter