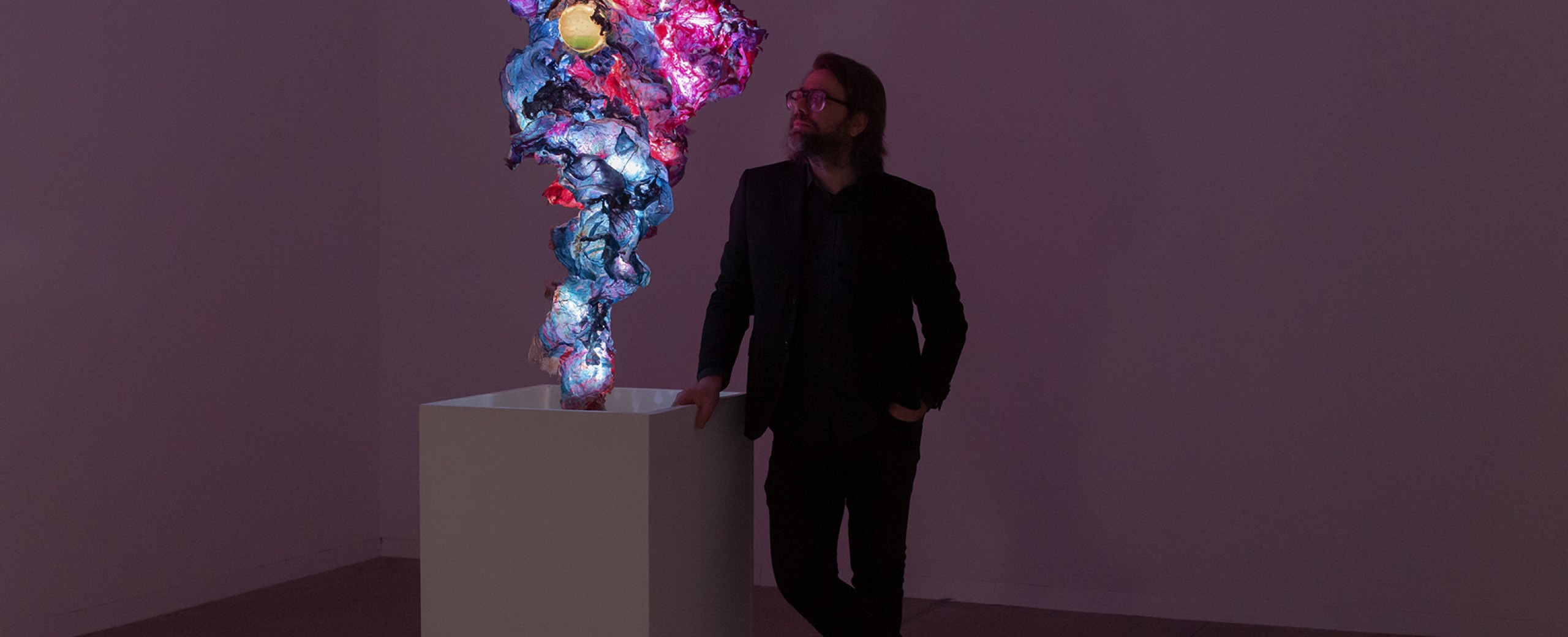 Artist Talk — Garden of Waves
Saturday, Janurary 28th | 2—3pm EST
In-person at InterAccess (950 Dupont St., Unit 1)
FREE (no registration required)
Learn more about this year's InterAccess Media Arts Prize exhibition. Kanic will discuss the process behind his organic biopolymer sculptures, their living algae systems that feed off of viewers' breath, and how it all ties in with hope and solutions for the possible end of the world.
ABOUT THE EXHIBITION
InterAccess is pleased to present a solo exhibition by Vladimir Kanic, the recipient of the 2022 InterAccess Media Arts Prize. For over twenty years this award has been granted annually to a graduating media arts student from a university within the Greater Toronto Area whose work exhibits excellence and innovation in new media practice.
Garden of Waves asks the question: could you change the world just by breathing?
Vladimir Kanic's living sculptures use spectators' breath as food by converting it into oxygen, thereby curbing the effects of global climate change. The artist utilizes biological processes of living algae to capture carbon dioxide, create oxygen, and purify the air from toxins. Made from organic biopolymers, the sculptures housing the living algae bring attention to global environmental problems while providing hope and solutions for the possible end of the world.
ABOUT THE ARTIST
Vladimir Kanic is a multidisciplinary artist and environmental activist whose practice explores the creation of living art. His practice began during the pandemic, when he had no access to art studios or materials, but had three boxes of algae salad in his fridge. After years of academic research and development, the experimentation with the algae salad lead to the invention of new sculpting materials made from organic biopolymers and the creation of sculptures that incorporate living algae and have a potential to curb the effects of global climate change.
Kanic was awarded InterAccess Media Prize, Mitacs Research Award, and OCAD University Faculty Award in 2022. His work has been curated by the City of Toronto for the Nuit Blanche exhibition in addition to being selected as one of the RBC Emerging Artists by the Powerplant Gallery.
Image: Garden of Waves, artwork by Vladimir Kanic. Photography by Natalie Logan.