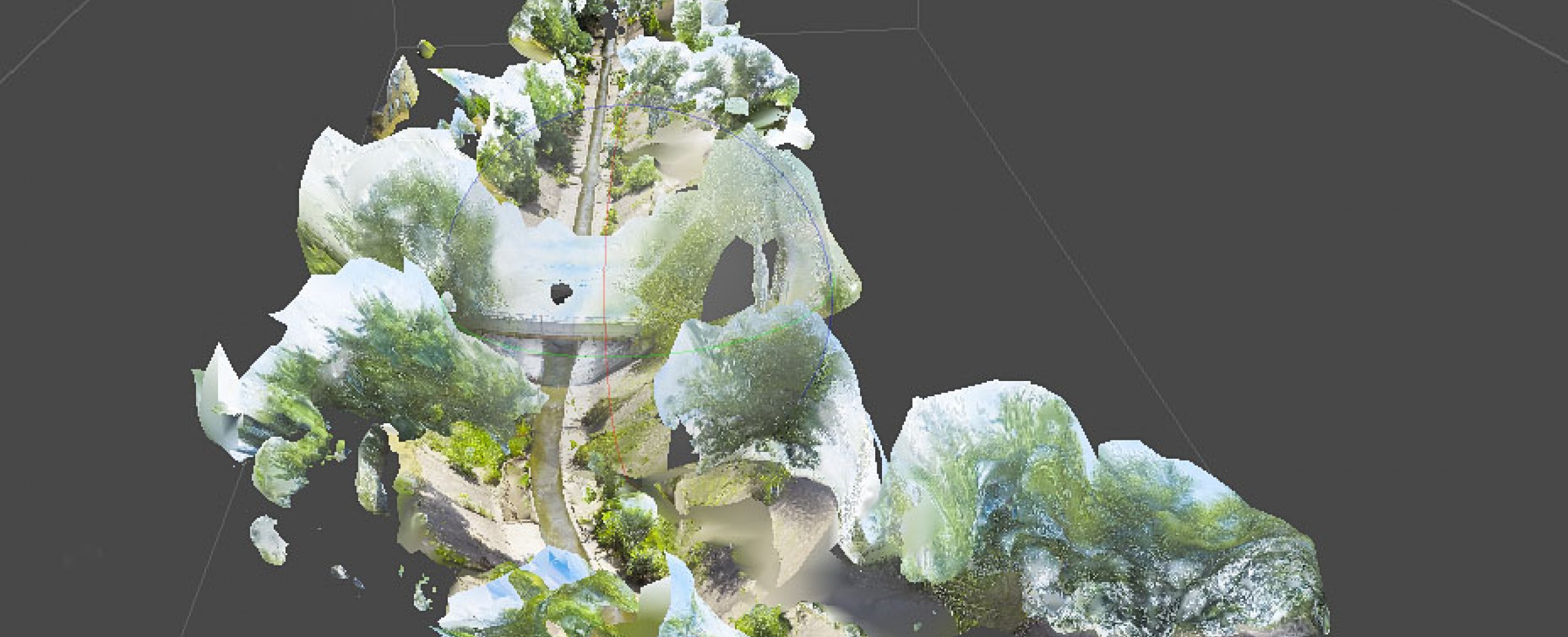 Library Research Collective Artist Roundtable: Immersivity through the Environment
In-person at InterAccess's gallery and online | FREE
Registration required here for online link
Join us for an artist roundtable chaired by Risa Horowitz, as she and fellow Library Research Collective members Dave Kemp, Alex Kurina, and Pierre Tremblay discuss frameworks, limitations, and possibilities for immersive media in relation to land, landscape, wayfinding, and traversal.
This event is presented in support of the IA 360° launch, InterAccess's permanent surround video projection system designed for the community to develop, learn, and exhibit immersive media works.
A timed screening of Wayfinding and Fieldtrips will begin at 5PM, with the artist roundtable to follow at 5:30PM through 7PM.
Wayfinding and Fieldtrips will continue to screen on loop throughout May 5 - 6th during regular gallery hours.
ASL interpretation will be available through Zoom for this event.
ABOUT THE PANELISTS:
Risa Horowitz is Associate Professor in the Department of Visual Arts, Faculty of Media, Art, and Performance at the University of Regina. Blurring boundaries between expert-amateur, hobby-work, and leisure-productivity, much of her work involves collecting and durational practices that pay attention to time and its representation. Horowitz has exhibited widely in Canada and abroad, with works held in public and private collections. She is currently a Research Fellow with the University of Regina Humanities Research Institute. Her works for I/A 360° are part of her development of materials for her UofR Humanities Research Fellowship project, Urban Erratics, Piles of Things, and Other Landscape Observations.
Dave Kemp is a visual artist whose practice looks at the intersections and interactions between art, science and technology: particularly at how these fields shape our perception and understanding of the world. His artworks have been exhibited widely at venues such as at the McIntosh Gallery, The Agnes Etherington Art Centre, The Art Gallery of Mississauga, The Ontario Science Centre, and TIFF Bell Lightbox. His works are also included in the permanent collections of the Agnes Etherington Art Centre, The Glenhyrst Gallery, and the Canada Council Art Bank.
Dave obtained his PhD in Art and Visual Culture from the University of Western Ontario and is a graduate from the Master of Visual Studies program at the University of Toronto where he also completed the Collaborative Program in Knowledge Media Design. Prior to this, he earned an Image Arts (photography) BFA from Ryerson University and his BScE in Mechanical Engineering at Queen's University. He currently works as an Associate Professor in the School of Image Arts at Toronto Metropolitan University (formerly Ryerson University).
Alex Kurina is an award-winning designer and media artist from Toronto, Canada. He holds a BFA from Ryerson University's New Media program where he currently teaches. He has worked for a number of international commercial clients in various creative capacities and has work exhibited at the Montreal Museum of Fine Art, InterAccess (Toronto), The Guggenheim (New York) and Eyebeam (New York).
Interdisciplinary artist Pierre Tremblay came to the School of Image Arts at Toronto Metropolitan University as an Associate Professor after twelve years in Paris where his work can be found in the collections of the Musée Carnavalet, Bibliothèque nationale, Musée Rodin and the Louise Bourgeois Archives, The Easton Foundation, New York, USA. His artistic practice, combining new technologies and video, questions the world in flux, how we see and perceive. Exhibitions of recent note include Meta Incognita at The Photographers' Gallery – The Wall, London, England, Dans la nuit des images, at the Grand Palais, Paris along with numerous festival screenings internationally. In his role at TMU, Tremblay has facilitated conferences and edited books that have brought scholars and artists from Ontario, Quebec and France together for cross-cultural exchange on a variety of new media topics.
Please reach out to the Programming Manager (art@interaccess.org) with any questions about this event.
RELATED PROGRAMMING
Library Research Collective: Wayfinding and Fieldtrips, presented with University of Regina HRI
May 5th – 6th, 11AM – 6PM | InterAccess Gallery
This program is co-presented with The Humanities Research Institute (HRI) at the University of Regina.