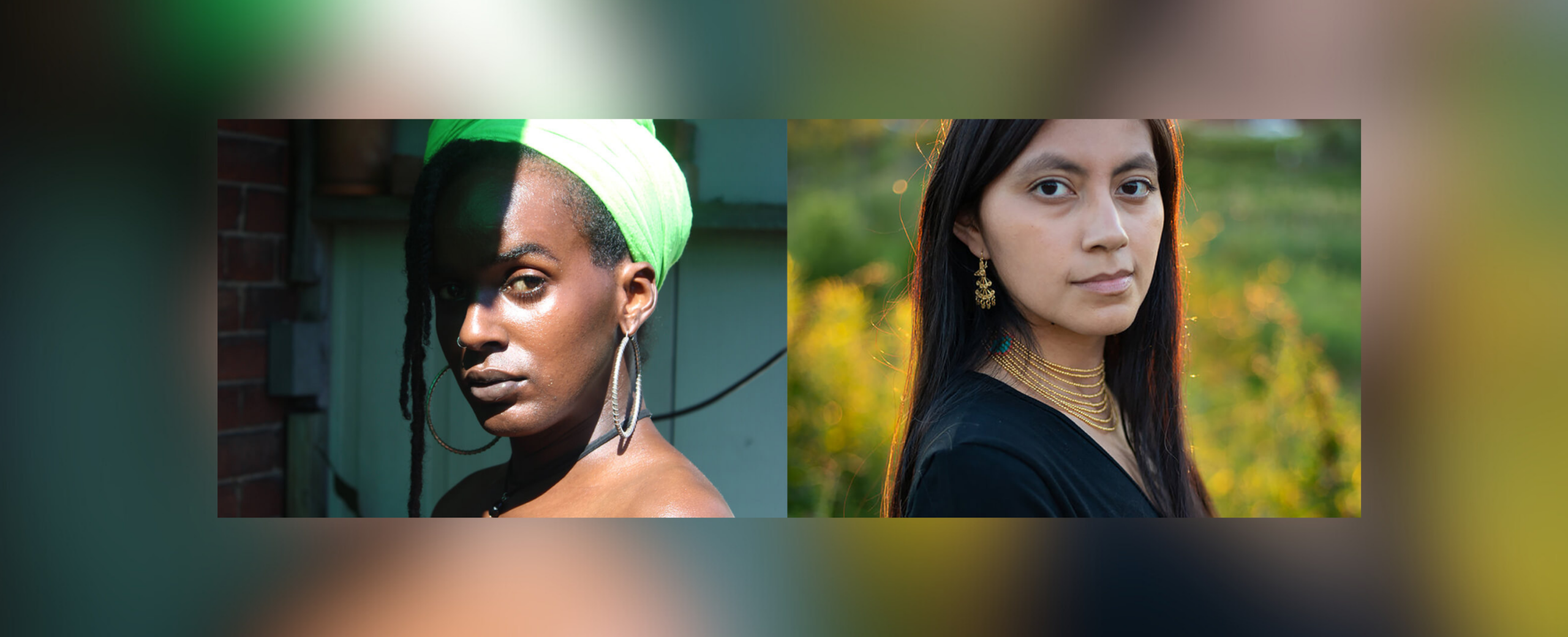 Reparative Worldbuilding: Black and Indigenous Collaboration in New Media & Speculative Non/fiction
This FREE event is co-presented with the Toronto Queer Film Festival (TQFF).
For registration/participation details, visit the TQFF website.
Closely associated with sci-fi and fantasy stories, 'worldbuilding' often refers to the fictional construction of whole ecological and planetary systems. In any saga—beyond the plot, characters, or a given setting—worldbuilding involves the non-linear creation and composition of new logics and beings. New and magical entities appear, birthed by imagination. But the process likewise pulls inspiration from and responds to our current world; fictive worlds are built as a criticism, reaction, or extension of lived experience and perceived possibilities.
In this online talk, new media artist collaborators and peers Samay Arcentales Cajas and Kim Ninkuru discuss the reparative potential in collaborative Black and Indigenous worldbuilding—and how we might realize or learn from dream worlds through techno-cultural imagination, redefinition, and transformation.
This event will be moderated by InterAccess staff.
Reparative Worldbuilding is presented as part of two overlapping programs:
Rhizomatic Pedagogies, a pilot project by InterAccess aiming to foreground the new media leadership and innovation of Black, Indigenous, and Disability Justice communities; and
Queer Wonderlands, TQFF's 2023 Symposium.
Panelists
Samay Arcentales Cajas is a Toronto-based queer Kichwa digital media artist and video designer exploring human-land relations, the new media dimensions of indigenous cosmology, and immersive art as a site of liberation. Her works have been shown at ImagineNATIVE, Xpace Cultural Centre, Mayworks Festival, Tarragon Theatre, TQFF, among others.
Samay has also facilitated film/digital interactivity programs at Sketch Working Arts, and Charles Street Video, where she worked as program coordinator. She held her first solo show "Will You Listen?: Latinx Voices in Tkaronto", a projection based media installation at Whippersnapper Gallery. Samay has won awards in two consecutive landJAM+ (Eastside Games Choice Award and Best Execution of interactive project). Samay also wears many tech hats working on projects across the country, primarily as video designer and install tech.
Kim Ninkuru is a multimedia artist born in Bujumbura, Burundi. In Canada since 2009, she has been living and working in Montreal and Toronto.
Using video and sound performance, story-telling and installation work, she creates pieces that give her the chance to explore and express rage, love, desire, beauty, or pain in relation to her own body, mind and soul. Although her art is very personal, she is committed to speaking out about the liberation of black women and femmes everywhere.
Her work heavily questions our preconceived notions of gender, race, sexuality and class. It is grounded in the firm belief that blackness is past, present and future at any given moment.