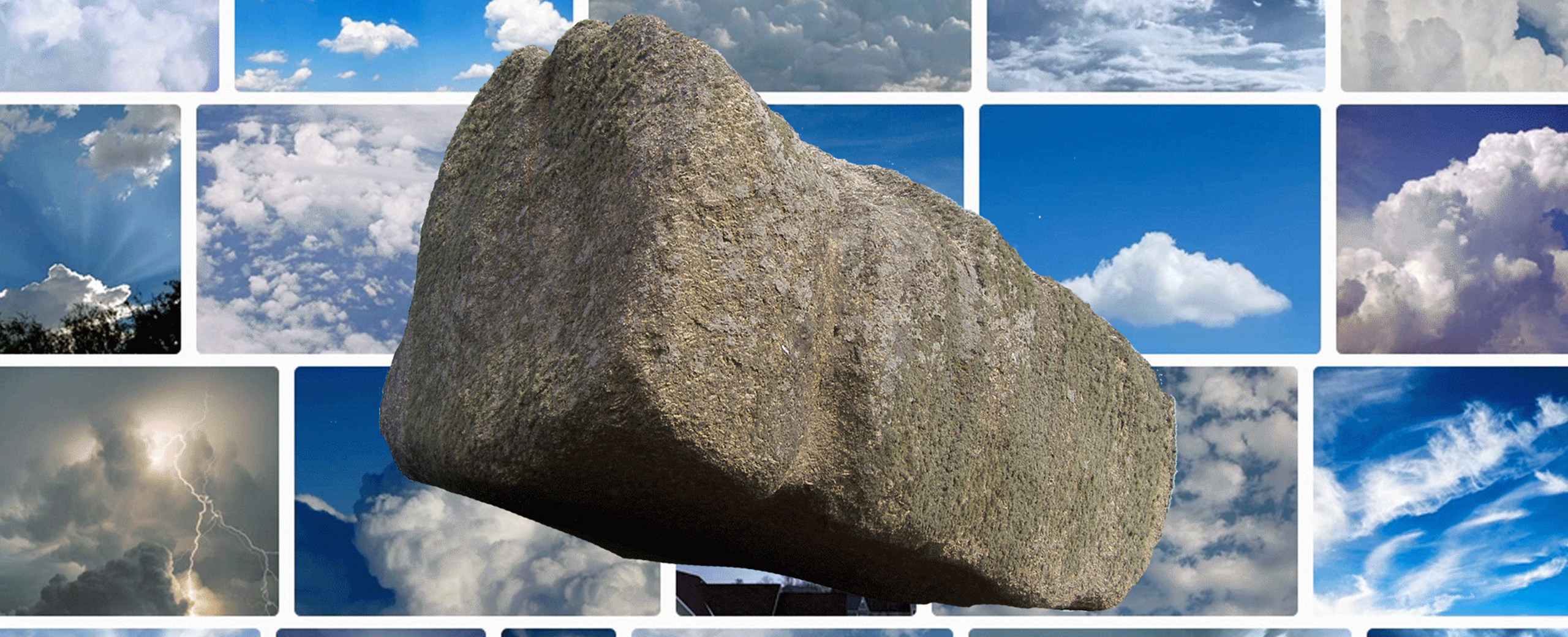 Artworks will be viewable 24/7
Christina Battle, Driftnote, Dalia Hassan, Jason Isolini, Kaya Joan, Sally McKay, Geoffrey Pugen, and Laura Margaret Ramsey
The air we share is a multisite exhibition of GIF artworks curated by Megan MacLaurin considering the spatial and social resonance of air. Air is the medium that fills the space between us; it is something that simultaneously connects us but is also what has kept us apart amidst an airborne pandemic. Growing from BIG on Bloor's focus on Re:union – a celebration of people coming together after years-long isolation – this open-air outdoor exhibition program presents our multifarious relationships to earthly cycles and to each other.
Works by artists Christina Battle, Driftnote, Dalia Hassan, Jason Isolini, Kaya Joan, Sally McKay, Geoffrey Pugen, and Laura Margaret Ramsey examine natural entities of diverse scales, spanning the fungal, the meteorological, and the interplanetary. Together, these works provoke reflection on their infinite relations and invite us to consider our own relationships to them. How do our activities affect these systems and how do these systems affect us? How are our experiences of these systems shared and in what ways do they differ?

Exhibition Locations:
Julie Dzerowicz (Member of Parliament for Davenport) Office (1202 Bloor St W, Toronto)
Marit Stiles (Member of Provincial Parliament for Davenport) Office (1199 Bloor St W, Toronto)
Ana Bailão (Toronto City Councillor – Ward 9) Office (1240 Bloor St W, Toronto)
Salvation Army Thrift Store (1219 Bloor St W, Toronto)
Shred Salon (1265 Bloor St W, Toronto)

​ABOUT THE ARTISTS
Christina Battle is an artist based in amiskwacîwâskahikan, (also known as Edmonton, Alberta), within the Aspen Parkland: the transition zone where prairie and forest meet. Her practice focuses on thinking deeply about the concept of disaster: its complexity, and the intricacies that are entwined within it. Much of this work extends from her recent PhD dissertation (2020) which looked closer to community responses to disaster: the ways in which they take shape, and especially to how online models might help to frame and strengthen such response.
Omar Rivero, also known as Driftnote, is a musician and multimedia artist whose work is centred around improvisation, interactivity, audio visual installations and 3D imaging. He is interested in themes of cultural erasure, systemic oppression, race and identity in the african/indigenous diaspora.
Dalia Hassan is an Egyptian visual artist based in Toronto. Her practice is focused on drawing and abstraction and she is interested in the phenomena of consciousness and existence. She experiments with extending drawing to different media beyond paper. In 2019 she was artist-in-residence at the Akin X MoCA Studio Program in Toronto. Hassan received her Bachelor of Visual Arts from the American University in Cairo in 2007. Her work has been exhibited in Cairo and Toronto.
Jason Isolini is a Brooklyn based artist, whose techniques of 360° collage and network interventions test the increased conflation of corporate, public and private environments. He received his BFA from the School of Visual Arts, and holds an MFA from the Art Institute of Chicago. Intervening within Google Maps, he has created large-scale public art installations that comment upon our new digital commons.
kaya joan is a multi-disciplinary artist born, raised and living in T'karonto, Dish with One Spoon Treaty territory, with Vincentian, Kanien'kehá:ka, Jamaican and Irish ancestry. kaya's work focuses on exploring relationships and responsibility to place and storytelling. Black and Indigenous futurisms and speculative fiction are also themes important to Kaya's practice, as they map towards futures of abundance and joy for their kin. Kaya has been working in community arts for 7 years as a facilitator and artist, and is a member of Milkweed Collective.
Sally McKay is an artist and writer based in Hamilton, Ontario. She has been working with animated gifs since 2003. Other media include zines; performance; and installation. She often works collaboratively with other artists such as Von Bark, Scott Carruthers and Lorna Mills. Sally's artwork has been displayed and disseminated through numerous platforms including the Toronto Comic Arts Festival, Hyperallergic.com, Fotomuseum Winterthur (Switzerland), z-Bar (Berlin), Fly Gallery (Toronto), Harbourfront Centre, and the Art Gallery of Ontario. She and Von Bark are currently preparing a major installation, The Haunted Scanner, coming to the McMaster Museum of Art (Hamilton) in early 2023.
​Geoffrey Pugen is an artist experimenting at the intersection of technology and nature through video, photo and installation. Thematically, Pugen contemplates speculative futures, transhumanism, the impact of nature on society and conflicts between the virtual and the real. His most recent sculptural work integrates video screen technology into architectural forms, creating spatially-synced multi-screen installations. His work has been exhibited at the Museum of Contemporary Canadian Art, Museum of Moving Image in New York, WRO Biennial in Poland, Bienal De La Imagen En Movimiento, Buenos Aires, Internationale Kurzfilmtage Oberhausen, Germany, Rotterdam Film Festival. He is a recipient of the K.M Hunter Award for Interdisciplinary Art.
Laura Margaret Ramsey is a Toronto-based scholar, imaging specialist and artist. Ramsey is known for her use of data visualisation & sonification to explore the natural world, imaging processes and computational awareness. Her work is heavily influenced by the structure of the archive, the preservation of obsolete technology, and the algorithmic approaches in data management. She holds an MA in Film + Photographic Preservation and is a Contract Lecturer in Image Arts at Toronto Metropolitan University.
ABOUT THE CURATOR
Megan MacLaurin is a curator and arts facilitator born and based in Toronto/Tkaronto, Canada. She holds an M.A. in Art History & Curatorial Practices from York University and a B.A. in Art History and Arts Administration from the University of Ottawa. Her research and curatorial practice explore the intersections between natural and technological ecologies in a changing climate. Megan is currently the Programming Coordinator at the new media artist-run centre InterAccess and Co-Director of Bunker 2, a curatorial collective organizing itinerant programs that explore issues of economy, mobility, and industry.

Image courtesy of Christina Battle.