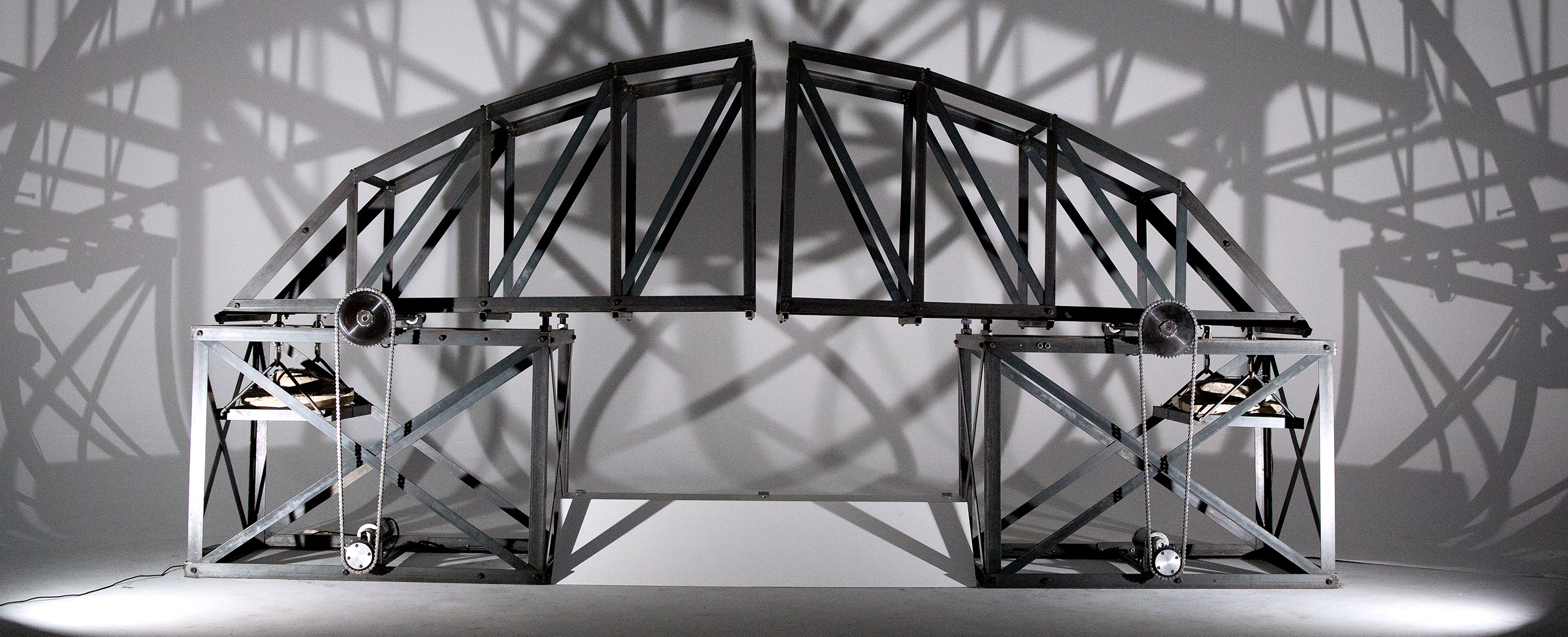 InterAccess is pleased to present BRIDGE, an interactive installation by Naomi Dodds. Dodds is the recipient of the InterAccess Media Arts Prize. This prize, which InterAccess has sponsored for nearly twenty years, is awarded to a graduating Integrated Media student at OCAD University whose work exhibits innovation in new media practice. With its ambitious carbon-steel fabrication and kinetic components, Dodds is a deserving recipient of this award.
BRIDGE is an interactive installation that examines the construction and completion of a custom-built drawbridge.
BRIDGE involves the integration of two formations: one is a solid material, the other a narrative. A bridge is a structure that allows us to pass from one place to another, spanning a physical obstruction. In this case, the work becomes the obstruction that is itself guided by a participant.
BRIDGE recreates a new convention, in which the functionalities of technological engineering are reinforced through the act of being present. As a visitor approaches the structure, it will begin to operate through its cycle. Both meeting points of the structure will open and close depending on the position of a participant. As a participant interacts with the work, the act of it opening, in fact, prohibits them from physically crossing the bridge, however, as a space is created, the idea of passage is still present.
The installation offers a comprehensive exploration into the connections between mental and physical structures and examines how these structures contradict their functional conventions. BRIDGE transmits the notions of geographical and technological displacement, heavily embedded undertones that give way for a formal analysis of the changes in social structures associated with technological determination. However, the simple idea of the spectacle is apparent. Through it's disarticulated state, BRIDGE aligns itself with the theatricality of an illusion, which in turn resonates with the personification of the performance of the machine.
Opening Reception
Wednesday, January 11, 2017, 7-9pm
About the Artist
Toronto-based new media artist Naomi Dodds's work explores visual language through the material and immaterial by questioning the role of machine and image. Her work consists of video projection and multimedia installations that attempt to break cinematic conventions by eliminating the constraints of the screen.
About the InterAccess Media Arts Prize
The InterAccess Media Arts Prize is awarded to a graduating student of the Integrated Media program at OCAD University whose work complements InterAccess's mission to expand the cultural space of technology. Students must show proficiency in creating mechanical, kinetic, electronic, interactive audio, video or new media work. In addition to a $500 cash award, the recipient receives a one-year studio membership, one year of complimentary workshops, a solo exhibition at the centre, and professional development and mentorship. The prize was first awarded in 1990.
Image: BRIDGE by Naomi Dodds (2016). Carbon Steel, Aluminum, DC Motors, Hardened Steel Gear Sprockets, Roller Chain, Pillow Blocks, Shore Rock, Limit Switches, Parallax PING Ultrasonic Sensors, Custom-­Built Circuit, Arduino Uno, Sabertooth 2X25 V2, U1 12V 230A Battery. 50'' x 30'' x 78'' (when closed) 102'' (when open)