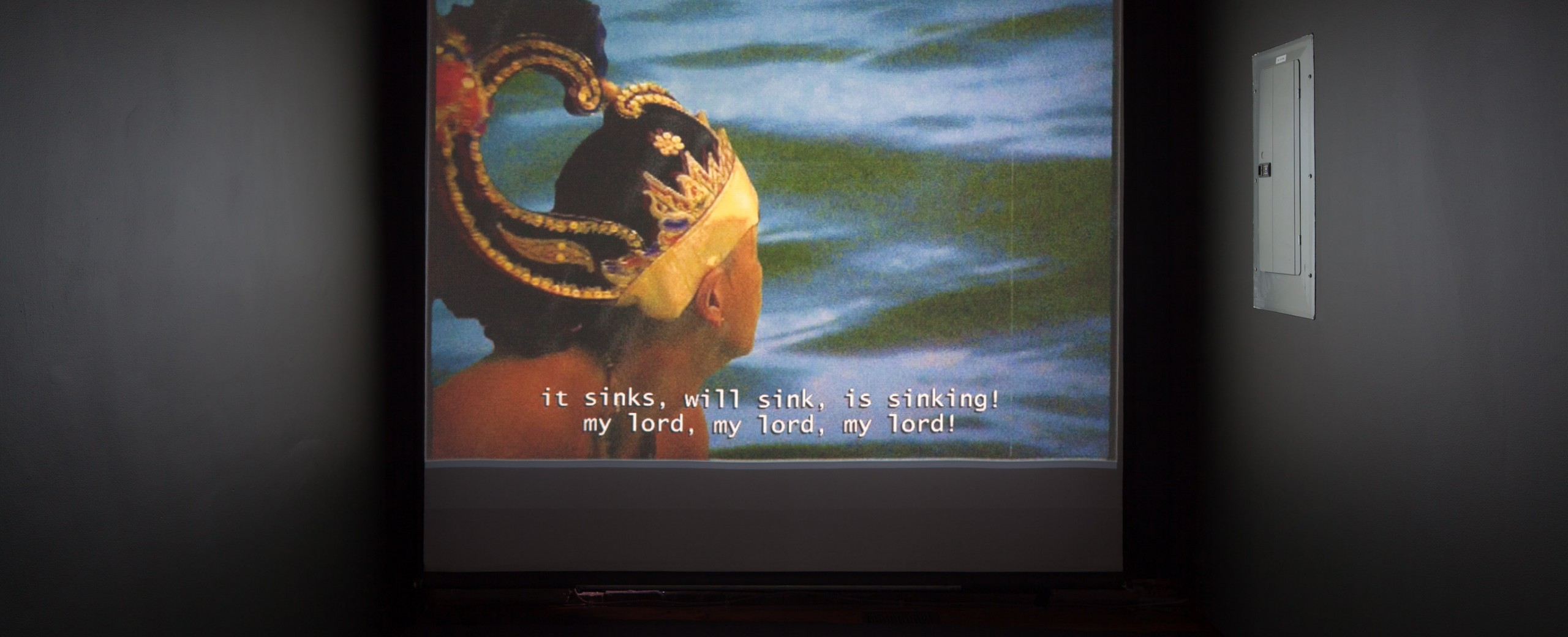 To Bring the World into the World
Curated by Biljana Ciric
Artists: Camamoto (Takayuki Yamamoto, Japan and Hoang Duong Cam, Vietnam), Vincent Leong (Malaysia), Vandy Rattana (Cambodia), Ruangrupa (Indonesia), Ho Tzunyen (Singapore), Apichatpong Weerasethakul (Thailand), Na Yingyu (China)
To Bring the World into the World presents the practices of artist collectives, institutions and individual artists working across the South East Asia region and China with a special focus on video, its archiving processes, its presentation, preservation and distribution, as well as its use as a medium to reveal neglected histories, different realities and missing contact points.

Vandy Rattana, The Bomb Ponds, 2009
Copyright Brenda Liu 2012

Na Yingyu, Our Homeland! Gone Just Like That, 2007 - 2009
Copyright Brenda Liu 2012

Left: Apichatpong Weerasethakul, Morakot (Emerald), 2007; Right: ruangrupa, OK. Video, 2007
Copyright Brenda Liu 2012
The publication component of the project at Art Metropole will introduce recent initiatives in the South East Asia region. Artists' independent journals and research based publishing projects that act as important platforms for the development of local knowledge and discourse, will be spread all over AM's shop, including: SentAp magazine, Narratives in Malaysian Art (Volume 1), Past Peripheral: Curation in South East Asia, Studio Bibliotheque, among others.
To Bring the World into the World is made possible through the financial support of the Canada Council for the Arts and the Ontario Arts Council. The project is collaboration between InterAccess, Gendai Vectors initiative and Art Metropole.
Opening reception: October 24, 2012, 7 - 10PM
Location and Hours
InterAccess Electronic Media Arts Centre
9 Ossington Avenue
Toronto, ON, M6J 2Y8
Wed. and Sat. 12 to 8 p.m.
Thur. and Fri. 12 to 6p.m.
Art Metropole
1490 Dundas Street West
Toronto ON, M6K 1T5
Wed. to Sat. 11 a.m. to 6 p.m.
Hero image:
Ho Tzunyens,

Utama – Every Name in History is I, 2003; copyright Brenda Liu 2012