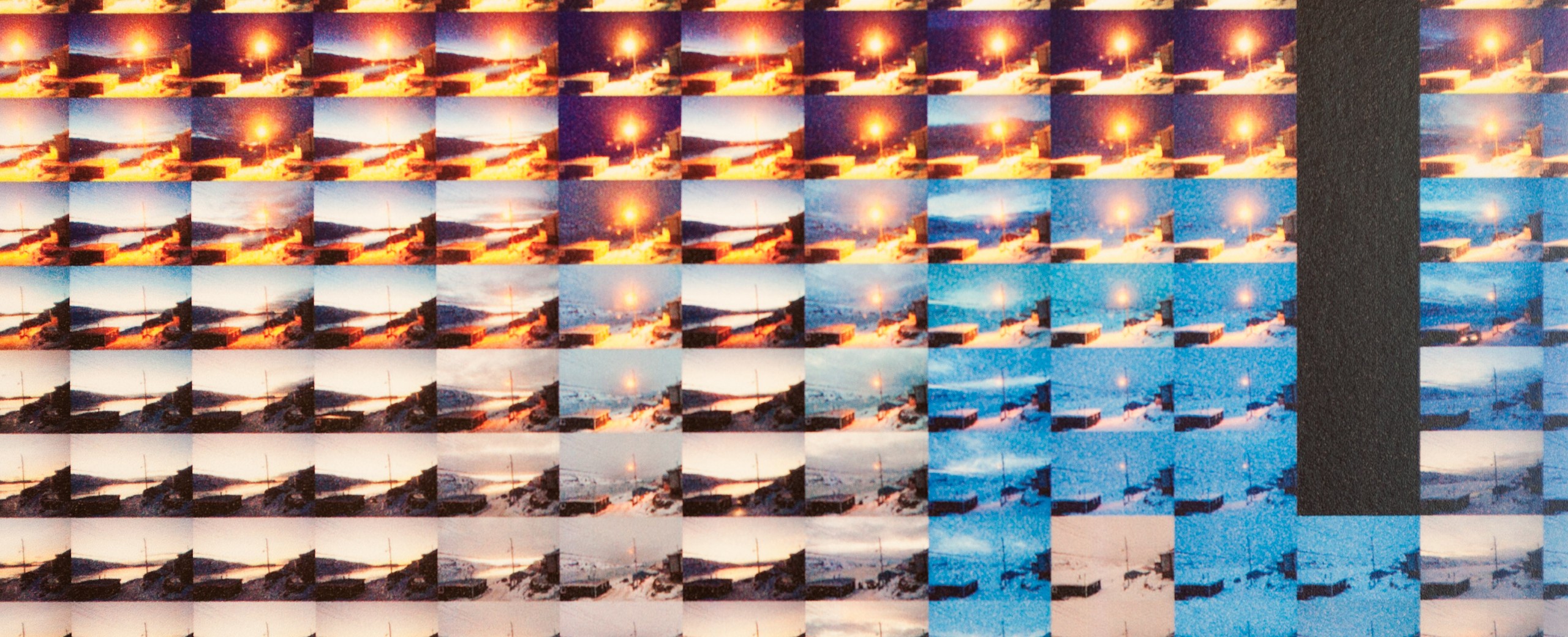 The collective David Bouchard, Alex Geddie, Bruno Lessard and Pierre Tremblay came across a website in 2010 hosted by KimmirutWeather.com, that records the weather in Kimmirut, Nunavut via continuous still images and it runs 24 hours a day, 7 days a week. They found the images so compelling they began to create a database of the images.
"On June 21st, 2010, the longest day of the year, we started capturing images from the Internet with the help of a webcam in Nunavut with a program specifically created, and data was collected four times every hour, twenty-four hours a day. As of April 2012, the archive contains about 60,000 images."
The result is Constructed Land, an exhibition and multi-format (multi-channel video, interactive projections, sound) project which proposes various experiences of reading this amazing database. The Kimmirut scene remains a constant throughout, but it is transformed, re-imagined, and presented under a different light by each process. The artists have assembled and recombined this vast array of images as new visual compositions representing different facets of this fascinating town on the edges of our imagination.
"The work investigates the role of the webcam as an unbiased and unrelenting image collector, unimpeded by aesthetic judgment, as well as the use of natural data to define structure in time-based media."
Through the multiplicity of a single image, the viewer is given a narrow perspective on this remote landscape, while at the same time exposed to a variety of ways of seeing. Evoking notions of solitude and encroachment, the fragility of "settlement" and the powerful forces of nature, the work exposes us to a region of the country few of us have ever experienced.
Please join us in the gallery for the opening reception on May 25, 7PM.

Constructed Land, installation view, 2012, © Brenda Liu, 2012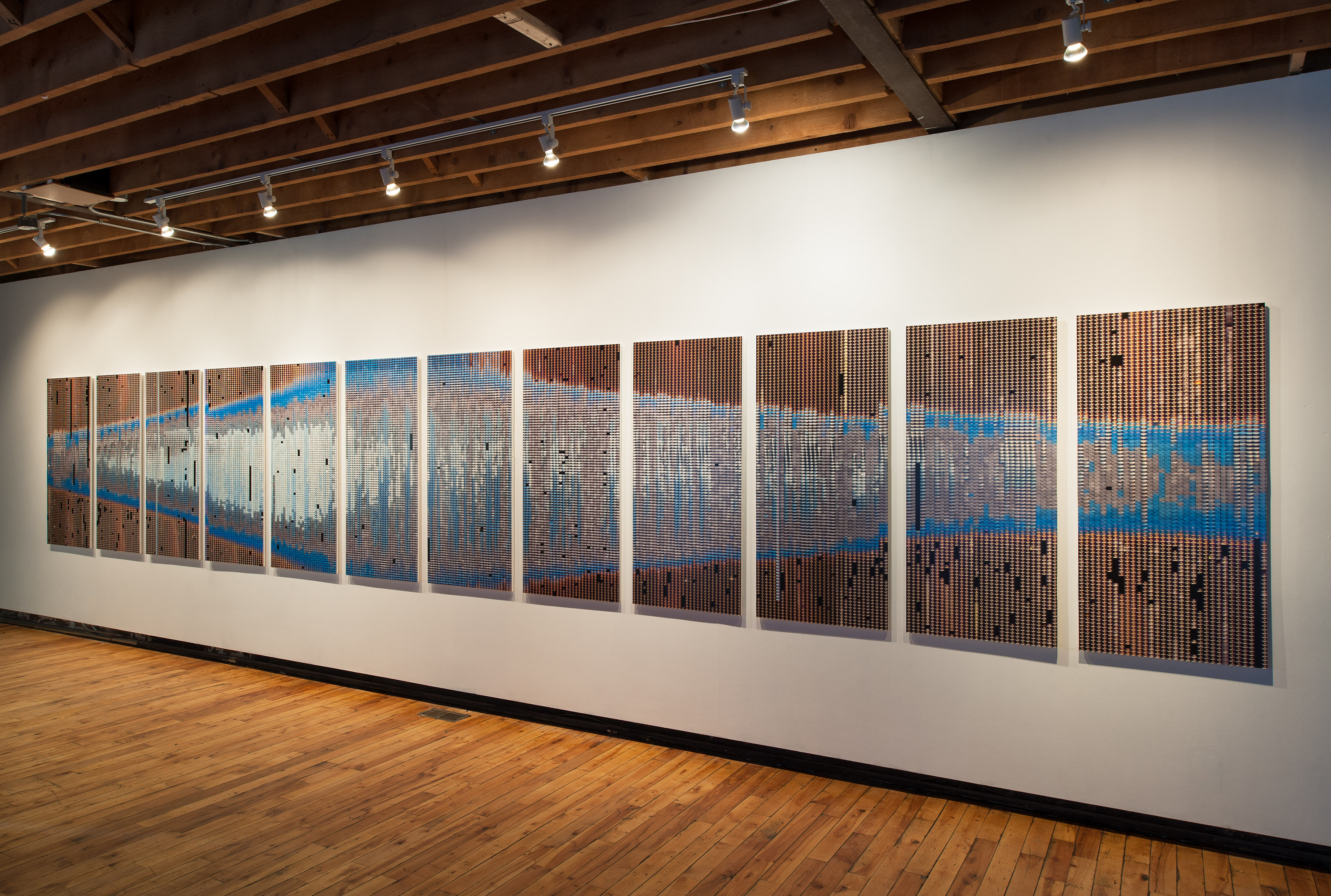 Constructed Land, installation view, 2012, © Brenda Liu, 2012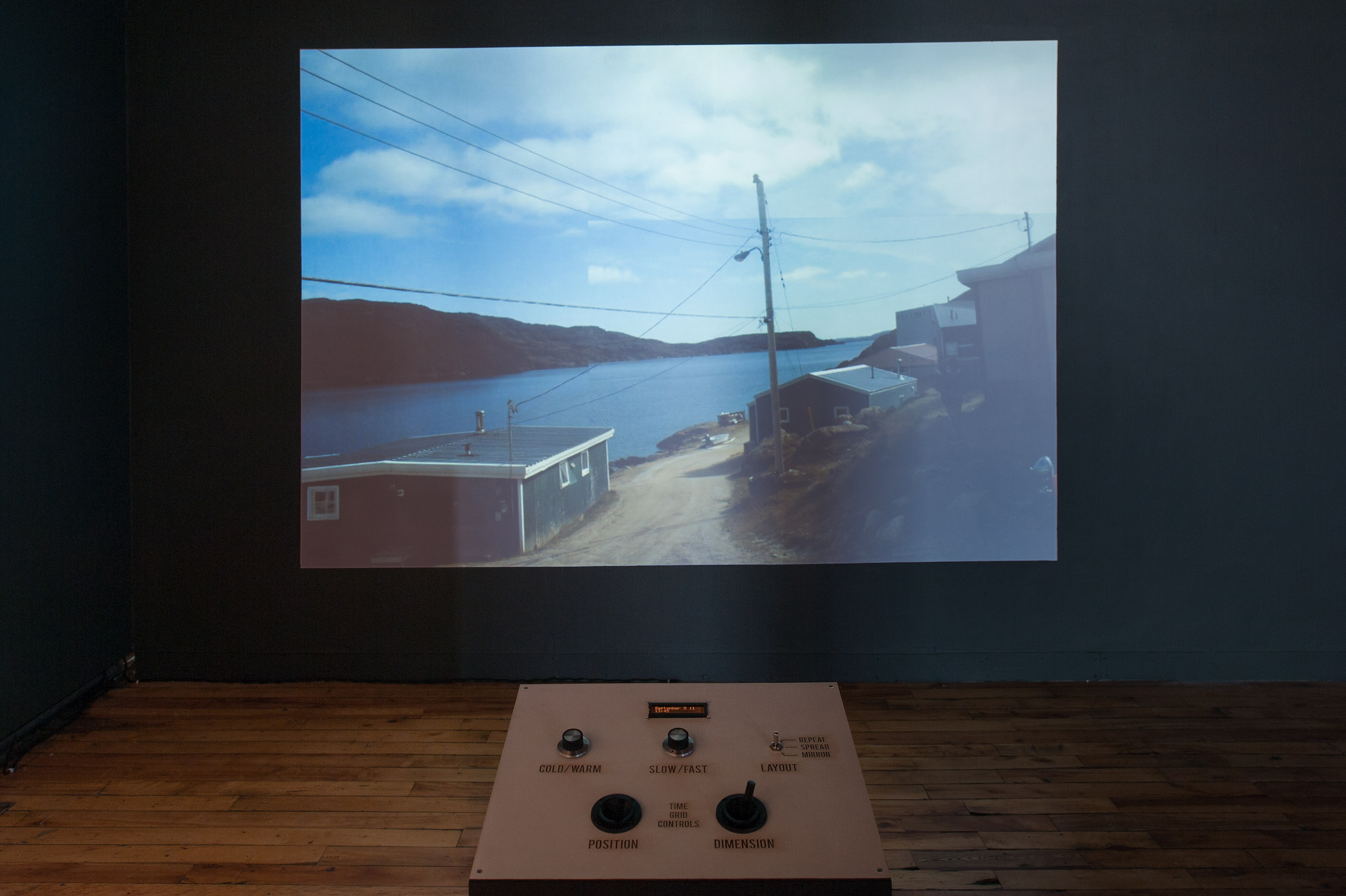 Constructed Land, installation view, 2012, © Brenda Liu, 2012

An essay by Steven Loft accompanies the exhibition.
Biographies:

David Bourchard is an omnivorous New Media artist, technologist and educator. His work explores the expressive potential of computation, both in software and hardware forms. His research interests include interactive and responsive environments, digital fabrication, display technology for public spaces, electronic music interfaces, wireless sensor networks and generative art, to name a few. David has worked as a freelance consultant on a wide range of multi-disciplinary interactive projects at the intersection of art, design and science. He is currently an Assistant Professor of New Media within the School of Image Arts at Ryerson University.
Alex Geddie is a Toronto new media artist, computer musician, technologist, and huge nerd. He has exhibited his installation works and performed in Canada, France, Belgium, Germany and Taiwan. He studied at Ryerson, OCAD and Le Fresnoy, and teaches continuing education courses at Ryerson.
Bruno Lessard, Ph.D., is an Assistant Professor of film and new media within the School of Image Arts at Ryerson University. His research and teaching interests can be divided into two areas: the contemporary moving image (fiction film, documentary, media arts, animation, and videogames) and French critical thought. He also teaches in the joint graduate program in Communication and Culture and in the Documentary Media program. He has published extensively in both English and French in the fields of contemporary cinema, film music, new media arts, and digital preservation.
Pierre Tremblay - http://www.nunavutlights.com/pierre
An interdisciplinary artist, Pierre Tremblay is an Associate Professor in the School of Image Arts at Ryerson University. His artistic practice, combining new technologies and video, questions the world in flux, how we see and perceive. Recently completed is a film series on Michael Snow, David Rokeby and R. Bruce Elder as well as work on various new media projects: Continuum and Portraits in a sentence. Exhibitions of recent note include Dans la nuit des images, Grand Palais, Paris, and le Mois de la Photo 2009, Montreal, along with festival screenings in Canada, Italy, Australia, China and Brazil. His work can be found in France at the Musée Carnavalet, Bibliothèque Nationale and the Musée Rodin. In his role at Ryerson, Tremblay has facilitated conferences and edited books that have brought scholars and artists from Ontario, Quebec and France together for cross-cultural exchange on a variety of new media topics.
Banner image: Constructed Land, installation detail, 2012, © Brenda Liu, 2012