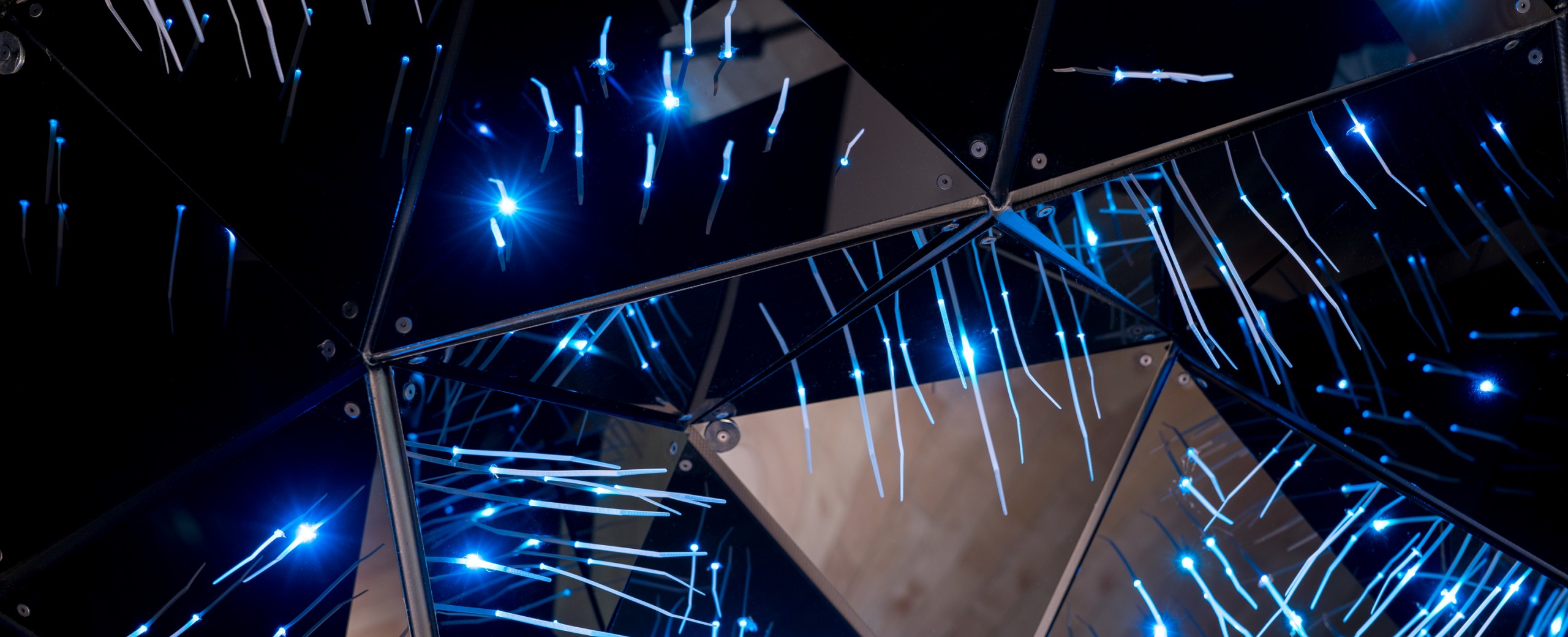 Cultivars (Possible Worlds)
Elisabeth Picard, OpenWorm, Stefan Herda, WhiteFeather Hunter
InterAccess and Subtle Technologies Festival are proud to co-present Cultivars (Possible Worlds). For millennia humans have been making our mark on the Earth by selectively nurturing and depleting the natural world. More recently, through scientific innovation, we've moved on to decoding and programming nature—cultivating life forms and ecosystems that are decidedly manufactured. The artists featured in this exhibition explore both the fantastical possibilities and upsetting implications of our legacy as world makers.
Subtle Technologies festival launch party and Cultivars (Possible Worlds) Opening Reception
Wednesday, May 10, 2017, 7-10pm
*Refreshments graciously provided by Henderson Brewing Co.
The exhibition is accompanied by an essay by Zach Pearl.
The exhibition floorplan can be found here.

Other exhibition related events:
Workshop: Solution Culture: Hydroponics for Creative Practice
Co-presented with Subtle Technologies
Saturday, May 13, 2017 at InterAccess
Click here to register
Open Studio
Co-presented with Subtle Technologies
Wednesday, May 24, 2017 at InterAccess

About the artists
Born in 1981, Elisabeth Picard is a Montreal artist, represented by the Lonsdale Gallery in Toronto. She was granted with bursaries from SSHRS, FQRSC, Concordia University, CALQ and SODEC to pursue her sculptural research. Since she graduated from the Master in Fibres program (2011), she works essentially with zip ties, dye, and light and is gradually integrating electronics. Her work has been shown in Quebec, Toronto, Cuba, France and Lithuania and included in publications in the US, Italy and Malaysia. Her research has been presented at Division Gallery in Montreal, Materia in Quebec City, and at the Biennale Internationale du lin in Portneuf QC (2013). She has been in residence at Est-Nord-Est residence d'artiste in St-Jean-Port-Joli QC (2011) and Barjols in France (2012). In 2016, she participated in the 20-year exhibition at the Lonsdale Gallery in Toronto, the Biennale Nationale de Sculpture Contemporaine in Trois-Rivières, QC, the exhibition for the Red Music Academy at Phi Center and the Bal du Musée des Beaux-Arts in Montreal. More over she realized two public commissions; for the new leisure center of Beloeil, QC, and the long-term care and services center for seniors in East Angus QC.
OpenWorm is an open source project dedicated to creating the world's first virtual organism in a computer, a C.elegans nematode. This aim will be achieved by 1) bringing together highly motivated scientists and engineers 2) pushing away all the red tape 3) fostering the growth of a completely open computational biology community. OpenWorm is a highly motivated group of individuals who believe in Open Science. In July 2015, OpenWorm incorporated as the OpenWorm Foundation as a Delaware (USA) not-for-profit Corporation as a way to help the group achieve the long-term goals of the project.
Stefan Herda employs intuitive and often times amateur scientific methodology in his practice. Herda's work explores our often troubling relationship to the natural world while reconnecting with outmoded technologies and various alternative means of production. Many of his experiments reflect upon geological and natural phenomena using provisionally sourced materials from the domestic environment. Stefan Herda received his BAH from the University of Guelph in 2010. His work in both sculpture and video has been included in exhibitions nationally. Recently, he was featured as one of 12 artists in the Cabinet Project at the University of Toronto in collaboration with the Fields Institute, held a solo exhibition at Y+ Contemporary (Scarborough) and participated in group shows at Younger Than Beyoncé (Toronto) and SHOW: 15 at Idea Exchange (Cambridge). Originally from Scarborough, Stefan currently works in Toronto.
WhiteFeather Hunter is an artist-researcher and educator, as well as occasional writer, curator, arts administrator and consultant, currently based in Montreal, Canada. WhiteFeather has been professionally engaged in a craft-based BioArt practice for over 15 years, via material investigations of the aesthetic and technological potential of bodily and vital materiality. Her work, situated within and referencing textile methodologies, has ranged widely. Projects have included: traditional textile constructions of human hair; rogue taxidermy sculpture with recycled fabrics/fur, found flesh and bone; digital representations of the body absent in the digital world; and, mammalian tissue engineering on textile scaffolds. She also hacks/builds electronics, uses web-based platforms to generate new mythologies via viral and interactive media, works in narrative video and approaches performance as embodied research in both the laboratory and the landscape. WhiteFeather's current research-creation practice is focused on the relationship between living and electronic systems, and in particular on the haptic intelligence of microorganisms and the agency of machines. She presents this work within the frameworks of feminism, witchcraft/empathy, nonhuman agency and architextiles.
WhiteFeather is an award-winning scholar and grant recipient, holding a MFA in Fibres and Material Practices from Concordia University. She has presented her work internationally in exhibitions, artist talks, conferences and residencies, most recently in New York, London, Reykjavík and Berlin. WhiteFeather currently works as Principal Investigator and Technician for the Speculative Life Lab, and as Coordinator for the Textiles and Materiality Research Cluster, both situated within the Milieux Institute for Arts, Culture and Technology at Concordia University.
More about Subtle Technologies
Subtle Technologies is an annual program providing a public platform for conversation and community building at the subtle intersections of art, science and technology.
Founded in 1998 and built upon a sharing ethos amongst the arts, sciences and technology, Subtle Technologies serves diverse audiences, creators, technologists and social innovators. Our annual festival and special projects direct public attention to emergent practices while cultivating dedicated audiences and committed local, national and international contributors who share values of generosity and curiosity. The festival partners with individuals, community organizations and cultural institutions in the spirit of collaboration and experimentation.
More about the festival
The Subtle Technologies Festival celebrates its 20th anniversary by exploring the radical potential of hybrid frameworks for art, science and technology to redefine our understanding of agriculture and the interdependence of life on our planet.
Through a multi-venue and multidisciplinary six-week program of events, festivalgoers will engage with artworks and dialogue-based educational experiences that present a multiplicity of approaches to land-use and cultivation in the context of Canada's sesquicentennial and a conscious progression toward a future grounded in equity, diversity and inclusivity. Central to this program are the voices and perspectives of aboriginal artists and community leaders who will guide discussions on themes of interdependence and ecology.
Image: Waitomo Cave by Elisabeth Picard (2016). Plexiglass, zip ties, LEDs, microcontroller, proximity sensors. Courtesy of the artist.