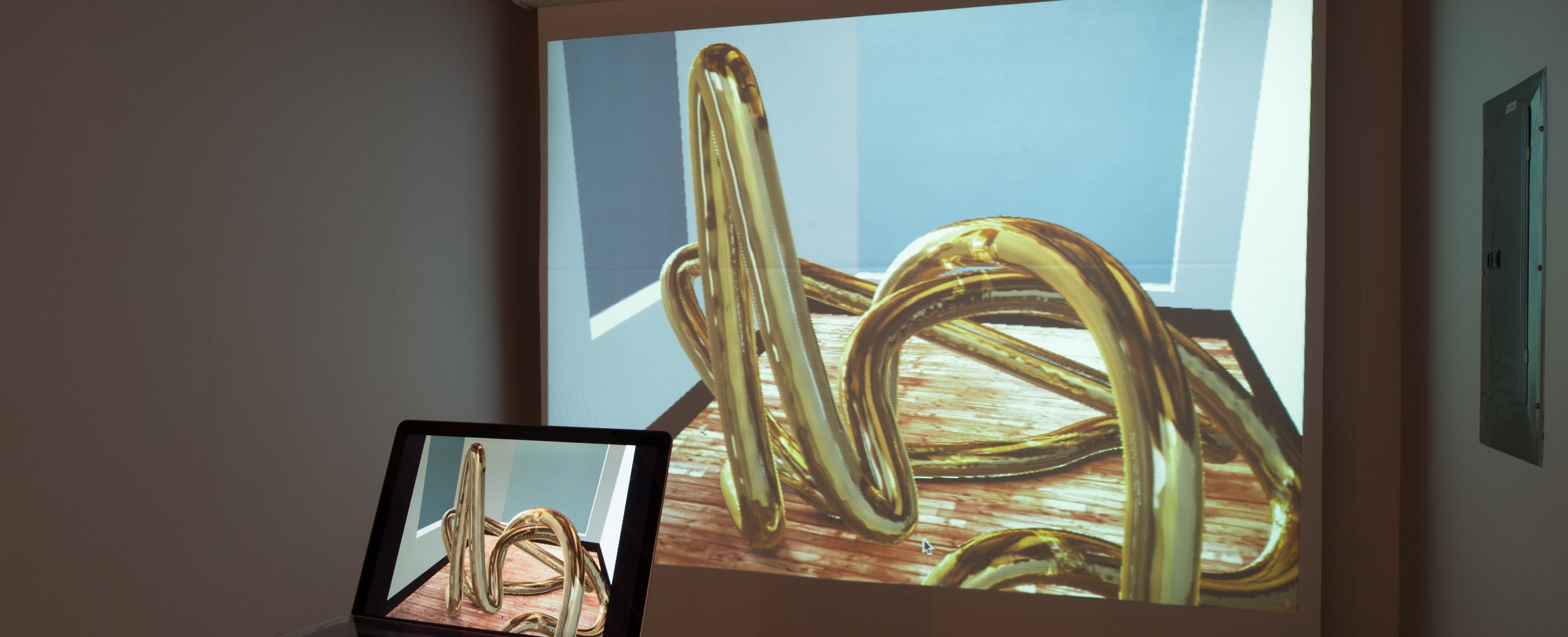 Jillian Ross & Liam Wylle
InterAccess is pleased to present Double Back, an exhibition by Toronto-based collaborative duo Jillian Ross and Liam Wylie, from February 17 to March 24, 2012. In Double Back, Ross and Wylie explore the relationship between "the embodied phenomenological experience of travelling through a physical gallery space and the disembodied experience of navigating across one digitally." The exhibition features a number of paintings and sculptures displayed in InterAccess' physical gallery space and recreated in an accompanying virtual gallery space modelled on InterAccess. Presented side by side, these two 'spaces' highlight the difference in forms of representation and viewership between the physical and digital domains. The physical objects, evocative of the construction materials used in the fabrication of InterAccess' gallery space, display a weight and solidity not found in the virtual objects, whose perfect surfaces and precision would be impossible to achieve by hand.
The virtual gallery space is also available for download as a Windows or Mac OS X program.
An essay by Greg J. Smith accompanies the exhibition.
Biographies:
Jillian Ross (b. 1989) graduated with a BFA from OCAD in 2011. She currently lives and works in Toronto. Her art exists as physical paintings and constructed digital (rendered) documentation, and the association of these two forms causes confusion as to the Realness or authenticity of either iteration.
Liam Wylie was born in Ottawa, Canada in 1989 and he received his BFA from the Ontario College of Art and Design University in 2011. Working mainly in sculpture, Liam's practice explores the tenuous boundary between the fictional realm of myth, and the empirical nature of science. In particular, he is interested in how these two supposedly opposed factions interact, and often overlap with one another. Liam has participated in many Toronto group shows (2010-11) and has also exhibited his work in the United States (2011).