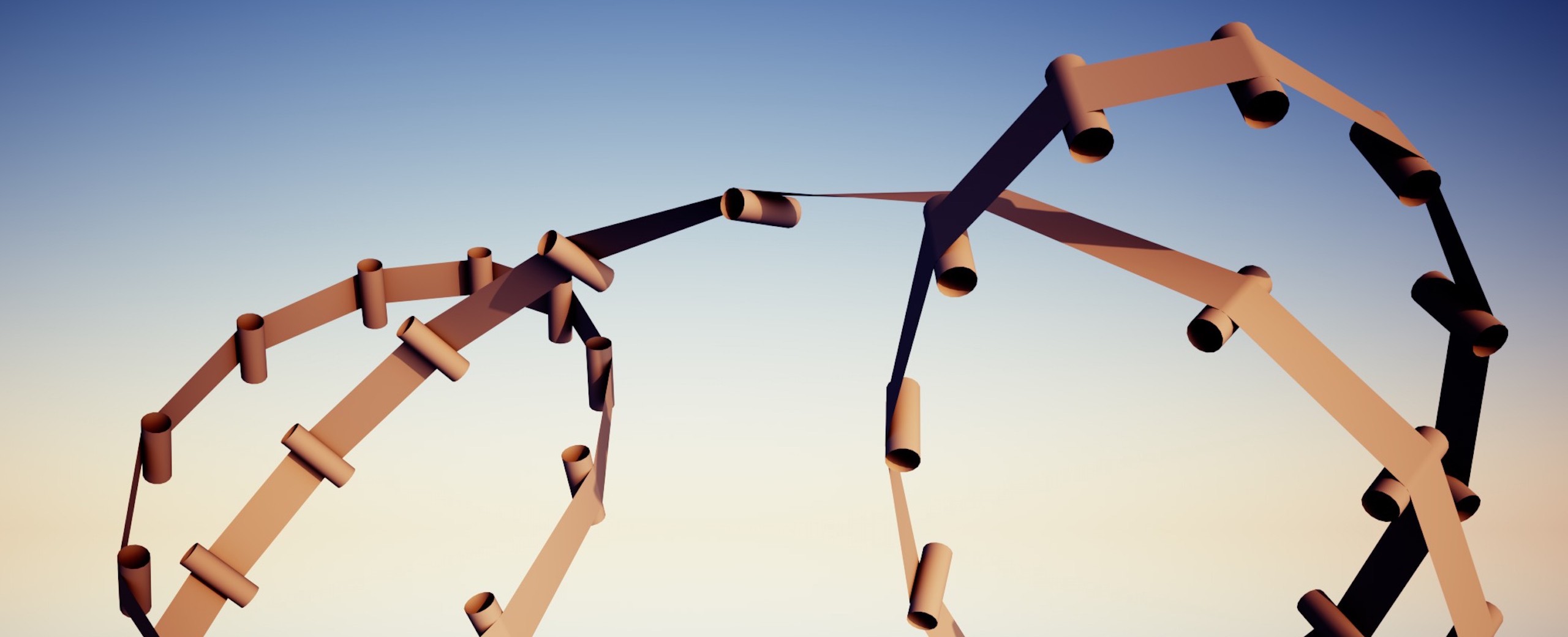 Film Path / Camera Path with under-titles
Daniel Young & Christian Giroux
InterAccess is pleased to present an experimental media artwork by the celebrated Canadian duo Daniel Young & Christian Giroux. This exciting new project, Film Path / Camera Path with under-titles, merges Young & Giroux's sculpture practice with film installation using high tech design and manufacturing technologies.
Film Path / Camera Path with under-titles collides the projected image with the apparatus of its presentation and the moving image with sculpture. The project started with the concept of a motion picture projection where the path of the film is the same as the camera path and is composed into a knot. A sculptural materialization of the film loop is made possible by complex multi-planer geometric modeling, parametric design, and additive manufacturing. The 35mm projector presents a one-minute long loop of a camera's travel along the film path. Accompanying the projection is an LED text screen that displays under-titles prepared for the artwork by poets, theorists, and artists including: John Barlow, Ina Blom, Eric Cazdyn, Geoffrey Farmer, Agnieszka Gratza, Daniel Hambleton, Erín Moure, Bridget Moser, Judy Radul, Patricia Reed, Reza Negarestani, Mohammad Salemy, and Michael Snow.
Film Path / Camera Path with under-titles was produced with the support of the Canada Council for the Arts' Media Initiatives Grant, and will tour to the Art Gallery of Greater Victoria following its presentation at InterAccess.
The work will be presented at InterAccess from March 6 – May 4, 2019, with an opening reception on March 6 from 7pm-9pm. Read more about upcoming events related to the exhibition below.
EXHIBTION RELATED EVENTS
Opening Reception
Wednesday, March 6, 2019
7pm – 9pm

Artist Talk
Thursday, March 21, 2019
7pm – 8:30pm

Slow Art Day x Time-Based Media – Tour
Saturday, April 6, 2019
2pm – 4pm

Machines that Make Art – Artist Lectures
Saturday, April 27, 2019
2pm – 4pm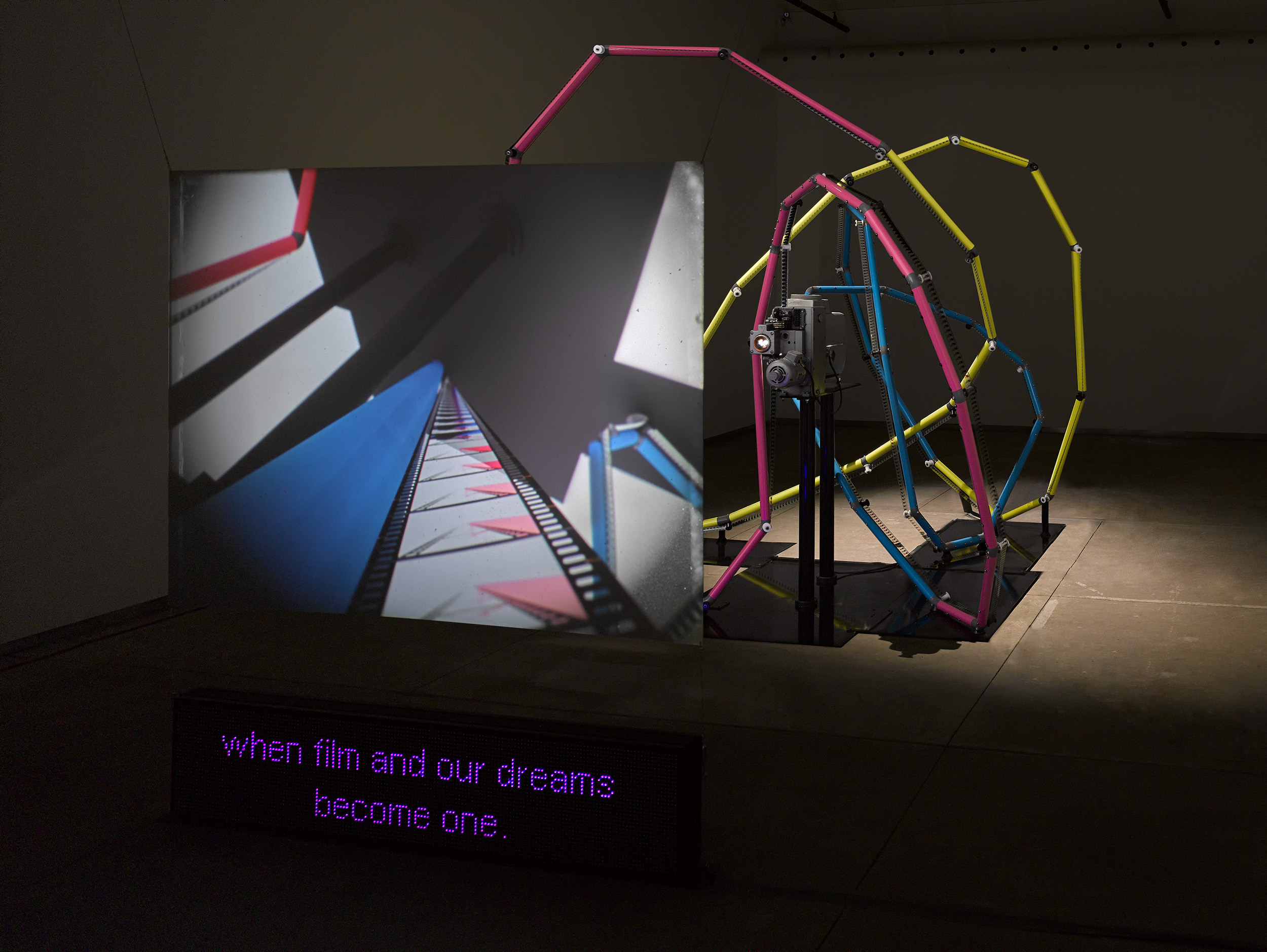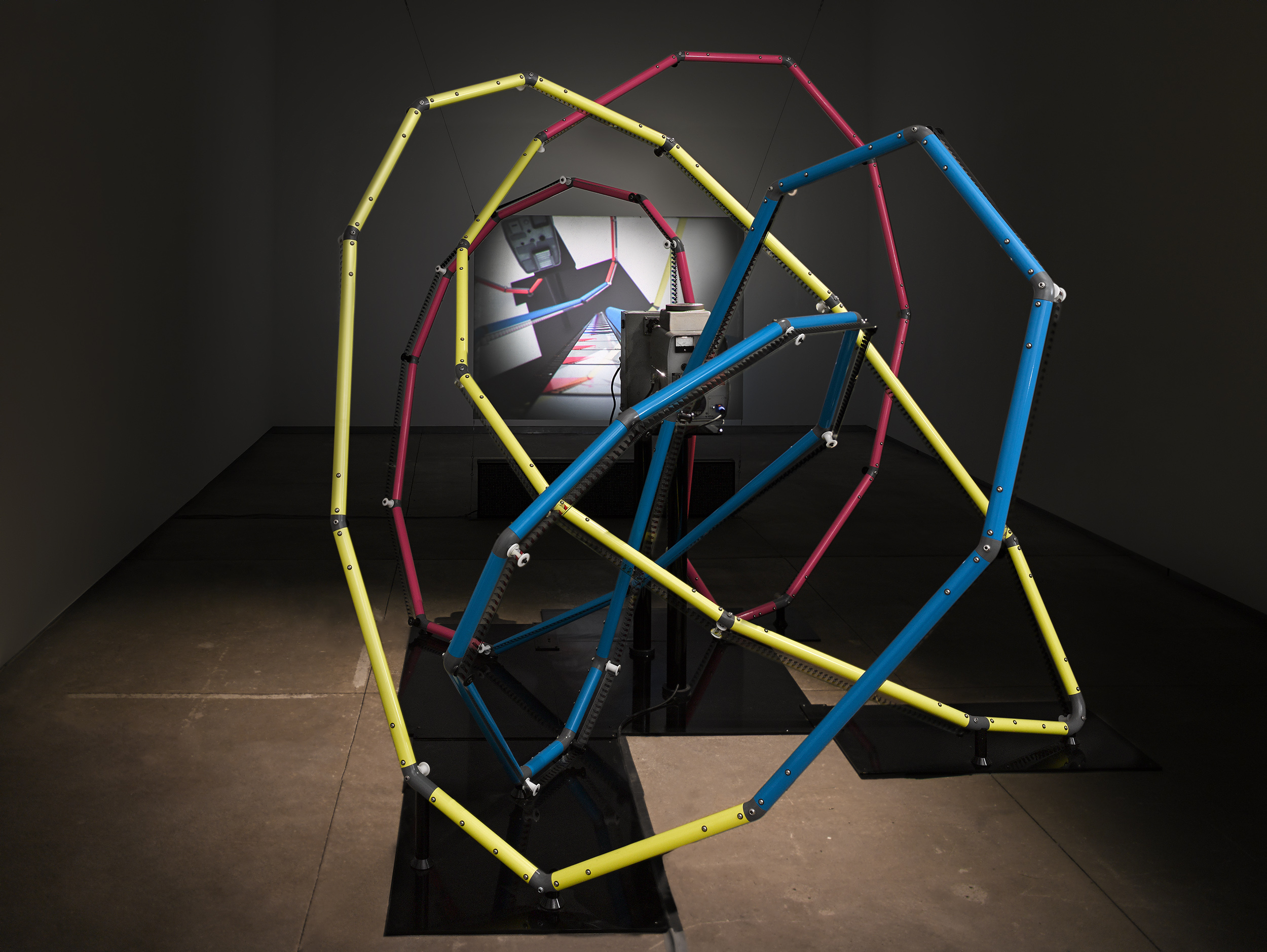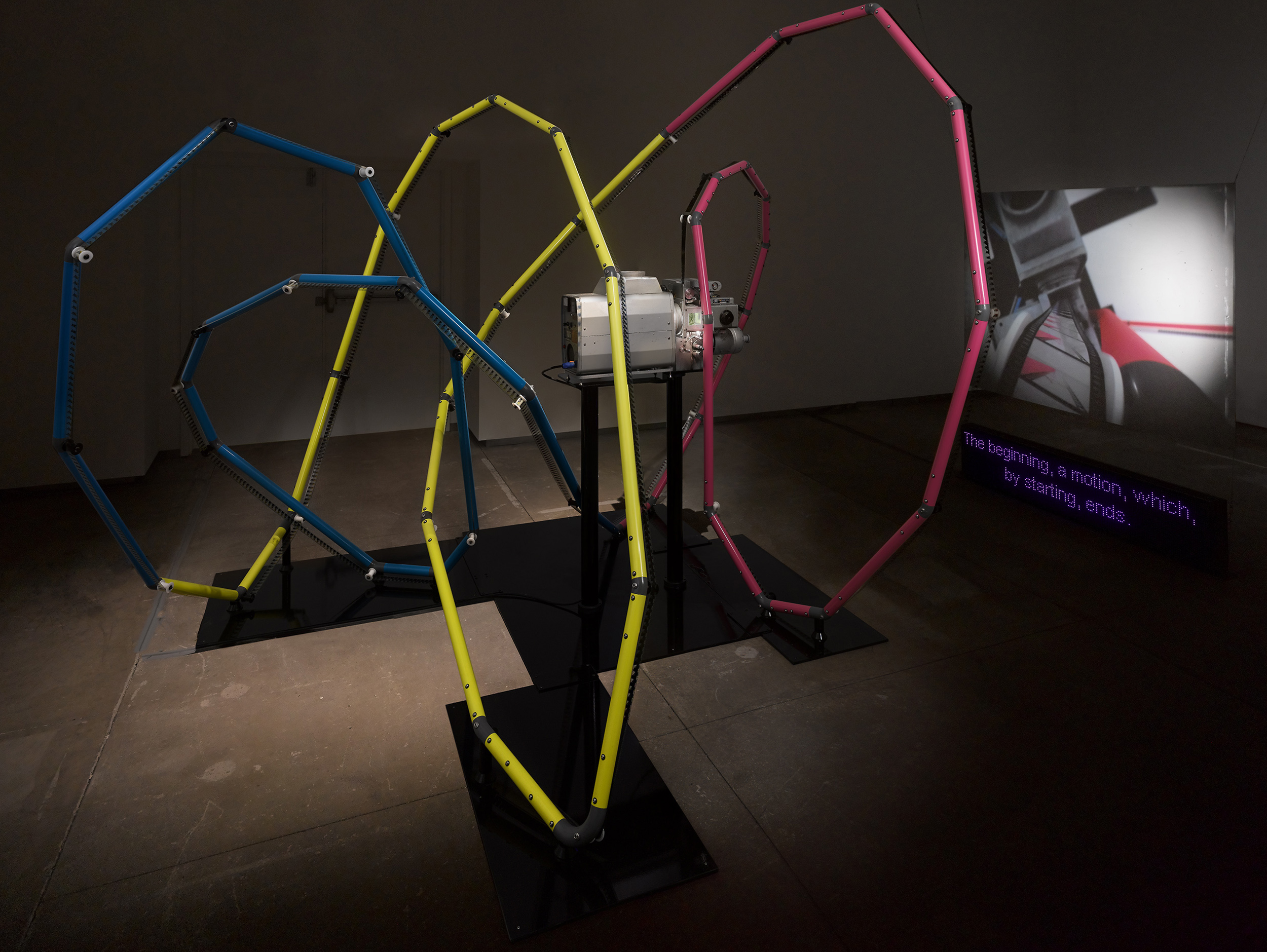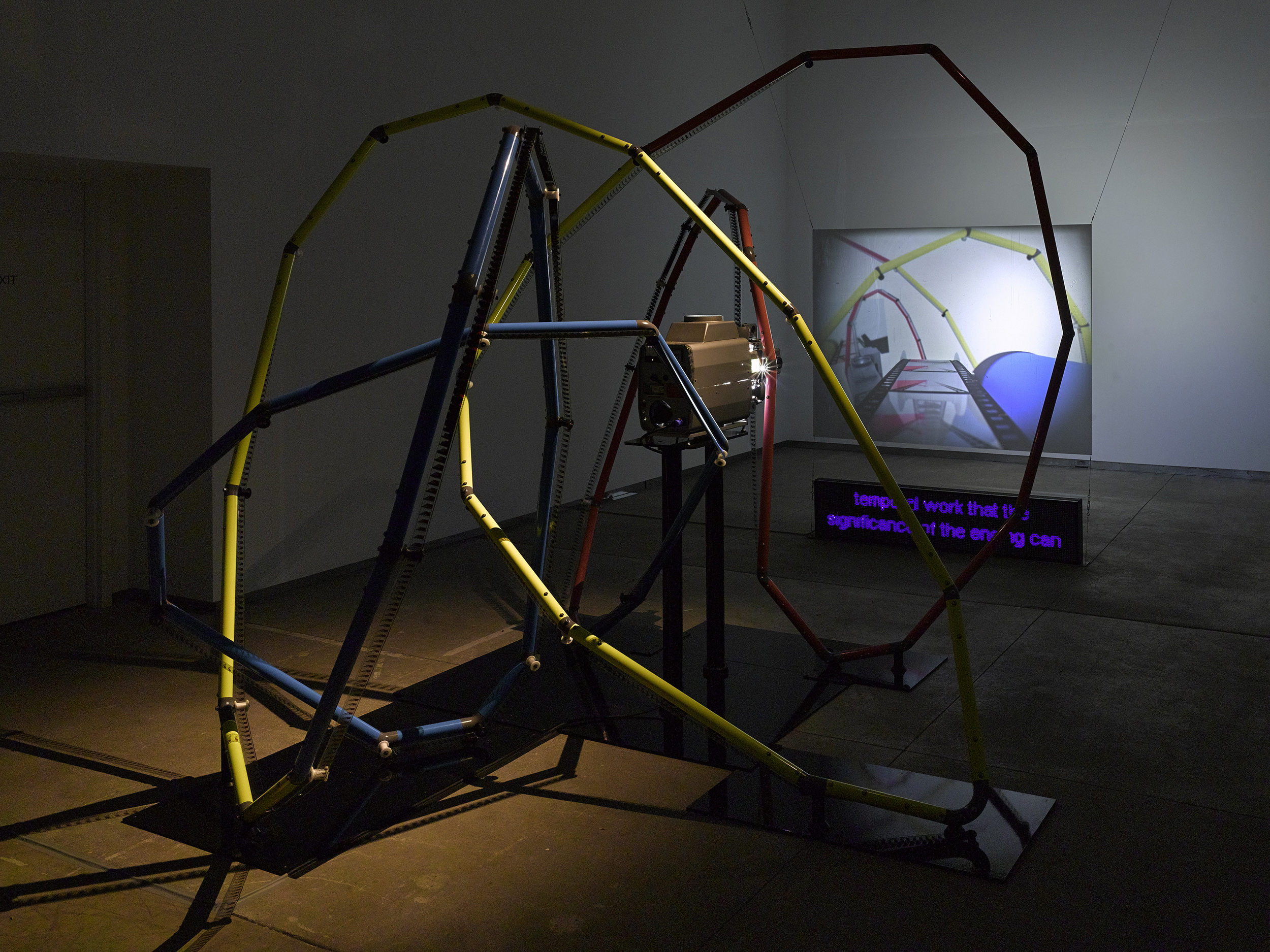 ABOUT DANIEL YOUNG & CHRISTIAN GIROUX
Daniel Young & Christian Giroux have been making art together since 2002. Their work takes the form of exhibitions, sculpture, cinema installations, publications and public artworks. Young & Giroux's practice originated in dialog between architecture and sculpture and has evolved through an engagement with research topics such as the modernity of the mid-century, new building construction, Canada's infrastructural system, and curtain wall architecture. Recently they completed the public artwork Three Points Where Two Lines Meet for the City of Toronto, and the artist book Berlin 2013/1983 from Arch+ that was short-listed for the Best German Architecture publication.
Young & Giroux have had solo exhibitions at 8-11, Toronto; The Deutsches Architektur Zentrum, Berlin; TIFF Bell Light Box, Toronto; The Rooms, St. John's; Carleton University Art Gallery; Oakville Galleries; Musée d'art Contemporain de Montréal; the Southern Alberta Art Gallery, Lethbridge; Mercer Union, Toronto; and Prefix ICA, Toronto. They were awarded the Sobey Art Award in 2011. Daniel Young divides his time between Toronto and Berlin, Christian Giroux teaches at the School of Fine Art and Music at the University of Guelph, Ontario.