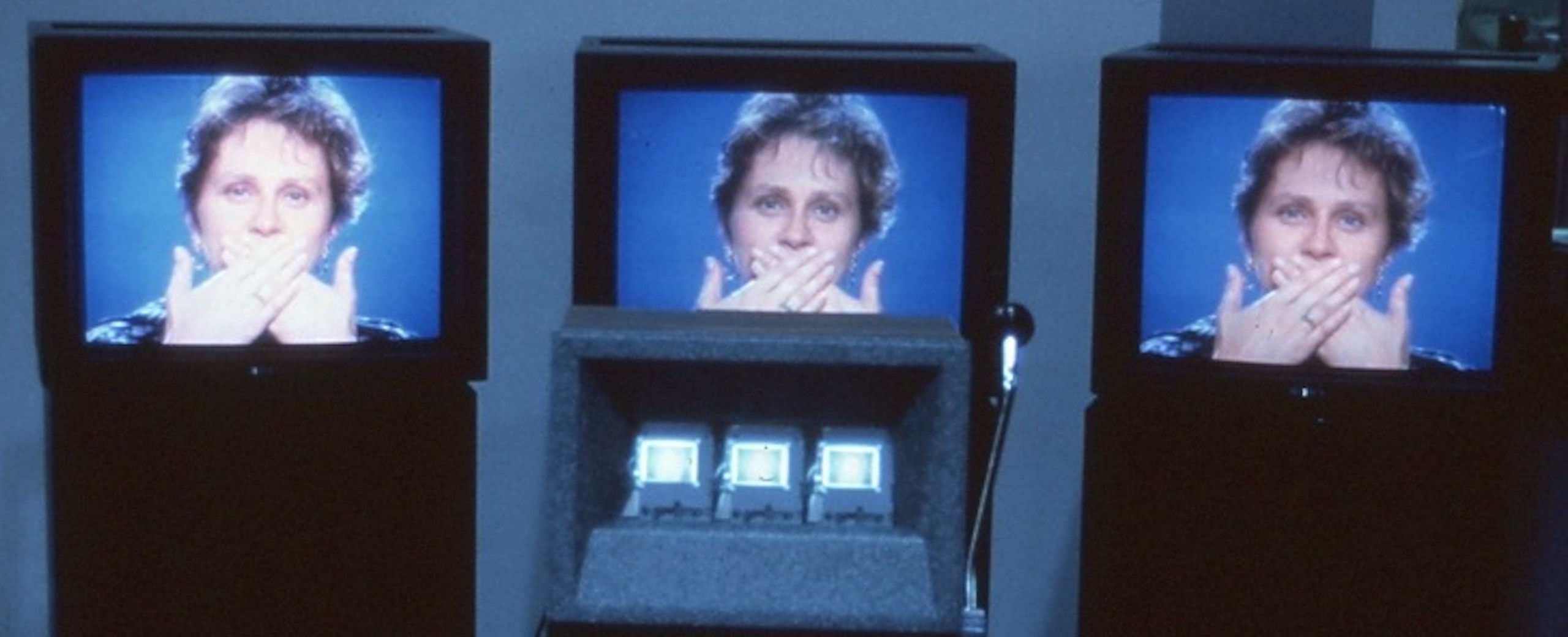 InterAccess is pleased to present The Future: Before a retrospective exhibition of works by pioneering Canadian media artist Nancy Paterson. Paterson's career has spanned 30 years and her influence has been felt both nationally and internationally in the field of new media art. Through the unique application of custom-made equipment, Paterson's works are socially critical and technically complex, expressing a feminist perspective on the impacts of technology in society.
This exhibition animates interactive works by the artist that have never been exhibited in Toronto. Two of Paterson's most widely known works will be on view: Bicycle TV (1989) and The Machine In The Garden (1993).
Paterson's activities as an artist, writer, curator, and educator have developed in many ways in parallel with InterAccess and Toronto's electronic art scene. Over several decades Paterson has been an active member of InterAccess in a variety of capacities: as a guest curator (with the online and offline group exhibition Disembodied in 1997), featured artist (in the exhibition Game Girls in 1999 and Meantime to Upgrade in 2014), panel discussant (in the NERVEgate Conference in 1997 and the Subtle Technologies Conference in 1999) and as a workshop participant.
Curated by Shauna Jean Doherty
Opening reception:
Wednesday, April 4, 2018 from 7pm - 10pm.
Artist in attendance.
Additional Programming:
Media Arts Reading Room
April 4th – May 26th 2018
Peruse a curated selection of media arts publications that map the field from a Canadian perspective, assembled with the support of Art Metropole and YYZ Artists' Outlet.

Artist Talk With Nancy Paterson
with exhibition curator, Shauna Jean Doherty
Saturday, April 7th, 2018, from 3pm-4pm
For more information click here.

Lecture: Where Are We Now? Feeling Our Way in Post-Cyberfeminist Space
by Esmé Hogeveen
Saturday, April 21st, 2018, from 3pm-4pm
For more information click here.

Welcome To Yesterday/The Future
by Codrin Talaba and Jeff Howard
April 4th – May 26th 2018
An animated LED light installation by Toronto-based artists Codrin Talaba and Jeff Howard. Situated within the lobby space of IA's new facility, Welcome To Yesterday/The Future illuminates the precarity of Toronto's community landmarks.
For more information about the installation click here.
About the Artist
Nancy Paterson is a Toronto-based artist and Associate Professor at OCAD University. Early media works incorporated images and machines associated with 1950s domestic environments and her explorations into interactivity in the 1980s were significant for women entering new media art practice. The paper entitled "Cyberfeminism" (1992) contributed to discussions around feminism and technology and her inclusion in the 2007 exhibition 'Cyberfeminism Past Forward' in Vienna evidences Paterson's contribution to the area. Paterson has been on the Internet since late 1982 [UTZOO] and she has incorporated networks into her art practice. The Internet-based "Stock Market Skirt" (2000) led directly to creative visualization of Internet infrastructure and a Ph.D in Communications and Culture at York University (2009) with research in network studies.

About the Curator
Shauna Jean Doherty is the Programming Coordinator at InterAccess. From 2015-2017 she served as Distribution and Outreach Manager for Video Out, the video art distribution department at VIVO Media Arts Centre, in Vancouver, British Columbia and sat on the board of the Canadian Coalition of Independent Media Arts Distributors. Her primary critical and curatorial interests are; video art and the social history of technology. Doherty graduated from OCAD University with an MFA in Art Criticism and Curatorial Practice. and has curated exhibitions, video screenings, and events since 2009 in a variety of commercial, public, and artist-run spaces which include, Vtape (Toronto), EM Media (Calgary), The Centre For Art Tapes (Halifax), The Art Gallery of Ontario, The Museum of Vancouver, VIVO Media Arts Centre, and FIELD Contemporary (Vancouver). Her exhibitions have been included in programming for the Images Festival (Toronto) and Capture Photography Festival (Vancouver).
She has written arts reviews and feature articles for C Magazine, Canadian Art Magazine, The Journal of Curatorial Studies, BlackFlash Magazine, Magenta Magazine, and ISSUE Magazine and exhibition essays for InterAccess, Hamilton Artists Inc., Xpace Cultural Centre, and Ryerson Artspace.
Image: Machine In The Garden by Nancy Paterson (1993). Courtesy InterAccess archives.