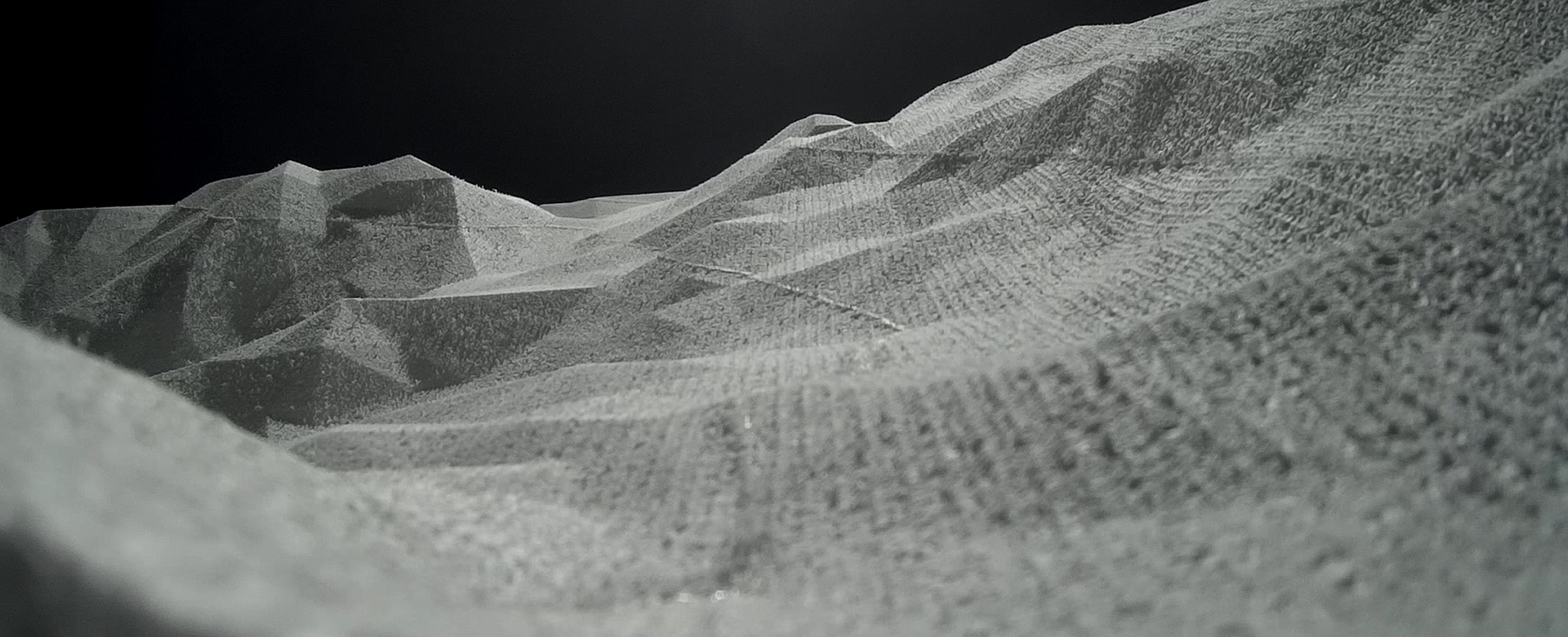 Infinity of Intimate Space
InterAccess is pleased to present its 15th annual emerging artists exhibition. In celebration of this milestone year, the program has been renamed to Current, reflecting the present voices of emerging curators and artists. "Current" refers to the now, of course, but it is also an energetic charge that causes light, heat, and all sorts of electronic life; an apt metaphor for emergent creative practices within the ever-expanding field of new media.
This year's Current Emerging Curator is Aliya Karmali, a recent U of T graduate. Interested in how our spaces create and hold meaning, Karmali developed a call for submissions centred on the poetics of space. The resulting exhibition, Infinity of Intimate Space, features four emerging artists whose works explore space through memories and dreams. The exhibition is inspired by Gaston Bachelard's book, The Poetics of Space, which discusses the phenomenologist's study of the sites of our intimate lives. From the intimacy of our houses, to desolate landscapes and brimming cities, to the deconstruction of digital forms, what reveries do we explore within the spaces we immerse ourselves in?
Curated by Current Emerging Curator Aliya Karmali. Featuring works by Jennifer Akkermans, Ilze Briede (Kavi), Connor Buck, and Venessa Heddle.
Opening Reception
Wednesday, November 16, 2016, 7-9pm
Curator Tour
Saturday, November 19, 2016, 1-2pm
About the Artists
Jennifer Akkermans is a Canadian artist, far from home. Originally from Hanna, Alberta, she currently lives and works in Waterloo, Ontario. In 2014, Jennifer packed her P.T. Cruiser and drove across the country to pursue her MFA at the University of Waterloo. Since then, she has used herself as a case study to examine how one might build herself a new home somewhere new. Jennifer has exhibited at the Art Gallery of Calgary and the Esker Foundation and participated in residencies, such as at the Banff Centre. In 2015, Jennifer travelled to Cologne, Germany, to work with Alexandra Bircken.
Born in 1983 in Riga, Latvia, Ilze Briede (Kavi) is a multi-disciplinary digital media artist and a graduate from MA Interactive Media program at the Arts University Bournemouth, United Kingdom. Her practice incorporates live video projection, handmade and interactive installation, while she professionally works in the field of projection and video art for theatre, stage and live performances. Her work usually emerges through the process of collaboration and artistic experimentation and she tends to blend multiple mediums together such as digital art, craft, and electronics. Different materials and sculpturistic forms become a platform for her video projections. She has recently moved to Canada and is eager to contribute to the current existing arts scene in Toronto.
Connor Buck is a young artist working and studying at the University of Toronto. His primary fields are photography, video, sound, and music installation. His work is concerned with the morally ambiguous natures of screen density, digital vs physical landscapes, and the ways networked devices and increasing computer power are changing the way we think of our environments, our privacy, our relationships, and our bodies.
Venessa Heddle is a feminist, artist, and thinker who is utterly bewildered by the Modern project. Convinced the boundaries between empiricism, experiment, and experience are much softer than we (she) might think, her work engages techniques of applied science to explore the natural imaginary and other modes of reasoning. She is currently the Gregory H. Woods Design Fellow at York University and holds a Master of Architecture from the University of Toronto.
About the Current Emerging Curator
Aliya Karmali is a recent graduate from the Architectural and Visual Studies programs at the University of Toronto. Following a curatorial internship at Trinity Square Video, Aliya curated Three x Five, the Undergraduate Visual Studies Thesis Show at U of T. Aliya is interested in the relationships between technology, space, and the human spirit.

Introducing a new identity in celebration of its 15th year, the InterAccess Current program supports the professional development of emerging curators and artists interested in new media and electronic practices. Each year, InterAccess selects an emerging curator, who works closely with IA staff to conceptualize and execute an exhibition of works by emerging artists.
Image: Venessa Heddle, still from Funeral Wells (19:33 min digital video) shot with a Mobius Action cam affixed to a CNC router.