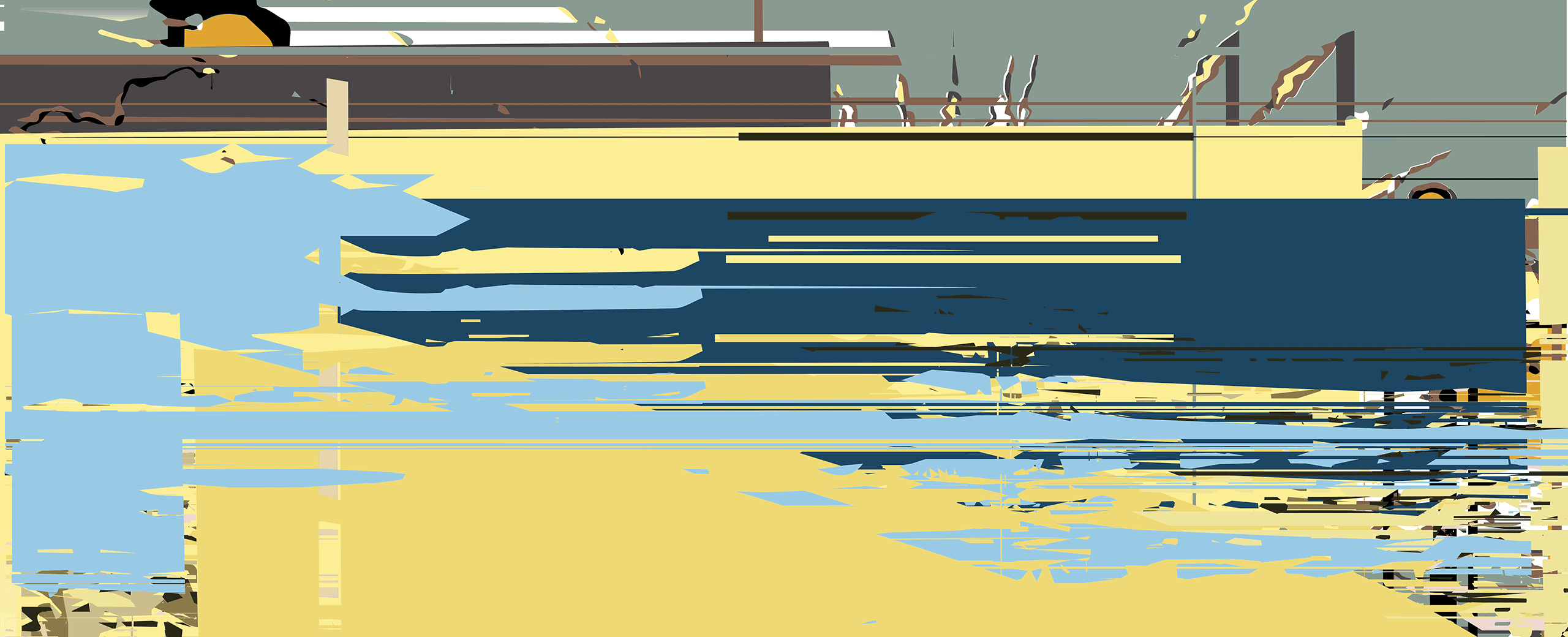 A Project by Brandon A. Dalmer
InterAccess presents Once Removed, an exhibition featuring all new works in painting, sculpture, installation, and animation that use experimental techniques and media to address the potential of production in the absence of an artist. As technology continues its rapid advancement, computers and other devices become increasingly capable of fulfilling the role of the artist's assistant, marking a shift from manual to digital production. Following this trajectory, artists are confronted with the opportunity to ease their workflow by outsourcing increasingly complex tasks to machines. Once Removed tests the limits of what is possible without the artist's hand.
The artists in Once Removed have entrusted production to various algorithms, programs, and machines, allowing these digital and mechanical processes to shape the physical and aesthetic characteristics of the works. Brandon A. Dalmer's paintings attempt to replace the artist's hand by enabling computer algorithms and machines to abstract source imagery and shape the physical paintings. Tobias Williams's experimental animation tests how much generative output can be created with minimal input from the artist. Tyler Vipond's AI artists create collages automatically through semi-random internet searching. By training Cleverbot to have more conversations about art, Matthieu Sabourin assisted Cleverbot in generating an artists' manifesto. In their collaborative painting, Laura Hudspith & Nicholas Zirk rely on video feedback loops and colour-picking software to produce the works.
An essay by Michelle Kasprzak accompanies the exhibition, and a limited edition risograph print by Brandon A. Dalmer will be available for purchase at InterAccess.
Opening reception: Thursday, October 8, 2015 from 7-9pm.
About the Artists
Brandon A. Dalmer (b. 1984) is a multi­media video and installation artist, and occasional curator living in Toronto, ON. He holds a BFA from the Alberta College of Art and Design, and has participated in a number of exhibitions across Canada. His painting work explores the way images are made, and the relationship humans have with expanding technology. While his installation work focuses on narrative through the language of film, science, decaying memories, and Illusion.
Working largely with ceramic and found objects, Laura Hudspith's work examines societal modes of consumption in relation to existential questions of survival. Nicholas Zirk's paintings use a pop­collage aesthetic recalling the malleability of memory and the consequences this has in forming identity. Collaboratively, the pair works in combining icons to form meaning. They have been working alongside each other since 2013, and most recently collaborated as a part of The Roundtable Residency, 2014.
Matthieu Sabourin graduated from the University of Ottawa in 2007 with a major in Fine Arts and a minor in French Literature. In 2011, he completed his MFA in sculpture at Concordia University. He currently lives and works in Montréal.
Born 1983 in Canada, Tyler Vipond studied drawing and painting at The Ontario College of Art & Design, graduating in 2008. He has attended residency programs at The Cooper Union School of Art in 2008 and the School of Visual Arts in 2009, both in New York City. In 2011 he graduated from the MA Fine Arts program Central Saint Martins in London where he received the Jealous Print Prize for his graduating exhibition. He has exhibited in London, New York, and Toronto. Recently he has enjoyed shows at the Drake Hotel, Afterhours Projects, and the Roundtable Residency, all in Toronto.
Tobias Williams is a Toronto based artist and educator with an MFA from York University. His work investigates the historic and contemporary relationship between art and technology.
Image: Painting prototype by Brandon A. Dalmer.