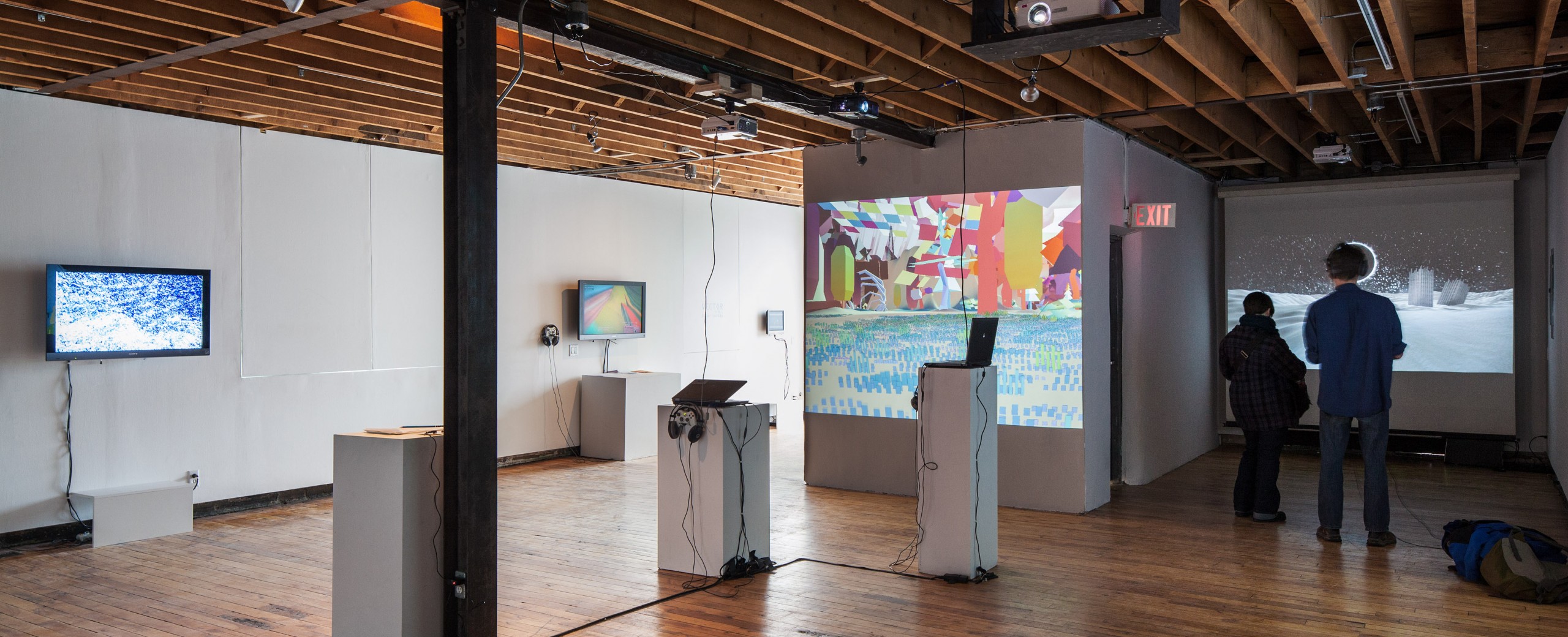 As a partner venue for the festival, InterAccess presents Other Worlds (curated by Prostethic Knowledge and mrghosty), an exhibition which addresses digital space as procedural landscape, as well as two evenings of live performance, and several workshops. Rather than creating games where prescribed routes and narratives direct player movement and action, the works featured in Other Worlds position the player as a digital flaneur, who is free to move in any direction they like, while occupying the position of a detached observer. Other Worlds features the Canadian exhibition debut of the The Night Journey, created by Bill Viola and Tracy Fullerton. Other artists in the exhibition include: Luis Hernandez, Alex Myers & Jeff Thompson, Lea Albaugh, Arkane Kids, Ed Key & David Kanaga, Alan Kwan, Cyril Lecomte-Languérand, and Axel Shokk.

Alan Kwan, Bad Trip

Luis Hernandez, Void One

Bill Viola & Tracy Fullerton, The Night Journey
For more information, including the full schedule of activities, please visit the Vector website: http://www.vectorgameartfest.tumblr.com.
Tickets and passes can be purchased at the Vector Eventbrite page:http://www.eventbrite.ca/org/3061004082.
SPECIAL INTERACCESS MEMBER DISCOUNT! Vector is pleased to give card-carrying Interaccess members a special discount to all of the workshops throughout the festival. IA members can purchase these tickets by visiting our workshop page (http://vectorworkshops-eorg.eventbrite.com) and enter the discount code IAMEMBER. Members must present their membership cards to the workshop facilitator when arriving at the workshop.

Artists and works:

Lea Albaugh, First Person Platformer
Arkane Kids, Zineth
Luis Hernandez, Void One
Cyril Lecomte-Languerand, Tiles of Symphonia
Ed Key & David Kanaga, Proteus
Alan Kwan, Bad Trip
Alex Myers & Jeff Thompson, You Have been Blinded and Thrown into a Dungeon
Axel Shokk, Trip
Bill Viola & Tracy Fullerton, The Night Journey
Curated by Prostethic Knowledge and mrghosty
Vector: Game + Art Convergence, is a festival dedicated to showcasing contemporary game based artworks, featuring exhibitions, screenings, workshops, performances and round table discussions, all with the intent of creating a critical dialogue about the medium of games and its expressive potential as a contemporary art practice.

Events at a glance:
In addition to Other Worlds, InterAccess hosts two evenings of performances, Playing Personae: Engendered + Embodied Performances, Friday, February 22, 10pm, and Engines of Performance, Saturday, February 23, 10pm, which will feature live performances by Angela Washko, Daniele Hopkins & Kyle Duffield, Toca Loca and foci+loci. Over the weekend, the InterAccess studio will host two hands-on workshops. On Saturday, Feburary 23rd, local chip musicians, bossFyte, jefftheworld, and .exe, will lead chip.jam, a workshop which introduces lo-fi electronic music production techniques. On Sunday, Feburary 24th, join Vector Co-Director Clint Enns and NYC's notendo for glitch.jam, which focuses on tools for creating glitch art using battery operated video game systems.
Friday, February 22, 10pm
Playing Personae: Engendered + Embodied Performances
Daniele Hopkins and Kyle Duffield, Angela Washko
Saturday, February 23, 12-5pm
chip.jam Workshop
Jeff Alynak (Jefftheworld), Roger Bongers (.exe) and Pete O'hearn (bossFyte)
Saturday, February 23, 10pm
Engines of Performance
Toca Loca, Foci + Loci
Sunday, February 24, 1-6pm
glitch.jam Workshop
Clint Enns and Jeff Donaldson (notendo)

Images: Robin Hamill and InterAccess