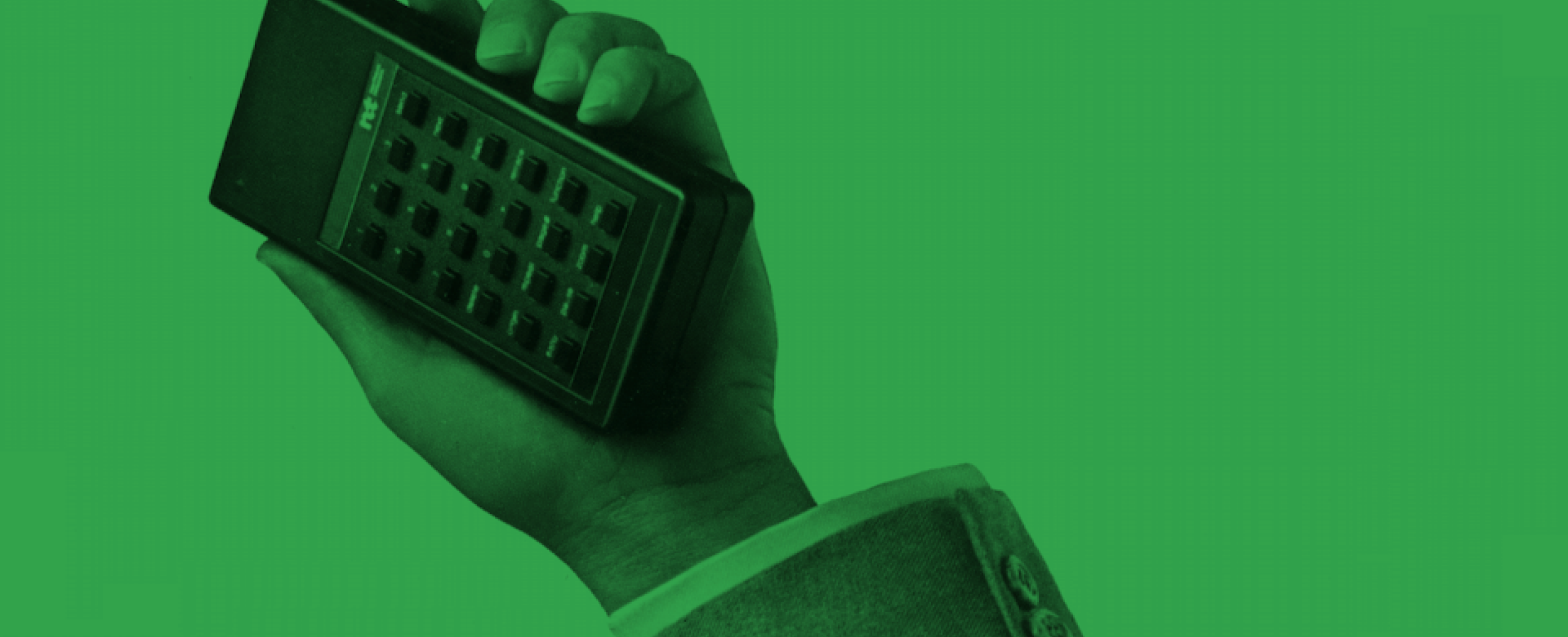 Remember Tomorrow: A Telidon Story
Curated by Shauna Jean Doherty
Presented in honour of InterAccess's 40th anniversary this exhibition celebrates Telidon, the Canadian-made technology that inspired the artists who founded InterAccess in 1983.
Telidon was a networked computer graphic system developed in a lab by the federal government, a decade before the World Wide Web. Ahead of its time, it enabled Canadians to interact with information from home using televisions connected to phone lines and special Telidon hardware.
From 1981 to 1987, artists experimented with the limitations and potentialities of Telidon, creating some of Canada's first computer art. Stored on floppy disks, it was thought that this significant period in digital art experimentation had been lost when the Government of Canada announced the cancellation of the Telidon initiative in 1985 and the hardware needed to view their contents fell into obscurity.
Remember Tomorrow: A Telidon Story presents Canada's first networked computer artworks while capturing the excitement that surrounded the technology in its day with archival equipment, a collection of ambitious promotional material and 12 restored interactive works, most of which have never been on public display.
Read the essay by the curator here.
RELATED EVENTS
Opening Reception | September 6, 2023, 7 - 9PM
Restoration Presentation | September 8, 2023, 6 - 7:30PM | Registration link here
ABOUT THE CURATOR
Shauna Jean Doherty is a curator and writer compelled by the social history of technology. She has curated media art focused exhibitions, video screenings, and events since 2009 in a variety of commercial, public, and artist-run spaces including, Arsenal Contemporary Art (Montreal & Toronto), Vtape (Toronto), EM Media (Calgary), The Centre For Art Tapes (Halifax), The Art Gallery of Ontario, VIVO Media Arts Centre (Vancouver) and the Museum of Vancouver. In 2021 she received the Joan Yvonne Lowndes Award from the Canada Council for the Arts for curatorial excellence. Her written work has addressed topics including sonic warfare, art and AI, post-internet aesthetics, and internet art archiving. Her graduate thesis research examined glitch art and the aesthetics of technological failure. She is currently a Writer and Editor at OCAD University.
ABOUT THE RESTORATION LEAD
John Durno is a Librarian at the University of Victoria, where as Head of Library Systems he leads the team responsible for digital asset management, digital preservation systems, web development, server administration, and specialized desktop deployments. His research interests include the recovery and restoration of Telidon graphics and supporting technologies, and curating a collection of historic computers, software, and documentation.
ABOUT THE ARTISTS
Adele D'Arcy studied fine art at Concordia University, graphic design at Sheridan College, and digital illustration at the University of Toronto. An early proponent of digital media, D'Arcy was involved with InterAccess for several years as a trainer, board member, and artist in residence. Her current work is inspired by the decorative art of bygone days as well as early 20th century children's book illustration, expressed through a hybrid of painting, digital media, and traditional graphic arts techniques.
John Fekner, born in New York City in 1950, is an artist known for his spray painted environmental and conceptual outdoor works. Fekner has worked with a range of media including painting, cast paper reliefs, performance, and the computer, addressing concepts including perception and transformation, as well as specific environmental and sociological concerns such as urban decay, greed, chemical pollutants, and mass media.
Robert Flack was born in Guelph and moved to Toronto to study at York University. He began working at Art Metropole in 1980, where he acted as a layout artist on many General Idea-related projects such as FILE Megazine. His work was concerned with psychic energy and expressed an otherworldliness, a quality that became amplified with his HIV sero-conversion in 1988. From that point forward, Flack's work focused on the internalized realms of the chakras and the "etheric body." Preceding his death in 1993, Flack exhibited nationally and internationally in Berlin, Vienna, Amsterdam, and at several venues in Canada.
Benjamin Gaulon is an artist, researcher, educator, and cultural producer. His work focuses on the limits and failures of information and communications technologies, planned obsolescence, consumerism, ownership, as well as privacy, through the exploration of détournement (misappropriation), hacking, and recycling. His projects take the form of software, installations, pieces of hardware, web-based projects, interactive works, street art interventions and are, when applicable, open source. He is currently director of NØ SCHOOL, a non-profit organization based in France, that supports and promotes emerging art and design research and practices that address the social and environmental impacts of information and communications technologies.
John Gurrin is an artist, sound engineer, designer, filmmaker, and teacher. His work has been shown internationally and reviewed in The New Yorker and The New York Times. ‍Starting initially as a painter and musician, he turned to film and sound while attending McGill University. His first exhibited work used interactive distributed computer systems, namely Telidon, for which he wrote and programmed stories and visual poems. During this period he presented One Hour of Love at the Arsenale in the 1986 Venice Biennale. Gurrin currently teaches Sound Image and Studio Recording at New York University. ‍He has worked as a sound person for various directors, artists, and musicians including Martin Scorcese, David Byrne, Sean Penn, U2, Madonna, David Bowie, Ray Charles, and Lou Reed. Gurrin is a founding member of Men Without Hats who released the song Safety Dance in 1982.
Glenn Howarth was born in Vegreville, Alberta in 1946. As an artist whose practice spanned a range of media including oil on canvas, charcoal, and graphite, he was fascinated with the science and philosophy of perception. The aesthetic of his work was highly influenced by the shapes and colours of Canada's West Coast, having spent the majority of his career in Victoria, British Columbia. After graduating from the University of Victoria's Visual Arts program in 1987, he began the Victoria Drawing Academy in his studio in Fan Tan Alley in the city's historic Chinatown and also taught at the University of Victoria and the Banff School of Fine Arts. Howarth's foray into digital art was brief, productive, and relatively little known. He represented Canada in the 1983 Bienal de São Paulo, both curating and participating in an exhibition of 11 Canadian digital artists working with Telidon. He passed away in Victoria in 2009.
Don Lindsay has worked in the field of software product design and development for four decades. As a former Director of Design at Microsoft, former Design Director at Apple, and Vice President of User Experience at Blackberry, he holds over 300 global patents encompassing user interface design and gesture and speech interaction. Today, Lindsay serves as an independent director on the boards of startups. From 1983 to 1985 he was the Creative Director at Norpak Ltd., a company that manufactured Telidon equipment
Pierre Moretti was one of the first artists commissioned to make artwork using Telidon. An accomplished animator, he produced a range of psychedelic films for the National Film Board of Canada that explored the country's national identity. The experimental style of his works reflect the 1960's era in which they were created. Superimpositions, spirals, duplications, optical illusions, and kaleidoscope effects are techniques he used throughout his creative career.
Andrew Owens was an early contributor to InterAccess. From 1983 to 1985 he was also the Chair of the Board of Directors of the Institute of Creative Communications, where he advised governments and broadcasters on communications policies regarding precursors to the internet, like Telidon. By 1985 he had created a bank of data, Beta, distributed by TVOntario that contained 400 pages dealing with various subjects including a monthly art show. In 1986 his work was selected by Red Barns of New York University for exhibition at the Venice Biennale. Owens went on to work in the field of advertising for clients that includes IBM, Sharp, and Colgate-Palmolive. He holds an honours degree in Chemistry and was born in Wales.
Paul Petro is a curator and gallery owner who has operated his Toronto-based gallery Paul Petro Contemporary Art since 1993, programming works by contemporary Canadian and international artists. ‍Prior to opening his gallery, Petro was a practicing artist and independent curator, a recipient of production grants from the Canada Council for the Arts and the Ontario Arts Council, and served on arts council advisory boards and juries. He has been involved in the artist-run sector in Canada on the Electronic Arts Committee at A Space, Toronto (1985-90) and as a Founding Director of InterAccess (1983). ‍Petro is also past President and member of the Board of Directors for C Magazine (2001-09).
Douglas Porter's video work has been shown internationally in New York, Brazil, Switzerland, Germany, Sweden, Portugal, Spain, France, Poland, Sweden, and Australia. His work is held in public collections, including the National Gallery of Canada, Canada Council Art Bank, Nova Scotia College of Art and Design, and Concordia University Library. He experimented with Telidon while living in Halifax, Nova Scotia. In the last few years he has taken up working in acrylics on canvas.
Jerome Saint-Clair aka 01010101 is an artist and researcher whose work uses mostly open source software, hardware, and electronics. His works, which manifest as net art, generative art, interactive digital installations, video projections, and media archaeology, are often critical and humorous. He is a founding member of the Graffiti Research Lab France (2011), the Dead Minitel Orchestra (2013), the Internet of Dead Things Institute (2018), and is part of the Disnovation working group. He regularly teaches creative coding and acts as a collaborator and technical advisor to other artists.
Geoffrey Shea is a Canadian media artist whose work highlights the intersections and opportunities between technological systems, community, and identity. His artworks incorporate interactive programming, site-specific installation, and mobile phones. His artwork has been exhibited widely, including at several editions of Toronto's Nuit Blanche and the exhibition Talk to Me at the Museum of Modern Art in New York.‍ Shea was a co-founder of InterAccess. He is currently an Associate Professor at OCAD University and is the Co-Director of the Mobile Experience Lab, where he leads research into the intersections between artistic expression and physical disability, and the potential role of emerging technology.
Nell Tenhaaf is an electronic media artist and writer. Tenhaaf's practice focuses on intersections of art, science, and technology, with a particular interest in the biosciences and Artificial Life. Her artworks integrate elements from these different fields in the form of lightbox displays and interactive sculptures. A survey exhibition of fifteen years of her photographic and interactive work was shown in several Canadian venues between 2003 and 2008. Her work has also been exhibited in Spain, Hungary, Germany, Sweden, and the United States. Tenhaaf is represented by Paul Petro Contemporary Art, Toronto.
Peter Zmudzki is one of Canada's leading Information Architects and has worked on projects with IBM, Apple, McGraw-Hill, Citi Corp, and Barrick Gold. A pioneer of emerging technologies, he has been involved on the ground floor on browser-based video streaming and video chat with markup tools and document sharing. Currently, he works in the cryptocurrency space. In the 1980s he was hired by the Toronto-based company Infomart to produce NAPLPs content largely for kiosks in shopping malls and went on to perform the same work in New York. He has lectured at colleges and universities on interactive graphic multimedia and network design and technologies.
Header image design courtesy of Vicky Lum.