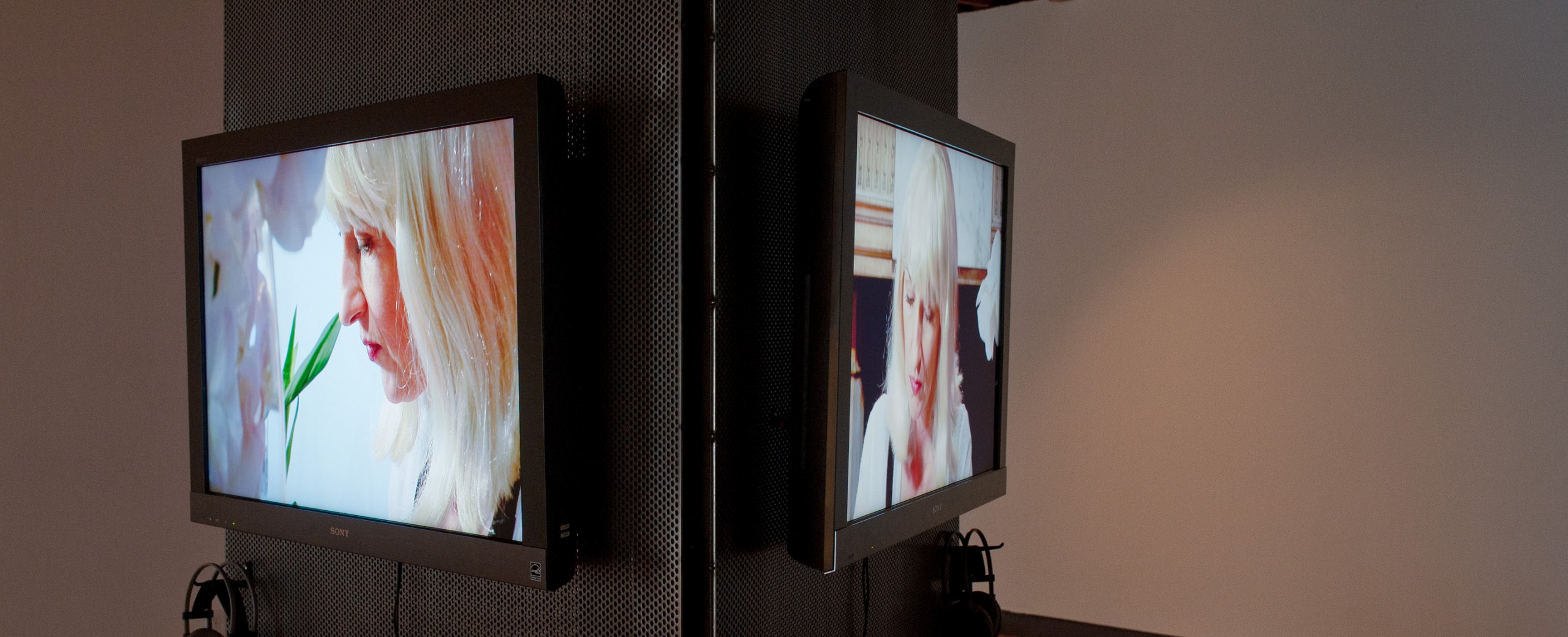 Presented in conjunction with the 24th Images Festival.
Co-curated by Aileen Burns and Alex Snukal.
SPECIAL EVENT: Melanie Gilligan and Eric Cazdyn in Conversation, 2:00pm, Sunday April 3.
InterAccess, in conjunction with the 24th Images Festival, is pleased to present Melanie Gilligan's Self-Capital, a multi-episode drama in which a personified Global Economy undergoes radical therapeutic treatment for an acute psychological condition arising from her recent meltdown. Shot entirely at the Institute for Contemporary Art, London, the three-part video stars one actress playing every role: therapist and patient, customer and cashier. As a patient in therapy, she represents both the capitalist system as a whole and a person affected by contemporary economic crisis all at once. The work follows Global Economy, a.k.a. the capitalist social body, as she progresses through a series of "unorthodox body-oriented techniques", suggesting that effects of the crisis such as job losses and governmental austerity measures are felt on a material and corporeal level, but also that worryingly contemporary psychological and political subjects are also increasingly reduced to and treated in terms of their bodily materiality today.
Gilligan is best known for her narrative performances and videos that mobilize a political understanding of the subjective dimensions of the contemporary capitalist economy. Gilligan's video work has focused on the recent economic crisis and its social repercussions. These fictional episodic dramas translate extensive interviews and research into narrative meditations on the political and economic dynamics of our times. In 2008, just weeks after the collapse of Lehman Brothers, Gilligan released her video Crisis in the Credit System, a surprisingly prescient fiction dealing with the economic crisis. Her subsequent videos have looked at today's social landscape after the crisis.
Biography:
Melanie Gilligan, born in Toronto, now lives in London and New York and has shown extensively in both Europe and North America. Gilligan completed a BA (Hons) Fine Art at Central Saint Martins in 2002 and was a Fellow with the Whitney Museum of American Art's Independent Study Program in 2004-5. Recent solo exhibitions include: Chisenhale Gallery, London (2010), Kolnischer Kunstverein, Cologne (2010), the Walter Phillips Gallery, Banff (2010), Presentation House Gallery, North Vancouver, (2010), Franco Soffiantino Gallery, Turin (2009) and Transmission Gallery Glasgow (2008). She has garnered major commissions from Artangel Interaction (2008) and the Institute of Contemporary Arts London (2009). In 2009 Gilligan was the recipient of a Paul Hamlyn Award for Artists and in 2010 she received the Illy Present Future Award at the Artissima Art Fair. Critical writing is a significant part of Gilligan's practice and she has contributed to art magazines and journals such as Texte zur Kunst, Artforum and Grey Room.