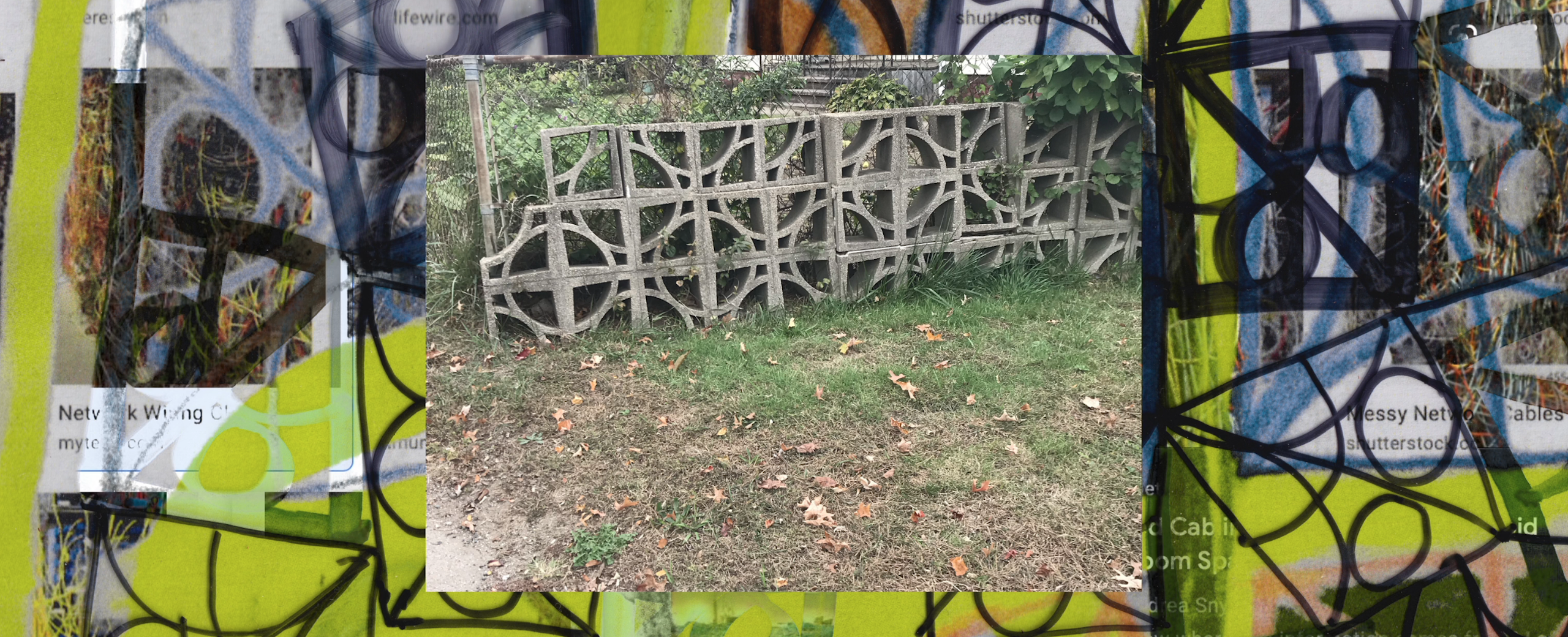 tangles, overlays, and lines drawn elsewhere
InterAccess is pleased to present the 21st Annual IA Current Exhibition, tangles, overlays, and lines drawn elsewhere.

Curated by Talia Golland, this exhibition explores digital materiality within an assemblage of connections – those enabled by physical devices and network infrastructures, and those that emerge from the mediative function of metaphor and the suggestive power of gestural trace.

Working across sculpture, drawing, moving image, and site-specific installation, artists Kelly Clare, Elham Fatapour, Simon Fuh, Sarah Holloway, and Sage Sidley consider webs of aesthetic correlation and systems in complex interdependence. Their harvesting of virtual and physical materials is guided by the affective pull of images, objects, and landscapes, both online and off. Through hybrid material strategies that translate, layer, combine, and reconfigure, included works untether digital objects and experiences from the immaterial realms to which our screens and cables provide a portal.
Read the essay by the curator here.


EXHIBITION DATES

September 7 - October 8, 2022

RELATED EVENTS

Opening Reception
Wednesday, September 7, 2022
7-9pm
FREE (no registration required)

Curator Tour
Post-poned! New date: Saturday, October 8, 2022
1-2pm
FREE (no registration required)

ABOUT THE ARTISTS

Kelly Clare is a multidisciplinary artist and poet based in Western Massachusetts. She recently received her MFA in Sculpture from the University of Iowa. Her visual and literary work appears and is forthcoming in FENCE, Second Factory, Tagvverk, and Hobart. She is an Editor at Ghost Proposal and was a resident at the Vermont Studio Center in 2019.

Elham Fatapour is a Toronto-based artist who received her MFA at York University in Visual Art. She originally studied economics for her undergraduate degree. She is interested in political and social science in combination with storytelling, and these interests propelled her into the field of illustration. After studying this at Seneca College, she made the transition to visual art. Her recent works include painting, performance, and mixed media installation. They address diverse but interconnected subjects, including satellite usage, surveillance, vernacular architecture, modes of communication, and empathy. Incorporating the concept of visual autobiographical artwork and storytelling, her art practice and exploration delve into the connections between embodied knowledge, cultural pedagogy, and visual autobiography.

Simon Fuh is an artist and writer based in Toronto. He has a MFA from the University of Toronto, where he was awarded the Joseph Armand Bombardier SSHRC Scholarship. Recent exhibitions include Memory Theatre, 1 Spadina Cres. (Toronto, ON), places where sounds turn to dreams..., Hearth Gallery (Toronto, ON), and Eternal Wish Radio, Forest City Gallery (London, ON). Simon has published writing with C Magazine, Hearth Gallery, and Susan Hobbs Gallery, and recently launched a book of writing at Art Metropole titled For Now You Had to Be There published by Gravitron Press.

Sarah Holloway has been fostering "twin-flame" interests in computation and handi-craft while completing her studies in furniture design at the Rhode Island School of Design. There, she learned fine woodworking, metalworking, and weaving while teaching herself computer science. With an education in craft, she is curious about how older ways of knowing embodied in traditional craft disciplines can be used in the field of computation and computational theory.

Sage Sidley is a white settler originally from Kmarkn territory of the Sinixt People (Rossland, BC) and a recent graduate from NSCAD's MFA program in fine and media arts situated in K'jipuktuk (Halifax, NS). In 2016, she earned a BFA at the University of British Columbia, Okanagan. She has attended artist residencies in Berlin, Brooklyn, Inverness, and Halifax. She has held solo and group exhibitions in numerous public galleries throughout Southwestern British Columbia and select galleries in Nova Scotia. She is currently an individual course instructor at NSCAD University and a part of the Counter Memory Activism research cluster.

ABOUT THE CURATOR

Talia Golland is a Toronto-based curator and writer whose work is informed by queer theories and methodologies. Particular investments of her curatorial practice include the materialities of new media, the metaphors intrinsic to digital space, and the affective dimensions of internet-based visual culture. They are currently a co-director of Bunker 2, a curatorial collective organizing itinerant programs that explore issues of economy, mobility, and industry. She holds a Master of Visual Studies in Curatorial Studies from the University of Toronto and a BA in History and Theory of Art from the University of Ottawa.

ABOUT IA CURRENT

The InterAccess Current (IA Current) program supports the professional development of emerging curators and artists interested in new media and electronic practices. Each year, InterAccess selects an emerging curator, who works closely with InterAccess staff to conceptualize and execute an exhibition of works by emerging artists. "Current" refers to the now, of course, but it is also an energetic charge that causes light, heat and all manner of electronic life; an apt metaphor for emergent creative practices within the ever-expanding field of new media.