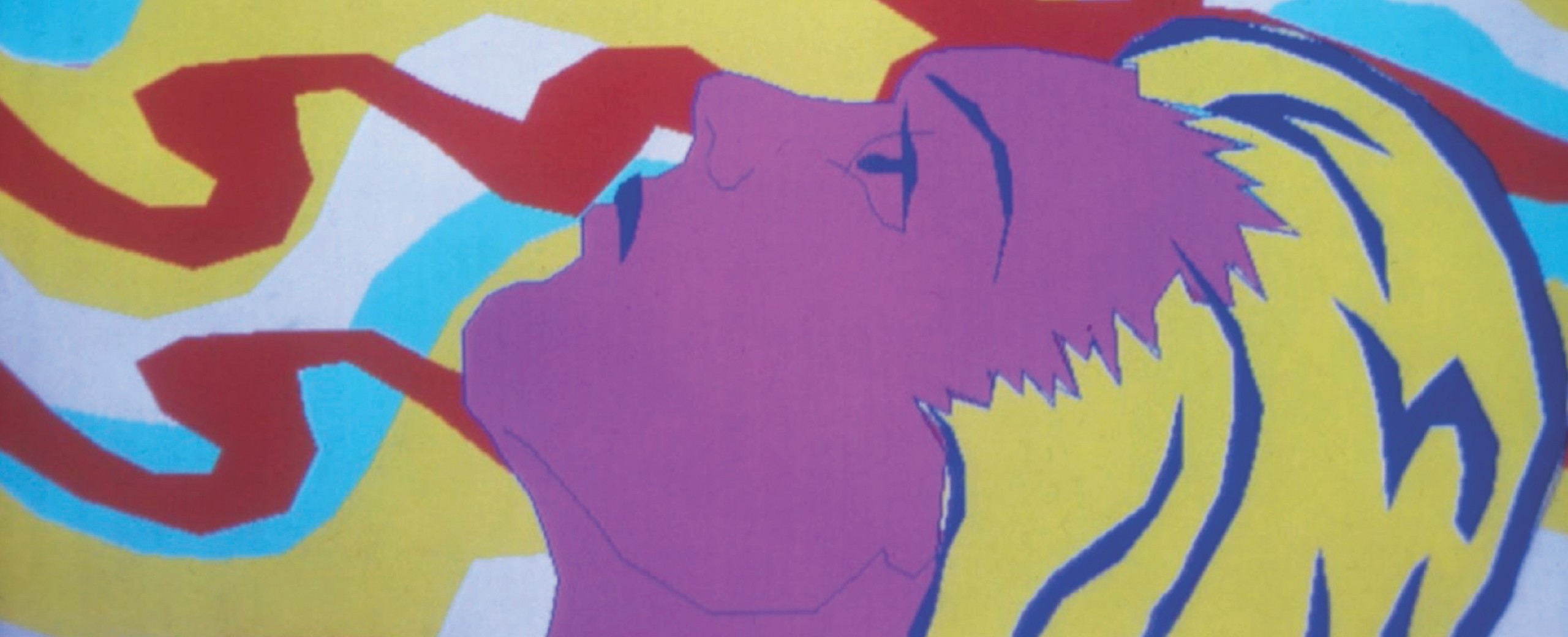 #telidon is an Instagram social media campaign celebrating the organization's 35th Anniversary and the little known Canadian technology that started it all, Telidon. Each week from April - June we will post a still/video created using Telidon on our Instagram account, @interaccessTo. Follow along as we map the history of Telidon technology and explore its central role in the founding of InterAccess and its influence on Canadian media art practice.
Click here to see our #telidon posts on Instagram.
Featured artists:
Bill Perry, Adele D'Arcy, Paul Petro, Robert Flack, Dennis Day, Douglas Porter, Pierre Rovere, Nell Tenhaaf, Johanne Daoust, and Nina Beveridge.
Date:
April - June, 2018
Posts:
April 6, 2018 | Works by Bill Perry | LINK
April 13, 2018 | Works by Adele D'Arcy | LINK
April 20, 2018 | Works by Nell Tenhaaf | LINK
April 27, 2018 | Works by Douglas Porter | LINK
May 4, 2018 | Works by Robert Flack | LINK
May 11, 2018 | Works by Pierre Rovere | LINK
May 25, 2018 | Works by Dennise Day | LINK
June 1, 2018 | Works by Paul Petro | LINK
June 8, 2018 | Works by Johanne Daoust | LINK
June 15, 2018 | Works by Nina Beveridge | LINK
About the Artists
Bill Perry's first artistic medium, in the 70s, was photography, specifically photo essays. During his freshman year in fine arts at York University, the Ontario Arts Council funded his "Photographic Documentary of Hard to Adopt Children in CAS Group Homes". He also took one of the oldest known 360 photos in Canada called "The Woman In The Window". In the early 80s, Bill became a prolific Telidon "videotex" artist. He created a pre-web, online, electronic magazine called "Computerese: The Electronic Media Magazine", which reached 1000+ homes and businesses in Quebec and Ontario. Over the years he also founded or co-founded numerous art organizations and projects such as Starside Softworks, Telidon at Trinity Square Video, Toronto Community Videotex, Videopage, The Colour Workshop, Comedia, The Copy Chai and The Friday Cafe. In 1987 Bill left electronic publishing, Toronto and art to open a photocopy/fax storefront in Meaford, Ontario, named "Wm. Perry: Digital Text Service". The business evolved into a printing company and then an independent publisher. Samples of independent publications from Wm. Perry can be viewed here. According to Bill Perry, his diverse body of work proves "you can't choose not to be an artist".
Adele D'Arcy studied fine art at Concordia University, graphic design at Sheridan College, and digital illustration at University of Toronto. She is a past member of CAPIC (Canadian Association of Professional Image Creators), and the first digital artist accepted for membership. She has worked as a freelance designer/illustrator for clients including The Globe and Mail and Royal Bank, as well as working in instructional design in the public sector. Her miniatures are a hybrid of digital printing and painting influenced by European folk art and architectural design of the late 19th and early 20th centuries.
Doug Porter's video work has been shown internationally in New York, Brazil, Switzerland, Germany, Sweden, Portugal, Spain, France, Poland Sweden and Australia. His videotape "Time Has No Image," won the Grand Prix de la Ville de Locarno at the XIII Festival International de la Vidéo et des Arts Électronique in 1992. His work is held in public collections, including the National Gallery of Canada, Canada Council Art Bank, NSCAD University, and Concordia University Library. Doug currently resides in Orillia, Ontario.

Pierre Rovere has contemplated numerous artistic disciplines, including installation, video art, experimental film, photography and graphic arts. Since the start of his artistic activity in the early 70's, digital techniques were also one of his focuses. In 1974, Rovere produced a short movie entirely through the diverted use of a computer, without the intervention of any cinematographic equipment. Throughout the 80s, he was involved in several Telidon projects, including the design of a frame creation software. Currently, Rovere's main focus is the still image on a photographic basis, but in a de-compartmentalized artistic practice: his shots are only the raw material of his visual modelling work for which he feels free to make use of hybrid pictorial techniques.
Nell Tenhaaf is an electronic media artist and writer. Born in Oshawa ON, she lived in Montreal from 1969 to 1994, in Pittsburgh PA from 1994-97, and since then in Toronto and Trent Hills, ON. Tenhaaf's practice focuses on intersections of art, science and technology, with a particular interest in the biosciences and Artificial Life. Her artworks integrate elements from these different fields in the form of lightbox displays and interactive sculptures. A survey exhibition of fifteen years of her work was shown in several Canadian venues between 2003 and 2006, and she has also shown in Spain, Hungary, Germany, Sweden, and the US. She was jury chair for the VIDA art and artificial life competition in Madrid since its inception in 1999 until its final iteration in 2014. She is a Professor in the Visual Arts department of York University, and is represented in Toronto by Paul Petro Contemporary Art.
Dennis Day was born in Grand Falls, Newfoundland in 1960. He studied classical music and psychology before graduating in media-based art from the Ontario College of Art in Toronto. He has produced numerous video works known for their strong use of editing, rich colours and humour. He has won a number of prizes including the CALQ award in Quebec (2002), the Bulloch Award for Best Canadian Film at the Inside/Out Festival in Toronto (1997), and the VideoFest Award in Berlin, Germany (1995). He has participated in numerous gallery and museum exhibitions including the Museum of Modern Art and the National Gallery of Canada. Television broadcasts include: PBS (USA), TV Ontario, CBC, Vision TV (Canada), NHK (Japan) and Canal Plus (France).
Johanne Daoust is a designer and a long-standing faculty member at Seneca. Since joining the college in 1989 she has developed content, honed the structure and taught the following courses: Life Drawing, Polymer Clay Modeling, Layout, Typography, Visual Fundamentals, the Design Thinking Process and Sketch Noting for Designers. Johanne holds a BFA from the University of Victoria and was a participant for two years at Banff Centre for Arts and Creativity. She is a recipient of several Canada Council grants. Ever curious Johanne has travelled through many countries, which has helped to provide insight into Seneca's international student body.
Robert Flack (1957-1993) was born in Guelph (Ontario), and moved to Toronto to study at York University. He began employment at Art Metropole in 1980, where he also worked as a layout artist on many General Idea-related projects such as FILE Megazine. From the beginning, Flack's work expressed an "otherworldliness" - a quality that focused sharply with his HIV sero-conversion in 1988. From that point forward, Flack's vision rocketed almost exclusively into the internalized realms of psychic energy, the chakras and the "etheric body."
Paul Petro is the director/curator of Paul Petro Contemporary Art, a gallery exhibiting Canadian and international artists by invitation since 1993. Petro is a Founding Director of Toronto Community Videotex (InterAccess) and sat on the Electronic Media Committee at A Space throughout the 1980's. He is also past Board President of C Magazine (2001-2009).
Nina Beveridge is a cross-platform producer, director and designer. Her career began in interactive design and 3d animation. She then migrated to post-production, live television and finally opened her own studio. She is co-owner of Beevision Productions (1993) and Hop To It Productions (2006). She loves documentary film, dramatic series and interactive storytelling.
More on Telidon
Telidon was a Canadian pre-Web communication protocol that used teletext and videotex technologies to transmit information between specially outfitted television terminals. By connecting to central servers via Telidon, users could both retrieve and input data directly through their TVs to perform various activities, such as viewing the news or sending email. Proponents of Telidon hoped to eventually extend this functionality to include teleshopping, telebanking and socializing. This interactive capability, along with its ability to render and transmit 2D graphics over telephone lines, made Telidon a conceptual forerunner to the graphical Web. For seven years, the Canadian government pushed the technology through programs headed by the Department of Communications, hoping to establish a strong domestic videotex industry. Telidon, however, never gained mass appeal, and its short-lived, government-run programs were consequently terminated in 1985.
In spite of its commercial failure, Telidon has an important legacy in the early history of InterAccess, specifically, and Canadian media arts, more broadly. The Canada Council, along with telecommunications companies like Bell Canada, fostered rich cross-pollination between artists and industry, opening new creative avenues for Canadian media artists working in the 1980s. One such individual was Bill Perry, a Torontonian artist and programmer who—having impressed Bell Canada with his work—received a Telidon page creation terminal. Perry installed the terminal at Trinity Square Video, with the intent to provide artists with access to the technology through a series of workshops he held there. These workshops would give rise to Toronto Community Videotex (TCV) in 1982, which was later renamed Inter/Access. Inter/Access was founded by Bill Perry, Nina Beveridge, and Geoffery Shea, all artists experimenting with Telidon.
Along with Perry's workshops, Telidon provided one of the earliest means for the creation of digital art, allowing artists to experiment with the interactive and animated possibilities of videotex in unprecedented ways. Those more interested in video art found a different purpose for Telidon, using it to generate computer graphics for their video work instead.
Drawing from the archives of both InterAccess and various artists, #telidon offers a rare glimpse into this highly productive, experimental time in Canadian media arts. Beginning April 6th, check out InterAccess' Instagram account (https://www.instagram.com/interaccessto/) for a weekly post with the hashtag "telidon." Each post will introduce an artist, a selection of whom were involved in the very Telidon workshops that were so central to the organization's formative years. See the work they produced during this period, including some of the only surviving Telidon video and animation, provided kindly by their creators.
Thank you to all the artists who helped make this campaign possible!

Note:
Many of the posts will appear as still images and viewers should be aware that Telidon enabled artists to produce animated and interactive works.
Works Cited:
Pearson, Jordan. "The Original Net Artists: The artists of Telidon, Canada's doomed pre-internet web." MOTHERBOARD. Last modified July 21, 2015. Accessed March 2018. https://motherboard.vice.com/en_us/article/ezveak/the-original-net-artists.
Richards, Williams, Roy Marsh and Sasha Yusufali. "Telidon." The Canadian Encyclopedia. Last modified December 16, 2013. Accessed March 2018. http://www.thecanadianencyclopedia.ca/en/article/telidon/.
Image: Untitled by Robert Flack. Courtesy Paul Petro Contemporary Art. Follow Paul Petro on Instagram @paulpetrocanada.