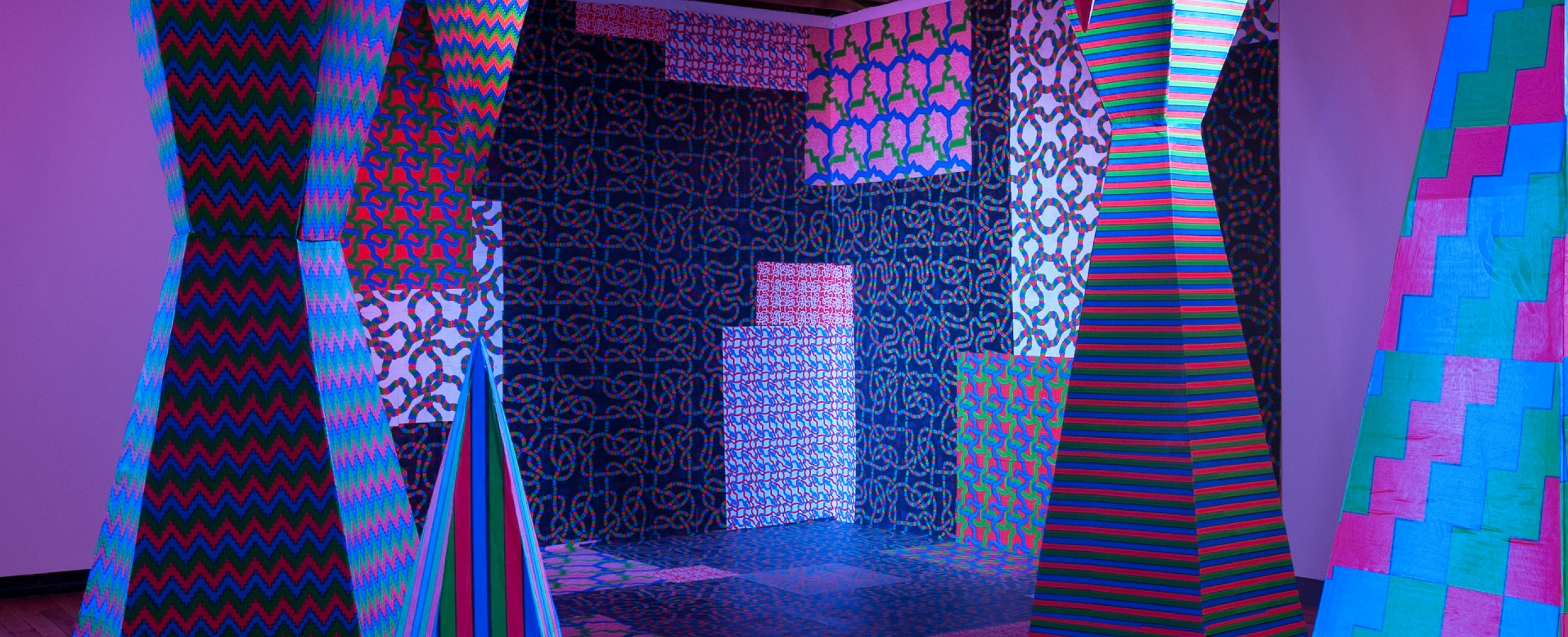 InterAccess is thrilled to present Philippe Blanchard's first solo-exhibition, Time Tunnel, from September 16 to October 15, 2011. Working in 'expanded animation', Blanchard has produced a cardboard and masonite cave plastered with multi-colored (RGB) prints and lighted by customized overhead projectors and L.E.D. strobe lights. As the lights in the gallery change from red to blue to green, the prints take on a crude but mesmerizing motion straddling the line between high and hacky tech. Using Max/MSP, arduino, and DMX, the changing gallery lights are triggered by prerecorded audio signals or a live feed (during performances) picked up from the gallery space. The result is an immersive audio/visual experience, much like walking through an animated GIF.
Combining high and low tech, the work takes inspiration from sound and light shows, rock concert visuals, and raves while fusing popular notions of human prehistory, psychedelia, and early 60s Happenings.
Blanchard and InterAccess have organized three nights of music to drive the light show. As bands and DJs perform in the exhibition space, the lights will react to the rhythm of the music.
Time Tunnel Events:
September 16, Opening Reception: Featuring Fan Fiction and DJ Michael Comeau
September 23, Featuring Peter Kirn (of Create Digital Music) and guests
October 15, Featuring Matt King, Fan Fiction, and more!
Biography:
Philippe Blanchard is a Toronto-based artist, animator, teacher and curator. His diverse creative background (film production, digital visual effects, studio arts) has informed an interdisciplinary practice combining animation, installation, light shows, drawing, painting and printmaking. His recent projects include Quest for Fire, LAN Party, Mass Hypnosis and Perpetual Void: installations featuring screen printed imagery animated by coloured light. He also works as a commercial animation director, principally for Toronto-based studio Head Gear Animation.
http://www.philippeblanchard.com