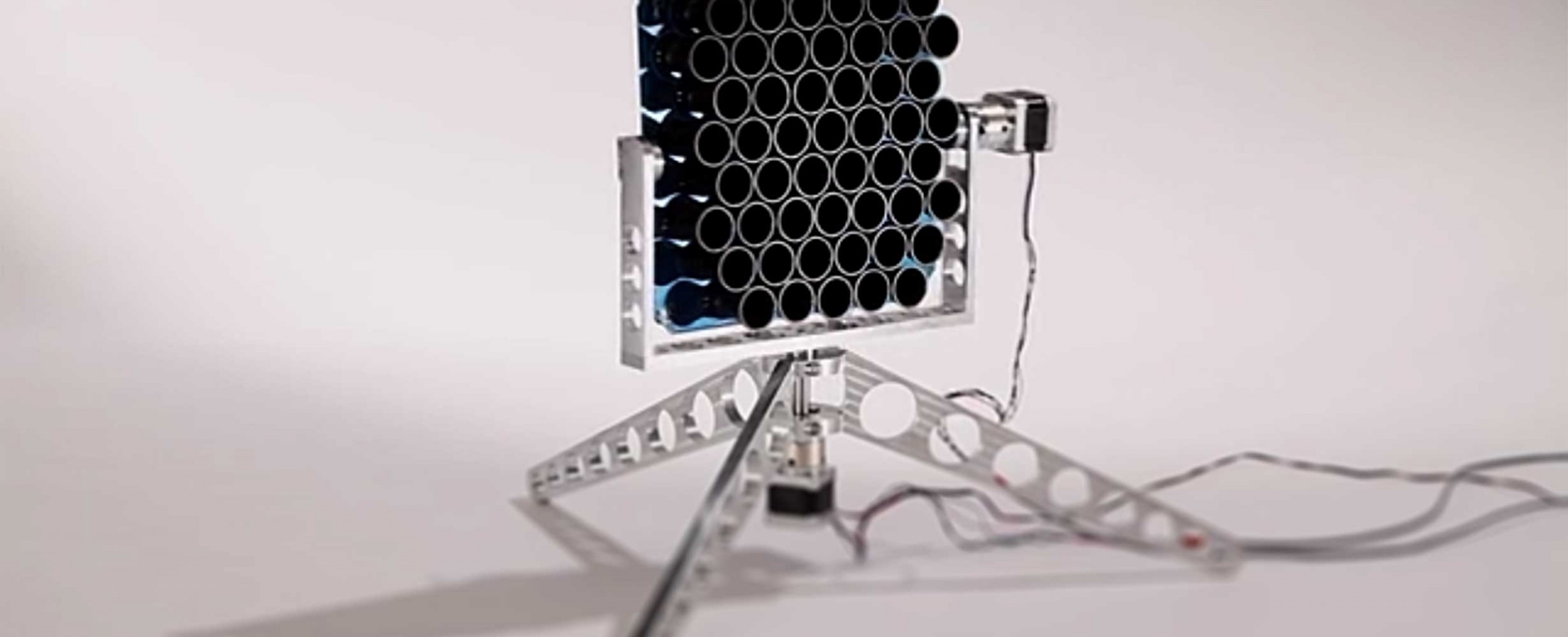 Vector Festival - The Algorithmic Imagination
For the 2016 festival exhibition at InterAccess, Vector Festival curators Skot Deeming and Martin Zeilinger have selected four artists from Canada, Australia, Italy, and the United States to exhibit works exploring the artistic potentials of algorithmic processes. These processes, expressed in the exhibition in kinetic sculptures and screen-based works, are perched between the appropriated and the pre-determined, the autonomous and the random. An exploratory work of machinima, a robotic sound sculpture, an uncontrollable drawing robot, and a notorious videogame-based wildlife simulator plot the contours of what may (or may not) delineate the expressive powers of machines. Where does human interpretation of algorithmic processes end, and where does the algorithmic imagination begin?
Works by COLL.EO (IT/US), Adam Donovan (AUS), Justine Lugli (Toronto), and Brent Watanabe (US).
Opening Reception and Vector Festival Launch
Thursday, July 14, 2016
7-10pm at InterAccess
FREE

The gallery will be open 11-6 for each day of Vector Festival
About the Artists
COLL.EO is a collaboration between Colleen Flaherty and Matteo Bittanti established in 2012. A visual artist trained as a painter and a sculptor,Colleen Flaherty uses her craft and woodworking skills to create works that invite the viewer to engage with art in a tactile, tangible way. She received her M.F.A. in Painting from the San Francisco Art Institute in 2002 and her B.F.A. Cum Laude, with emphasis in Painting and Drawing, Minor in Music from San Jose State University in 1999. Her work has been presented in New York, Los Angeles, San Francisco, Oakland, Montevideo, Uruguay, and Pienza, Italy. In 2012 she started COLL.EO with Matteo Bittanti. Co-founder of Random Parts, an artist run space in Oakland, Flaherty lives and works in Northern California. Matteo Bittanti is an interdisciplinary artist based in San Francisco and Milan. His work lies at the intersection of videogames, toys, cinema, and the web. Bittanti's conceptual pieces have been presented in the United States, Canada, England, Australia, Mexico, Scotland, Australia, France, and Italy. Since 2012, he has been collaborating with Colleen Flaherty as COLL.EO. As a scholar, he conducted fearless research at UC Berkeley, fought technological determinism at Stanford University, understood the difference between critical theory and hypocritical theory, social practice and social justice as an Adjunct Professor at California College of the Arts.
Adam Donovan is a hybrid media artist working in the area of science, art and technology. His artwork incorporates Nonlinear Acoustics, robotic sculpture, Game Engine Environments and camera tracking. His work is often inspired by his personal attachment to machines and the intangible aspects of physics we experience every day. Donovan explores these phenomena by amplifying their effects to create new mediums and experiences.
Justine Lugli is a recent graduate of OCAD U in Toronto, Canada where she completed a degree in photography. Currently based in Seattle, Washington, Justine is exploring the relationship between the value of art and the labour of its creation. Subjecting the viewer to an organized system of chaos through computer generated randomness, Justine's work illustrates the harmony of binary opposition.
Brent Watanabe will continue his investigation of computer controlled gallery installation. These installations function much like immersive video games, with living, interacting characters and objects, each with their own logic, intelligence, scoring, and goals. These elements may rely on anything from simple light or sound sensors to complex custom programming, circuitry, and Internet networking. His work has been shown in galleries, museums, and film festivals internationally.
About the Curators
Skot Deeming (aka mrghosty) is an interdisciplinary artist, curator and scholar, whose work spans the spectrum of new media practice from broadcast media to computational art, videogames, and game art. Drawing on a wealth of practical experience and theoretical knowledge, Skot's practice focuses on new media history, historiography, and Apocryphal and DIY technology cultures. He currently resides in Montreal, where he is a doctoral student in the Individualized Program at Concordia University, and a member of the TAG (Technoculture, Art and Games) Research Centre.
Martin Zeilinger is a new media researcher, curator, and practitioner. He is interested in appropriation art, critical and creative computation, game and hacker culture, live coding, dystopian fiction, and theories of cultural ownership. Martin holds a doctorate in Comparative Literature from the University of Toronto, and is a Lecturer in Media at Anglia Ruskin University, Cambridge/UK.
Image: Adam Donovan, The Curious Tautophone