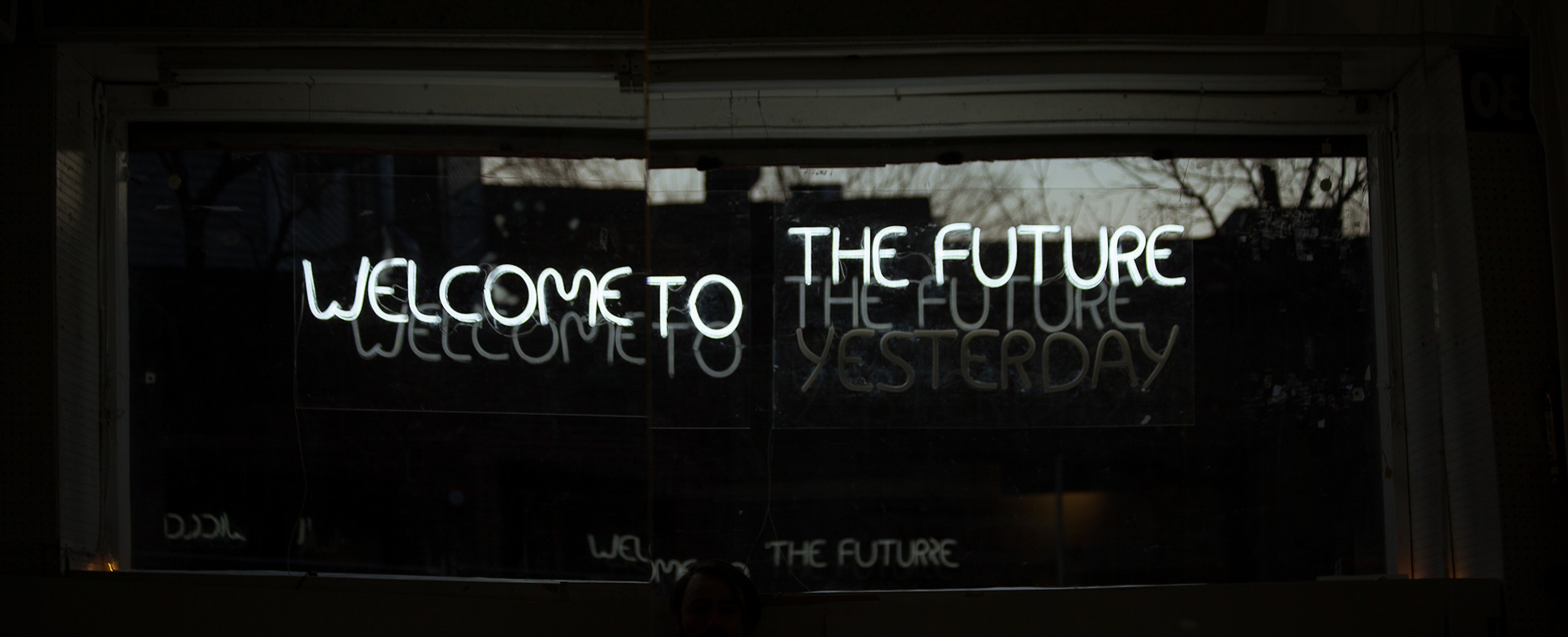 Welcome To Yesterday / The Future
InterAccess is pleased to present Codrin Talaba and Jeff Howard's animated LED light installation, Welcome To Yesterday / The Future (2017) in conjunction with the centre's 35th Anniversary Programming. Situated within the lobby space of IA's new facility at 950 Dupont St. Talaba and Howard's work will be on view from April 4th - May 26th 2018, as a companion piece to the exhibition, The Future: Before, featuring works by Nancy Paterson.
Using materials that mimic the look of neon signage, the messaging alternates reading, "Welcome To Yesterday" and "Welcome To The Future". The piece, animated using an Arduino switch, will be visible from the street and will help to introduce InterAccess to our new neighbourhood. Originally created as part of an installation in the Toronto For Everyone event held at Honest Ed's just before its closing, this artwork offered a playful way to reflect on the beloved elements of the iconic space while aiming to create dialogue around urban development and the resulting changes its closure would mean for the neighbourhood. Now as part of the relocation of InterAccess, the work highlights the storied history of yet another Toronto institution and acts as a basis for dialogue about the future.
Opening reception:
Wednesday, April 4, 2018 from 7pm - 10pm.
Artists in attendance.

About the artists
Codrin Talaba is a recovering architect turned design researcher, exploring how we co-create experiences and capture memories in multi-sensory ways. His fascination with people-centred design research methods is a way to access a deeper understanding of the takeaways of human experience. He has undertaken field research for projects ranging from social housing, concept cars, healthcare to public spaces. He is the media specialist on UHN OpenLab's 'Prescribing VR' initiative to put Virtual Reality into studies to improve the experiences of patients in long-term care. Codrin has worked on architectural and research projects in Vancouver, Toronto and New York and has degrees in Engineering, Studio Arts and M.Arch from the University of British Columbia.
Jeff Howard is an artist, designer and creative technologist interested in creating experiences for public spaces that respond to the characteristics that make each space unique, while also exploring how immersive technologies challenge the way people think about engaging in social spaces. With a particular focus on finding creative uses for emerging technologies, Howard's artistic pursuits have been shown in places such as Eyebeam, Maker Faire, SIGGRAPH, FILE, Pearson International Airport and Ontario Place. Howard completed his bachelor's degree in Multimedia and Communication Studies at McMaster University, a postgraduate residency in Interactive Art and Entertainment at the Canadian Film Centre's Media Lab and a master's degree from the Interactive Telecommunications Program at NYU's Tisch School of the Arts.
Image: Welcome To Yesterday / The Future by Codrin Talaba and Jeff Howard (2017). Courtesy the artists.