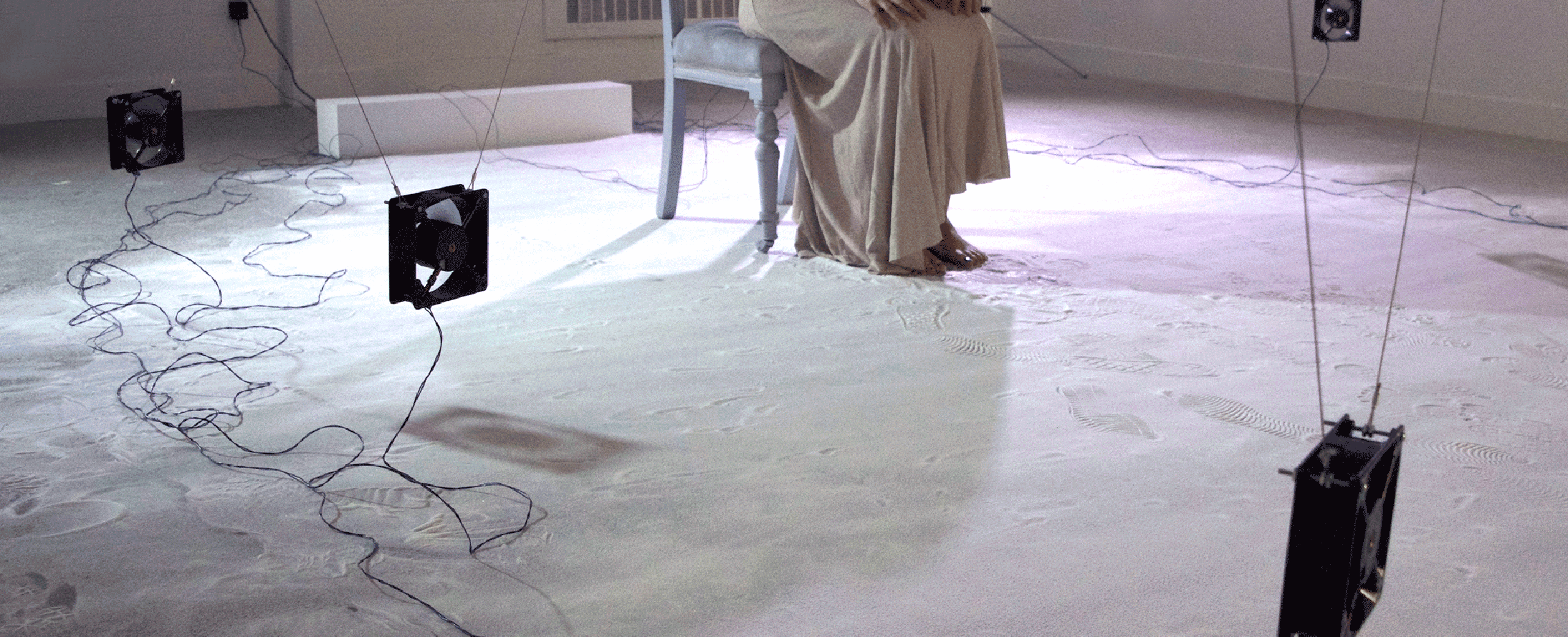 When I Breathe the Ocean Curls
InterAccess is pleased to present When I Breathe the Ocean Curls, a performative environment by Lauren A.M. Scott. Scott is the recipient of the 2015 InterAccess Media Arts Prize. This prize, which InterAccess has sponsored for nearly twenty years, is awarded to a graduating Integrated Media student at OCAD University whose work exhibits innovation in new media practice. As an artist integrating kinetic and electronic elements into her performance practice, Scott is a deserving recipient of the 2015 award.
When I Breathe the Ocean Curls utilizes Scott's physical body to extend her breath into space. The artist wears a stretch sensor around her torso, and as her chest rises and falls with breath, six small electronic fans produce the effect of wind as she exhales. Scott's breath becomes the force that connects her to the audience as an invisible extension of touch.
Scott will perform this work four times throughout the exhibition period. In the intervening days, visitors to the gallery can view video documentation of her performance and engage with its physical trace.
An essay by Francisco-Fernando Granados accompanies the exhibition.
Lauren A.M. Scott and InterAccess would like to acknowledge funding support from the Ontario Arts Council, an agency of the Government of Ontario through the Exhibition Assistance Program.

The InterAccess Media Arts Prize is awarded to a graduating student of the Integrated Media program at OCAD University whose work complements InterAccess's mission to expand the cultural space of technology. Students must show proficiency in creating mechanical, kinetic, electronic, interactive audio, video or new media work. In addition to a $500 cash award, the recipient receives a one-year studio membership, one year of complimentary workshops, a solo exhibition at the centre, and professional development and mentorship. The prize was first awarded in 1990.
About the artist
Lauren A.M. Scott is a Toronto-based artist working in performance and installation. Scott earned a BFA in Integrated Media from OCAD University, where she received the InterAccess Media Arts Award for her performance, When I Breathe the Ocean Curls. Her work has been exhibited in Calgary, Montreal, Toronto, and Berlin.
Exhibition-related events at InterAccess
Opening Reception
Wednesday, January 13, 2016 from 7-9pm. Performance begins at 7:30pm.
Additional performance dates
Saturday, January 16, 2016 at 2:00pm
Thursday, January 21, 2016 at 6:30pm
Saturday, January 30, 2016 at 2:00pm
Image: Lauren A.M. Scott performing When I Breathe the Ocean Curls (2015). Photographed by David Ballantine. Courtesy the artist.