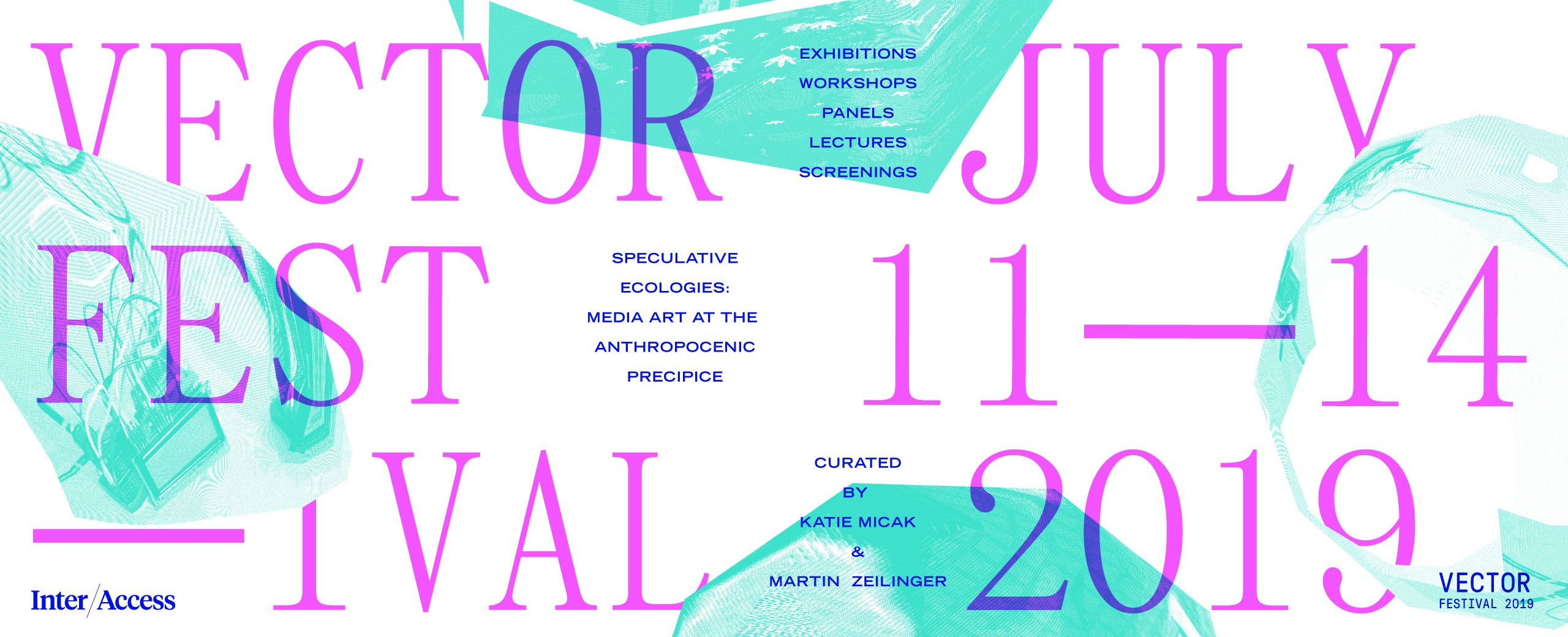 Vector Festival 2019 | Full Program Announcement
Vector Festival 2019
July 11-14, 2019
Toronto, ON

InterAccess is pleased to announce the full program for Vector Festival 2019. This year's festival, Speculative Ecologies: Media Art at the Anthropocenic Precipice, highlights the emergent, critical, and experimental practices of over 30 artists from Canada and abroad. The festival program features an array of exhibitions, performances, screenings, and workshops. Venues include InterAccess, MOCA, the Ontario Science Centre, Trinity Square Video, Artscape Youngplace, Mississauga Celebration Square, Ryerson University, Electric Perfume, and Small World Music Centre.

The full program can be found at vectorfestival.org

FEATURED PROGRAMS
Future Relics | Flagship Exhibition
Works by Anna Eyler, Aksel Haagensen, Lisa Jackson, Raquel Meyers, Matthew Plummer-Fernandez, Scenocosme (Grégory Lasserre + Anaïs met den Ancxt), Jeff Thompson
@InterAccess | July 11 – August 17, 2019 | FREE
Eschatological Autopsy: The Act of Seeing the End of the World with One's Own Eyes | Screening
Works by Anxious to Make (Liat Berdugo + Emily Martinez), Christina Battle, Jennifer Chan, Thirza Cuthand, John Greyson, Geoffrey Pugen, Claire Scherzinger, Tom Sherman
Curated by Shahbaz Khayambashi
Presented in partnership with Pleasure Dome
@Ryerson University School of Image Arts | July 13, 2019 | $15
Future Perfect Performance Night
Performances by Raquel Meyers, Jenn Norton, Tasman Richardson
@Small World Music Centre | July 12, 2019 | $15

EXHIBITS
Vector Festival 2019 will also include the exhibition The Great Derangement at Electric Perfume, featuring works by Iodine Dynamics, Brianna Lowe, Kris Pierce, and Zeesy Powers. The exhibition Local Host: Post-Human Media Arts will be hosted at vectorfestival.org, and will include interactive works by John Ayliff, Matt DesLauriers, Droqen, Nick Montfort, and Vera Sebert. Milumbe Haimbe's animation African Space Dream will be on view in the Ontario Science Centre's Procter & Gamble Great Hall (admission is complimentary for festival passholders).
SCREENINGS
Join us for a Vector Festival Preview Screening at Mississauga Celebration Square on July 8th to see works by Stephanie Comilang, Henning Frederik Malz, Adrienne Matheuszik, Alex McLeod, Jessie Sheng, and Leslie Supnet. During the festival, artist GIFs will be screened in multiple locations across Toronto. Look for Lorna Mills' Roadkill in Trinity Square Video's vitrine, Jordan Shaw's Canadian Abstracts at Artscape Youngplace, and Sarah Imrisek's Bot in the Woods at InterAccess.
WORKSHOPS
On Saturday, July 13th join artist-architect Jaimie Howard in InterAccess's studio for the workshop Intro to "Intro to 3D Modeling: Digital Sculpting with Rhino", and on Sunday, July 14th learn how to listen to plant life with Tosca Terán, who will be leading the free drop-in workshop "Bio-Sonification: Non-Human Collaboration" on Floor 1 of MOCA.
SPECIAL EVENTS
Mark your calendars – Vector Festival's Launch Party & Opening Reception will be held at InterAccess on July 11th from 7-10PM. The festival's Closing Reception will take place on July 14th from 6-7PM at Electric Perfume.

Join the Conversation
#VectorTO2019
facebook.com/VectorFestivalTO
twitter.com/VectorFestival
instagram.com/interaccessto

About the Curators

Katie Micak is an artist, curator, and researcher, whose work includes video and performance art practices, collaborative design, and an investigation of the integration of chatbots/robots into physical environments. Micak is a founding member of Vector. She holds an MFA from Syracuse University in Transmedia Studies, and is a recent MA graduate from OCADU's Digital Futures Program. Micak is also an educator in new media art practices. She has served as the Gallery Director of Spark Contemporary in Syracuse, NY and Propeller in Toronto, and was the Digital Media Department Manager at the Phillips Collection in Washington, DC.
@KatieMicak / katiemicak.com

Martin Zeilinger is a new media researcher, curator, and practitioner, working on digital art in relation to appropriation, financialization, AI, and intellectual property. He is currently working on completing a monograph on these topics; his research has been widely published in academic books and journals and translated into several languages. Martin currently works as Senior Lecturer in Media at Anglia Ruskin University (Cambridge/UK). Most recently, he has published an essay on blockchain art in the catalogue for the exhibition Vertiginous Data (National Museum of Modern and Contemporary Art, Seoul/Korea), and has completed co-editing a special issue of the journal Media Theory. This year, he has also joined the curatorial collective at NEoN Festival (Dundee, Scotland).
@mrtnzlngr / marjz.net

Shahbaz Khayambashi is a Toronto-based academic, teacher and curator, currently working towards a PhD at York University. His research deals with visual representations of death and the use of images in political movements. He has curated several shows in Toronto across the last few years, independently and as a member of Pleasure Dome, Citizens Committee on Moral Hygiene and Monster Mash. His writing has been published in the Journal of Radio and Audio Media and Pressed.


About Vector Festival
Vector Festival is a participatory and community-oriented initiative dedicated to showcasing digital games and creative media practices. Presenting works across a dynamic range of exhibitions, screenings, performances, lectures, and workshops, Vector acts as a critical bridge between emergent digital platforms and new media art practice. The festival was founded in 2013 as the "Vector Game Art & New Media Festival" by an independent group of artists and curators: Skot Deeming, Clint Enns, kris kim, and Katie Micak, who were later joined by Diana Poulsen and Martin Zeilinger.