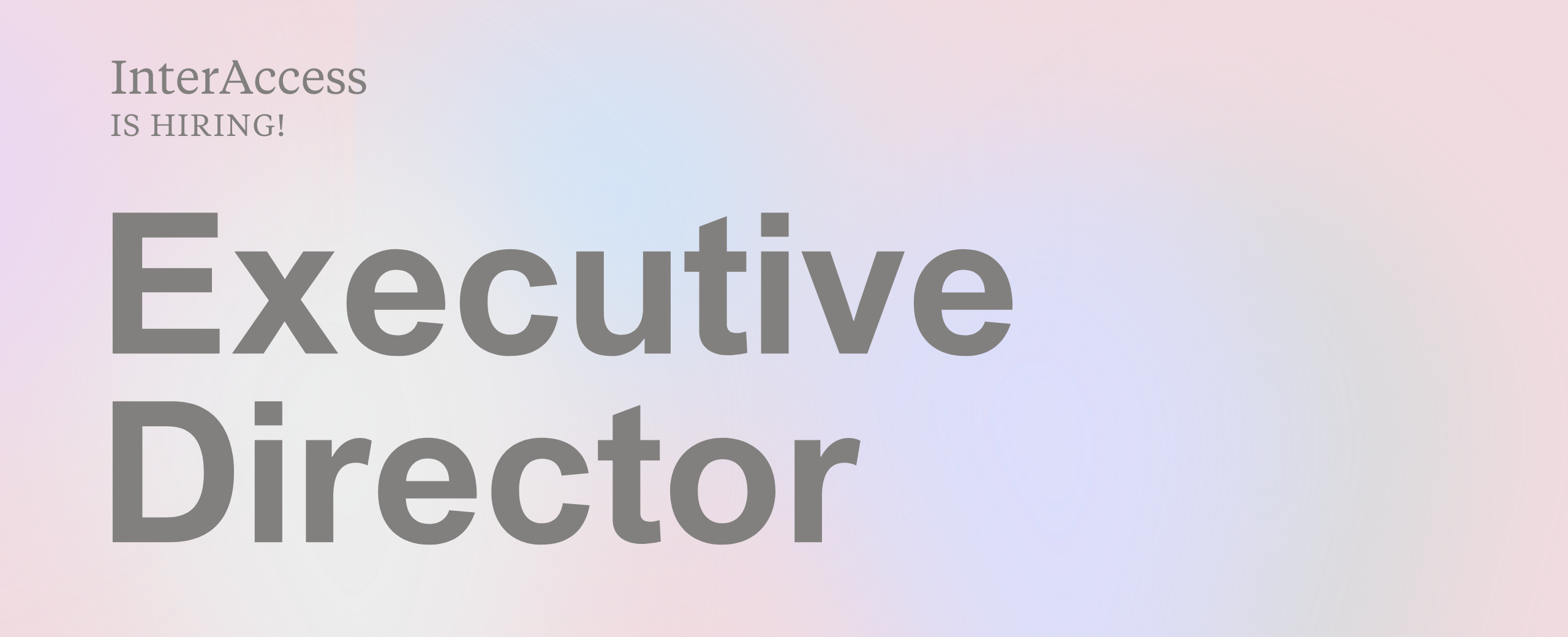 InterAccess is hiring: Executive Director
Application Deadline: August 31, 2021
Start Date: September 2021

Position Summary
InterAccess is currently seeking a visionary leader to step into the role of Executive Director (ED). The ED is a senior administrative position that reports directly to the Board of Directors. The ED is responsible for overseeing all aspects of operations, including financial management, granting, facility oversight, program delivery, and staff and volunteer management. The ED works in line with InterAccess's mission to expand the cultural significance of art and technology, supports and enhances its strategic priorities, and provides value to the organization and its audiences.
More broadly, the ED will cultivate the growth of the organization across two crucial fronts. First, InterAccess is heavily focused on community development and equity, simultaneously looking to better serve its constituent community of artists while expanding the new media art space to make it more welcoming to marginalized communities that have been historically excluded. At the same time, the ED will spearhead special project and private sector fundraising, to increase the capacity, impact, and resilience of the organization. The successful candidate will require a dynamic mix of cultural sensitivity, communication skills, strategic foresight, and ingenuity to forge forward on both fronts—and lead InterAccess into its next chapter.

Organization Mandate
Founded in 1983 as Toronto Community-Videotex, InterAccess is a gallery, educational facility, production studio, festival, and registered charity dedicated to new media and emerging practices in art and technology.
InterAccess's mission is to expand the cultural significance of art and technology by fostering and supporting the full cycle of art and artistic practice through education, production, and exhibition.
Annually we execute multiple exhibitions, a full curriculum of skill-building and critical theory workshops, and a broad range of discursive events that explore the impact of technology on the social, political and cultural aspects of contemporary life. Our studio space facilitates the circulation of skills and techniques required to produce the work we exhibit in our gallery space.

Statement on Equity
InterAccess strongly encourages applications from equity-seeking communities, including individuals who are Black, Indigenous, People of Colour, LGBTQ-identified, Gender Diverse, Two-Spirit, and Persons with Disabilities, and privileges those persons that identify as belonging to communities marginalized by broader society.
InterAccess is committed to expanding its hiring practices by considering both traditional experience in the culture sector and non-traditional professional experience. We acknowledge the merits of cultural experiences ranging from mainstream to alternative. To this effect, InterAccess has engaged an equity HR consultant to advise the Board during this hiring process.

Responsibilities

Financial Management (25%)
Develop annual operating budget (in consultation with the Treasurer and with Board approval)
Set financial priorities for the organization (with Board approval)
Produce monthly financial reports for Board review, and present regular financial projections to the Board (in consultation with the Treasurer)
Monitor status of cash flow
Approve programming or operational expenses within Board-approved guidelines
Supervise biweekly bookkeeping and review monthly bank statements and all invoices and receipts
Supervise the payment of all bills and invoices
Coordinate and track banking agreements, accounts, and signatories
Coordinate annual audit
Ensure ongoing compliance with CRA

Leadership and Planning (20%)
In line with strategic goals, develop and guide short-term and long-term operational plans for the organization
Support existing partnerships, develop new opportunities
Leadership regarding inclusivity, decolonizing InterAccess, and privileging opportunities for those persons not visible or promoted widely in the arts community
With support from the Education & Outreach Coordinator, develop the pricing structure for studio and educational programming and facility rentals
Responsible for all operational, project, and employment grant applications and reports for the organization; ensure adherence to funding requirements and deadlines
Develop and implement policies and procedures across all aspects of the organization

Administration (20%)
Ensure ongoing compliance with the Charities Directorate, non-profit regulations, the Ontario Corporations Act, and the Accessibility for Ontarians with Disabilities Act
Keep up-to-date with insurance coverage
Negotiate contracts and agreements
Maintain files and related operational systems
Oversee facility and equipment safety and maintenance
Attend all Board meetings and present monthly reports
Monitor and maintain equipment and supplies
Other general administration as required

Development (15%)
Develop ongoing fundraising strategies
Identify and develop relationships with potential funders; meet fundraising targets
Coordinate foundation grant applications and corporate sponsorship asks
Receive donations and provide charitable tax receipts as required
Lead fundraising campaigns, events and special initiatives

Staff and Volunteer Management (15%)
Develop job descriptions and contracts; recruit, hire and train staff and volunteers
Ensure safe working environments through training and values-based practices that foster belonging, collegiality, and cooperative decision-making
Provide overall leadership and direction to staff while delegating responsibilities and managing staff performance to ensure the successful implementation of work plans
Provide formal and informal reviews and feedback
Ensure compliance with HR policies and legislation, including the Personnel Policy, the Employment Standards Act, the Ontario Human Rights Code, and Ontario's Occupational Health & Safety Act
Track staff hours and vacation time

Marketing and Communications (5%)
Develop and implement comprehensive marketing and communication strategies for the organization, including advertising, public relations and the development of marketing materials

Qualifications
3-5 years progressive administrative experience in public/private sector and/or other relevant work or service
Post-secondary degree (arts or business administration) an asset, but not required
Strong organizational, analytical, and communication skills
Proven ability to conduct long-term strategic planning
Excellent interpersonal and collaborative skills
Excellent written and verbal communication skills
Experience with financial recording and budgeting
Experience supervising staff and volunteers
Contract / negotiation skills
Knowledge of digital media, design, art, education/curriculum design, UX, web, etc.
Familiarity with MS Word, Excel, Quickbooks; Adobe CS and CMS experience (e.g. WordPress, Drupal) an asset
The ability to work independently and multi-task in a deadline-driven environment is crucial
An understanding of galleries and the non-profit sector and an interest in contemporary visual arts will be considered an asset, although not a prerequisite

Hours of Work
This position is a full-time (35 hours/week) contract position expected to begin September 2021. The contract is for a term of one year, with the expectation of renewal.
Standard weekly hours are based on a Monday–Friday schedule. Frequent evenings and weekends will be required, with overtime at certain times of the year. Employees receive time off in lieu for all overtime hours worked.

Work Location
As a result of the COVID-19 pandemic this position is expected to begin with a mix of remote and in-office work. As mandated by the Province, InterAccess will increase in-office activities and programming this fall, at which time this position will transition to full-time in-office hours in Toronto. In our current location, we regret that InterAccess does not have barrier-free access.

Compensation
This position is salaried. The salary range is $45,000-$55,000 commensurate with experience plus three weeks paid vacation.
Following a three-month probation period the incumbent is eligible to enrol in a basic benefits program, the employee's choice of either a Healthcare Spending Account or a monthly contribution to the employee's Personal Health Insurance plan.

How to Apply
Please send your résumé and cover letter (as a single PDF) by Tuesday, August 31, 2021 to hr@interaccess.org. Interviews will be conducted in August, with a target start date of mid/late September. We thank all applicants for their interest; only those selected for an interview will be contacted.