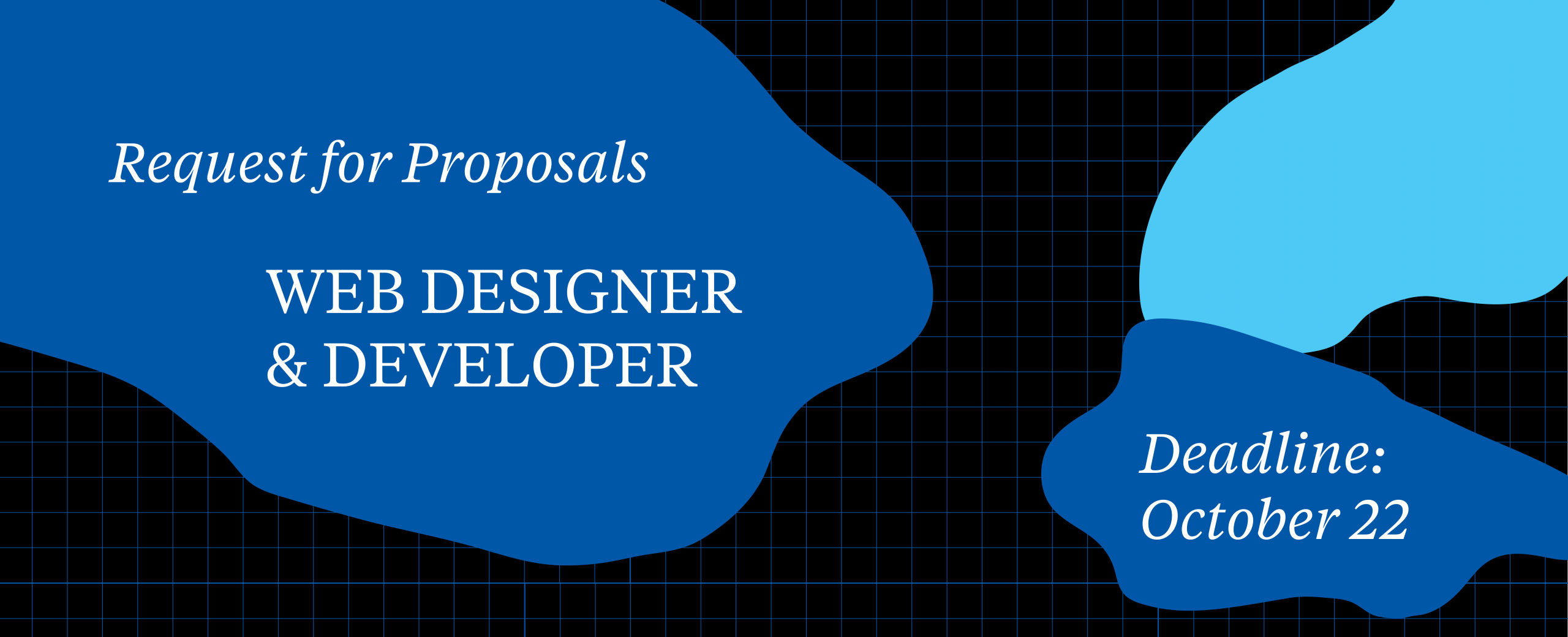 Request for Proposals: Design & web development of an online exhibition
DEADLINE: OCTOBER 22, 2021


BACKGROUND
InterAccess is a gallery, educational facility, production studio, festival, and charity dedicated to new media and emerging practices in art and technology. Our mission is to expand the cultural significance of art and technology by fostering and supporting the full cycle of art and artistic practice through education, production, and exhibition. InterAccess was founded in 1983.

This exhibition is presented as part of InterAccess's IA Current Emerging Curator Program. The InterAccess Current (IA Current) program supports the professional development of emerging curators and artists interested in new media and electronic practices. Each year, InterAccess selects an emerging curator, who works closely with InterAccess staff to conceptualize and execute an exhibition of works by emerging artists. "Current" refers to the now, of course, but it is also an energetic charge that causes light, heat and all manner of electronic life; an apt metaphor for emergent creative practices within the ever-expanding field of new media.
PROJECT SUMMARY
In December 2021, InterAccess will launch an online exhibition curated by emerging curator Tristan Sauer. The IA Current exhibition will explore the dreams and simulations of the computer age, and how they attempt to imagine new methods of digital co-existence and the future of our world. The show will draw parallels between our dreams and the simulations we create digitally through video game worlds, online chatbots, web VR, and avatars. It will question how we can learn about ourselves and our relations to others from these simulated realities. Eroding the dichotomy of the real and the virtual, this exhibition explores digital co-existence and the futurity of internet culture, with the aim of envisioning more equitable, diverse, and safe futures online.
In the exhibition's call for works, Sauer asks artists: how can we imagine more ethical online futures? How can we avoid the mistakes of the physical world on the web? What is a simulation if not a computerized dream? What is a dream if not a psychological simulation? Can computers dream and if they can, of what? Is the brain a computer? Where does the threshold between digital and physical exist?
TIMELINE
October 22 | RFP closes
October 27 – 28 | Web designer interviews
October 29 | Web designer hired
November 4 | Meeting with InterAccess staff & curator (discussion of concept, layout, integrations)
November 16 | Web design concept review meeting (mockups)
November 17 | InterAccess & curator sign off on mockups
November 30 | Website draft review meeting (coded website)
November 30 – December 4 | Website revisions
December 5 – 7 | Website hosting & domain configuration
December 8 | Website goes live for the public
February 6 | Website taken down
BUDGET
Up to $2,500 CAD for a completed, fully functional web site, including integration of all artworks.
EXPECTATIONS
The web designer/developer will:
Consult on the design and technical requirements of the website with the exhibition's curator and InterAccess staff
Design the website
Integrate and upload all artworks into the site
Provide troubleshooting & content management instructions for internal users
Record site analytics & share this data with InterAccess
Take down the website after the exhibition's closing date
WEBSITE DESIGN & AESTHETIC
The exhibition explores the parallels between the natural action of dreaming and the digital process of simulations. The aesthetic of the webpage should communicate these ideas through a blend or contrast of design elements. The dashboard-inspired design elements can be used to inspire the navigation of the exhibition between the individual artist pages, while the 3D examples can inspire design elements that populate the site or act as buttons, menu indicators, and clickable links.
The exhibition's curator has prepared a mood board for the website, which is accessible here.
WEBSITE CONTENT
The website will need to include a homepage, informational text pages, and pages that embed artworks and that contain artist information.
Art disciplines included in the exhibition may include game art, digital art, social media art, augmented reality, generative art, creative coding, machine learning, net art, web VR, and experimental video art.
TECHNICAL REQUIREMENTS
The final website will:
Embed browser-based interactive content (such as HTML5, Java, or Unity)
Be able to host live and archived video streams
Be compatible on desktop, tablet, and mobile platforms
Have a CMS accessible to InterAccess staff, so that content can be updated easily in-house
Involve accessibility features that improve experiences for audience members with dis/abilities
APPLICATION REQUIREMENTS
Applicants may submit the following components using our JotForm:
Name
Email address
Phone number
Concept proposal (250 words)
Description of design & development approach (250 words)
Description of media integration solutions (250 words)
Bio (100 words)
CV (2 pages max)
List of collaborators (if applicable)
Links to past work