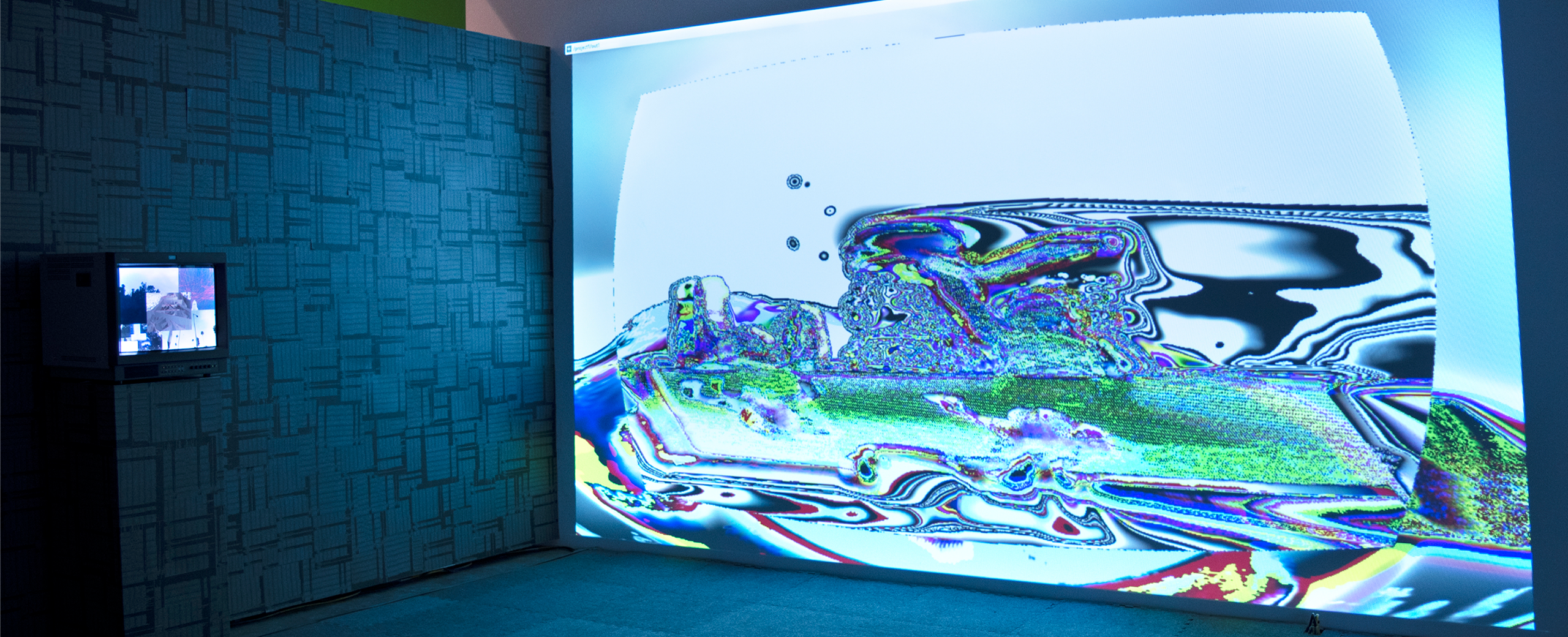 Vector Festival 2022 | Program Highlights
VECTOR FESTIVAL 2022: Glitch
July 14 - 24, 2022
A glitch is a mistake, an error, a failure, a malfunction – it's the machine telling us that something inside it has gone wrong. Machines are designed to, and expected to, work perfectly. However, even the most powerful technologies can be quickly undone by a glitch. A glitch is a crack in the technological artifice that boasts its infallibility and precision. What happens when this artifice crumbles, when we are faced with a system error or a computer crash? We seek out alternatives.
Vector Festival 2022 centres around the enticing, joyous, infinite possibilities offered by glitch. Drawing inspiration from Legacy Russell's Glitch Feminism the festival considers glitch as a necessary, protective force for interrupting the machinic workings of patriarchy, capitalism, and racism. Counterintuitively, through its multitudinal ruptures and refusals, glitch becomes a generative site for envisioning new ways of existing beyond current sociopolitical operating systems.
Through a hybrid online and in-person program of exhibitions, performances, screenings, workshops, talks, and community events, this 10-day festival invites artists and audiences to come together in celebration of failure and all its potentials.
FESTIVAL CURATORS
Vector Festival is programmed by guest curators who each organize programs that bring forward critical new perspectives on digital art and game art. We are excited to announce Vector's 2022 roster of curators: Roya DelSol, Karina Iskandarsjah, Amanda Low, Megan MacLaurin, Sofie (Sonja) Mikhaylova, and Sanjeet Takhar.
PROGRAM HIGHLIGHTS
Machine Bodies (Is Cyborg Good or Evil?) | Flagship Exhibition
The Vector Festival 2022 flagship exhibition, Machine Bodies (Is Cyborg Good or Evil?), focuses on the relationship between body and machine – its tensions, (in)compatibilities, liminal spaces, and byproducts. In this exhibition curated by Karina Iskandarsjah, works by Xuan Ye, Madeleine Lychek, and artist collective L.A. Birdwatchers (Suzanne Kite, Aljumaine Gayle, Nicholas Shapiro and Ladan Mohamed Siad) utilize this uneasy interaction between body and machine to draw attention to the body's labor within capitalism, as well as racial bias in surveillance and censorship. The works take form as a motion-sensored sound installation, an animated visualization of biodata, and experiments in AI image-making. Expanding on Vector Festival's 2022 theme – glitch – the artists treat abstraction and a/synchronization as tools to question our digital safety and autonomy.
Another Life | Performance Event
Another Life is an evening showcase of experimental musical performances by Erin Corbett, Myriam Bleau, and Hex-A-Decimal centred around gaming, identity, and future feminisms. Framing feminism as a tool of self-creation and recreation, Another Life imagines a playlist for a game in which you are the main character. Drawing inspiration from the structure of video games, this conceptual soundtrack unfolds in three parts: character creation, world exploration, and the defeat of the final boss. These video game stages are mirrored in our daily lives – we make ourselves new every day by getting dressed, armouring up, exploring our world, and experiencing clashes with 'bosses' of all kinds. By offering the feeling of stepping into a virtual world, Another Life invites its performers and audience on a journey of self-exploration through play. This event is curated by Sofie (Sonja) Mikhaylova and is co-presented with Biblioteka Records.
Psychedelia VJ: Experiments in TouchDesigner | Workshop
In this introductory workshop, artist and performer Joy will walk participants through the process of using the creative code software TouchDesigner to create generative and reactive visuals for musical performances. Participants will learn the fundamentals of node-based coding, with a focus on working alongside audio designers/musicians and considering aspects of performance in their work. Participants will also gain experience in site-specific projection mapping while using one or more projectors. The workshop will provide attendees with the skills necessary to present generative visualizations at a live DJ event.
Game & Hardware Jam | Community Event
Vector Festival is excited to announce its first-ever hybrid game and hardware jam, presented in partnership with Hand Eye Society. You are invited to participate in a 48-hour collaborative event where contributors will work in teams to develop video games and alt controllers used to play them. The event will be hosted both online and in-person, with remote participants contributing virtually to the development of the online games. Local participants will be given access to InterAccess's production studio where they can create the alt controllers. At the end of the jam, the games and their controllers will be shared with our broader community through a public game jam showcase, offering audiences a hands-on opportunity to play the games in-person.
Sign up here to participate in the jam, either virtually or in-person. Participation in the jam is free and open to everyone.
Stay tuned!
The full Vector Festival 2022 program, with registration details, will be available on June 30, 2022 at vectorfestival.org.
Join the Conversation
Vector Festival is a participatory and community-oriented initiative dedicated to showcasing digital games and creative media practices. Presenting works across a dynamic range of exhibitions, screenings, performances, lectures, and workshops, Vector acts as a critical bridge between emergent digital platforms and new media art practice. The festival was founded in 2013 as the "Vector Game Art & New Media Festival" by an independent group of artists and curators: Skot Deeming, Clint Enns, Christine Kim, and Katie Micak, who were later joined by Diana Poulsen and Martin Zeilinger.
Image: Image courtesy of L.A. Birdwatchers (Suzanne Kite, Aljumaine Gayle, Nicholas Shapiro and Ladan Mohamed Siad).