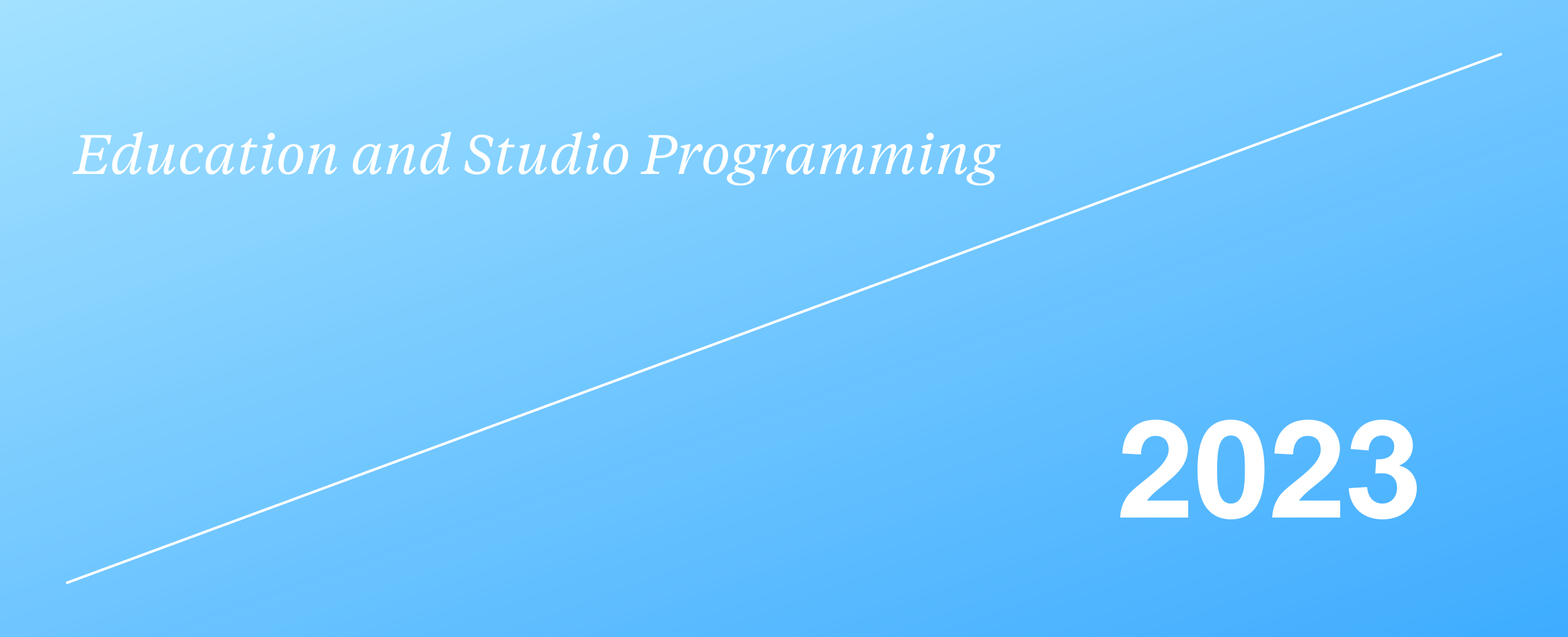 InterAccess 2023 Winter Education and Studio Programming
Winter Season of Educational and Studio Programming
February - May 2023.
Visit our Workshops and Events pages for the most up-to-date information.
WORKSHOPS
BioData Sonification & Beyond Human Musical Entanglements

Saturdays, February 11 & 18 | 1-4pm EST
In-person at InterAccess (950 Dupont St., Unit 1)
Two Sessions
$40 Member | $60 Regular (Non-Member) | $80 Regular + Donation
Register Here
Join artist Tosca Terán in this two-session exploratory workshop which will show participants how to build a Bio-sonification module and sonically collaborate with other-than-human life.
Tosca Terán describes herself as an interdisciplinary human holobiont whose work is a confluence of art, ecology, and craft. Tosca has received funding support and residencies for her immersive, expanded reality, nonhuman bio-sonification projects. She is an invited tutor for the Venice Biennale Cinema College VR. Her recent explorations into fungal mycelium biodata bring her to SPUN, collaborating with aerospace engineer Dr. Valeria La Saponara at UC Davis, California, towards the potential of communicating with fungi.
Synthetic Language: Working with Large Language Models
Thursdays, March 9 & 16 | 6-9pm EST
In-person at InterAccess (950 Dupont St., Unit 1)
Two Sessions
$40 Member | $60 Regular (Non-Member) | $80 Regular + Donation
Register Here
Join UKAI Projects for a two-session workshop where participants will experience how synthetic language is being used creatively and receive direction on their own AI-generated projects.
UKAI Projects produces culture for what's coming. We support polyphony in response to critical issues to avoid polarization or a reduction to 'sides'. We model the relationships we hope to see and prefigure the conditions of our freedom. We experiment with new values at the centre of technologies and systems in opposition to the hegemony of efficiency and growth. UKAI supports a diverse and resilient culture so that our society can continue to draw on a rich mix of solutions for today and for future generations.
Creating 3D environments with Neural Radiance Fields (NERF)
Saturday, March 25 | 1-4pm EST
In-person at InterAccess (950 Dupont St., Unit 1)
One Session
$20 Member | $30 Regular (Non-Member) | $40 Regular + Donation
Register Here
Join artist Dan Tapper in leveraging exciting AI technology to recreate 3D space by capturing images and light. This technique allows participants to create realistic scenes where light moves and shifts organically. They will begin by using this method in its conventional form, from these tests they will explore how to manipulate the technology to create unique 3D environments and fields of light.
Dan Tapper is an artist and creative technologist interested in the intersection between information and experience. His current projects include building sonic VR environments and using machine learning to create new forms of divination.
STUDIO PROGRAMMING
LGBTQ+ Mixer
Thursday, February 9 | 6-9pm EST
In-person at InterAccess (950 Dupont St., Unit 1)
FREE
Register Here
Calling all members of our community who identify as LGBTQ+! InterAccess will be hosting our Winter LGBTQ+ Mixer in our studio on Thursday, February 9. Come out for refreshments, networking, a presentation from our lead Samay Arcentales Cajas, and to socialize with our community! This event for LGBTQ+ folks to gather and learn about the work they're creating in our community and beyond.
Samay Arcentales Cajas is a queer Toronto-based Kichwa digital media artist and video designer exploring human-land relations, the new media dimensions of indigenous cosmology, and immersive art as a site of liberation. Her works have been shown at ImagineNATIVE, Xpace Cultural Centre, Mayworks Festival, Tarragon Theatre, TQFF, SoulPepper, among others.
OPEN STUDIO PROGRAM
The weekly Open Studio program will be officially resuming on February 1st, 2023 and will run every Wednesday in-person from 6-9 pm in our studio. You can keep up to date with our current programming and schedule on our website and public calendar.
ACCESSIBILITY INFORMATION
We regret that at this time InterAccess does not have barrier-free access; we are currently working to improve the accessibility of all facilities.
There are five steps with a railing up to our main entrance with automatic doors. Once inside all facilities are on the same level, and there is an accessible single-user washroom inside the unit.