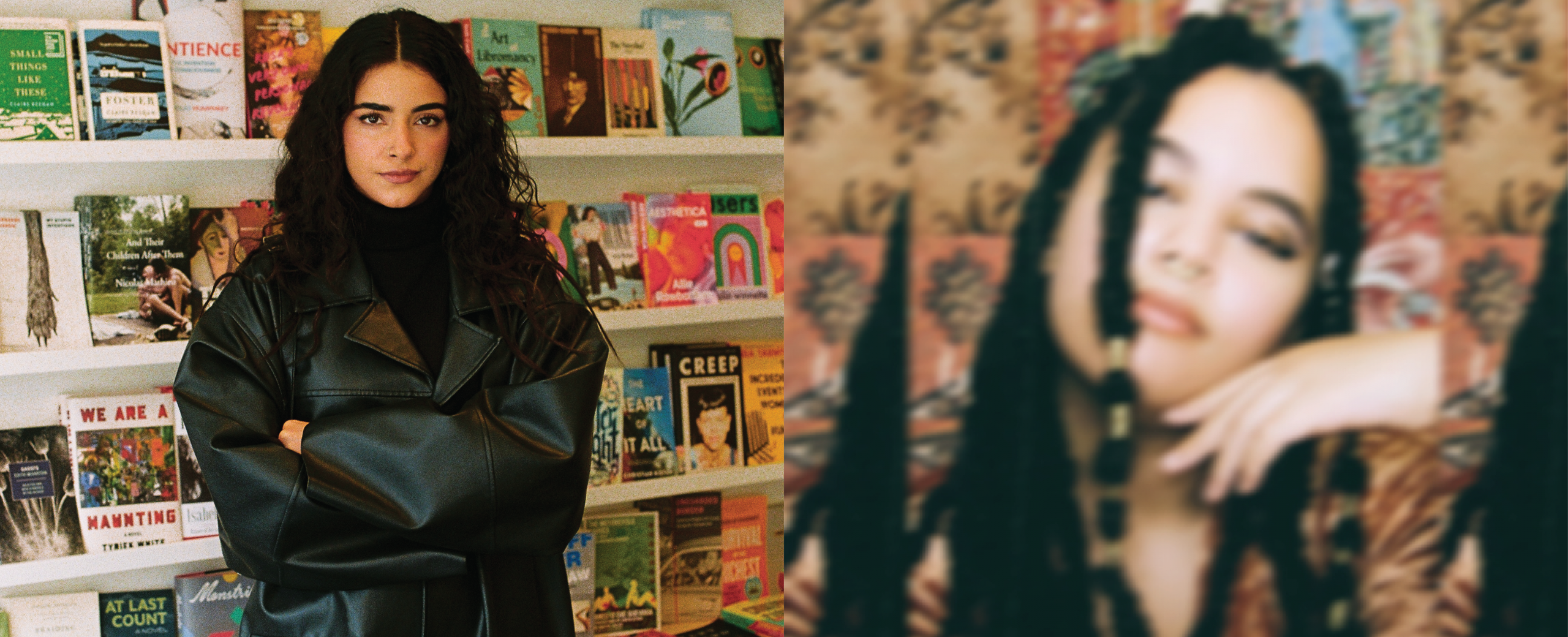 Mehrnaz Abdoos & Ghislan Sutherland-Timm, 2023 Recipients of the InterAccess Media Arts Prize
InterAccess is pleased to announce Mehrnaz Abdoos & Ghislan Sutherland-Timm as the 2023 winners of the InterAccess Media Arts Prize.
Mehrnaz Abdoos is a Toronto-based multi-media artist and designer, specializing in the dynamic realm of interactive media. Her work is a exploration of innovative storytelling, brought to life through immersive experiences.
Ghislan Sutherland-Timm (they/she) is a craftsman based in Tkaronto/Toronto. Their artistic practice is influenced by their ancestral ties and reconnection to their Afro-Caribbean heritage and Carib roots. Their work is also ignited by the ephemerality and tactility of sound and film. In creating "incomplete complete" works, collage-making is frequently utilized within their practice to shape autobiographical-fictional narratives and subjects of ambiguous beings addressing identity, memory, and landmarking. This often reflects the intersections of Sutherland-Timm's multicultural queer identity and unravels the mythologies and romanticization of home and homecoming.
Prize winners will receive an exhibition opportunity at InterAccess, opening January 2024.

We would also like to congratulate the following prize finalists: Audrey Ammann, Murley Herrle-Fanning, & Ange Turchet.
Audrey Ammann is a Toronto-based multidisciplinary artist from the United States and recent graduate from the University of Toronto Visual Studies undergraduate program. Her extensive background in costume and haunted house design acts as a thematic and aesthetic foundation for her practice. Through assemblies of video, sound, augmented reality, performance, installation and research, she uncovers, reenacts, and reimagines digital legends and personal memories that sit on the edge of obscurity.
Murley Herrle-Fanning is a farmer, digital media creator and game designer exploring emerging technologies for media production and art practice. As a recent graduate of York University in the Digital Media Game Arts program, his work involves the examination and creation of digital worlds, virtual communities and ecosystems of play. He is currently based in the Ottawa valley on an experimental farm learning about agroecology and interspecies herd dynamics while experimenting with AI art, procedural content generation and participatory media.
Ange Turchet is a digital artist with an avid interest in the wide and varied field of game development, always looking to learn new techniques and effects.
Prize finalists will be featured in a public presentation of their practice, in the form of an artist talk or participatory workshop between January – February 2024.
ABOUT THE INTERACCESS MEDIA ARTS PRIZE
For over twenty years the InterAccess Media Arts Prize has been granted annually to a graduating student whose work exhibits excellence and innovation in new media practice. Participating colleges and universities are invited to nominate one graduating student to be considered for a solo exhibition in InterAccess's gallery. Nominations are adjudicated by InterAccess's Programming Committee, who select one nominee for an exhibition at InterAccess. All nominees receive a complimentary one-year studio membership to InterAccess.